THE CAPITAL GRILLE
When Only The Best Will Do!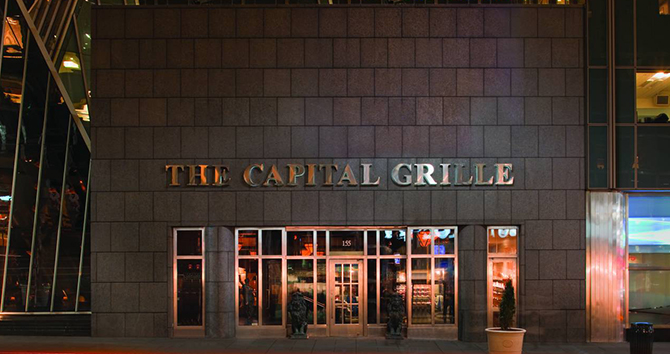 By Anne Raso
If you constantly dream of diving into a prime dry-aged steak in a chic yet relaxed atmosphere, The Capital Grille is the perfect eating excursion for you. There are three conveniently located Manhattan locations (Financial District, Midtown West, and Midtown East) that are the kinds of places you'll want to "sink your teeth into." New York Lifestyles recently visited the Chrysler Tower location and we were seated in the spectacular Atrium known as The Trylon. Its glass and metal peaks mimic the architecture of the Chrysler Building's rooflines. The airy, art deco feeling of that room is something that you won't soon forget.
The Capital Grille puts an elegant yet modern spin on the traditional New York steakhouse tradition. It has everything you would expect—large cuts of dry-aged prime beef and classic steakhouse sides and desserts like Caesar Salad and New York Style Cheesecake, respectively. But you also have world-class lobster, surf and turf and hand-selected fish. The pasta dishes here are more experimental than you might expect and that just might be due to Executive Chef Juan Arboleda. You see, he cut his teeth at acclaimed Northern Italian cooking schools and eateries. The handsome bearded Long Island native came aboard in 2007 as a sous chef and worked up to executive chef in 2011. He has since not only kept the Chrysler Tower location earning rave reviews but has overseen the openings of numerous locations in the U.S. and Mexico.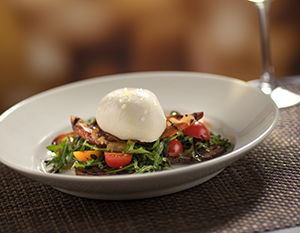 AWARD-WINNING FARE
We asked Chef Juan the highlights of being the executive chef of The Capital Grille Chrysler Center and what features of the restaurant he feels are truly unique. He remarked, "In terms of unique features, The Capital Grille is best known for our expertly prepared dry-aged steaks, which are hand-cut by our in-house butcher. The restaurant is also recognized for our exceptional wine list of more than 350 selections, curated by our Advanced Sommelier. Our wine list includes some of the most highly allocated and sought-after wines in the world, including many options rarely offered by the glass. Beyond our cuisine, we offer a unique space for diners. The Trylon Tower in the Chrysler Building, designed by architect Philip Johnson, is a one-of-a-kind in New York City." Not to be overlooked are the inventive cocktails like "Grapefruit Fire & Ice," and French 75 two favorites with the regular crowd.
We continued the conversation posing a couple additional questions to Chef Juan.
What are the challenges of being the chef of a legendary NYC steakhouse? He reveals in a serious tone, "I've been doing this for more than 30 years. In this industry, it is not necessarily about getting to the top but maintaining your position. I am focused on maintaining the quality of our cuisine and ensuring we remain relevant in the NYC market. A critical component of that drive is our commitment to offering our guests the highest level of hospitality."
Who is the typical clientele of The Capital Grille? "It varies. Weekly we host many work events, executives, and teams in the lounge, whereas the dining room is often the place for celebrations that bring together generations. Our guest base is as diverse as this wonderful city, and we love having the opportunity to offer The Capital Grille experience to everyone, no matter what the occasion."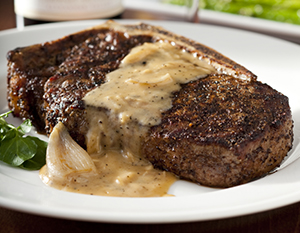 SOURCING THE BEST MEAT & PRODUCE
We were curious to know whether The Capital Grille is all about farm to table and, if so, who is selecting the meat, seafood, and produce? Chef Juan explained: "What we're known for is bringing the taste of luxury into everything we prepare for guests. Ultimately, our beef comes from the top ranchers in the United States. We specialize in dry-aging steak, a process that takes 18 to 24 days under the careful supervision of our in-house butcher Through dry-aging, we are able to intensify the flavor and maximize the tenderness of our meat—and through controlled humidity and airflow, we remove moisture from the beef, which provides our meat with flavor and tenderness that we believe is unparalleled."
How does the restaurant keep up with the trends for the healthy and vegan fare? Responds Chef Juan, "We are always keeping our eye on the latest trends and happy to work with guests to prepare dishes to their specifications. We can adjust any of our recipes to meet dietary restrictions such as low sodium, gluten sensitive, vegetarian, and the like. And while we are known for our expertly prepared dry-aged steaks, The Capital Grille is committed to offering a diverse menu for those seeking a different kind of meat alternative."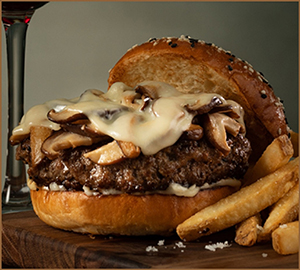 WORLD-CLASS BURGERS
Yearning for a juicy burger? The Wagyu & Wine promotion is offered in the Lounge area of all Capital Grille restaurants through November 17th—and aims to please. You get a sizeable 8-ounce Wagyu burger prepared in one of three styles (it includes artisinal cheeses and exotic mushrooms), and a choice of three Napa Valley reds from iconic local wineries—all for $25. No reservations are necessary for the Lounge.
Of course, we wanted to know about any new menu choices to expect for the fall/winter season. Chef Juan reveals that in addition to the Waygu & Wine special, there's "our signature Bone-in Kona Crusted Dry-Aged NY Strip with Shallots." (Now that's definitely more reason for us to return to Capital Grille!)
For more information on The Capital Grille Chrysler Center (155 East 42nd Street; 212-953-2000), visit thecapitalgrrille.com. Reservations are strongly recommended.