SPOTLIGHT ON
Carly Hughes of TV's American Housewife
By Patricia Canole
Just meeting actress Carly Hughes is an uplifting experience. This gifted Broadway star has migrated to television playing Angela in the fan-favorite and critically acclaimed ABC comedy American Housewife now in its 4th season.
But before she was making TV audiences laugh, she was wowing audiences with her voice on Broadway. Carly has appeared in eight Broadway shows, most recently starring as Velma Kelly in Chicago, the Leading Player in Pippin, and Lucille/Shirley of the Shirelles in Beautiful: The Carole King Musical." Her other Broadway credits include The Book of Mormon, Ghost: The Musical, Ragtime, The 25th Annual Putnam County Spelling Bee and Dr. Seuss' How the Grinch Stole Christmas.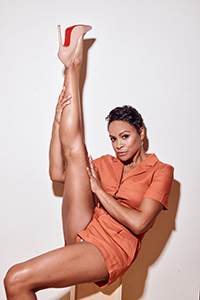 Carly Hughes
©Jenny Anderson
We sat down with Carly to learn a little more about this native of Columbus, Maryland—listed one of best places to live in the U.S. She's fun, spontaneous, caring and, yes, an amazing talent. You can hear the joy in her voice, and that makes her not only someone you want to watch but also someone you want to know.
Tell us about growing up in Columbia, Maryland.
It was awesome! It's a beautiful part of Maryland, with so much diversity. Especially in the school system. I felt very lucky to grow up in a city that couldn't help but to be diverse, accepting, and that had such a decisive hand in shaping my life.
When did you come to realize you wanted an acting/entertainment career?
I could sing probably before I could talk! I grew up initially thinking I wanted to be a singer. Then in 5th grade, I did my first school play, Robin Hood—and was bitten by the acting bug.
Does a sense of humor run in your family? Were you a funny kid?
Does it ever! My mom and my dad are both goofballs and can find the humor in almost anything. I grew up laughing a lot! I don't know if I was a funny kid, but I'm sure I thought I was!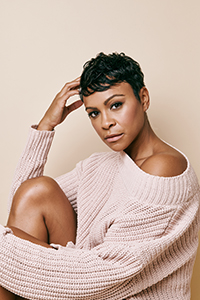 Carly Hughes
©Jenny Anderson
For those who don't know American Housewife, describe what this hit TV show is all about. What is your character Angela like?
The wealthy town of Westport, Connecticut, is full of cookie-cutter mommies and their seemingly perfect offspring, but the members of the Otto family, along with Angela and Doris, can't be counted among them. Angela is the straight-talking, compassionate best friend. She has two kids, is divorced, and is enjoying life as a single parent.
You, Katy Mixon and Ali Wong make for an entertaining comedy trio! What is it like playing opposite of them? Do they challenge you?
Thank you! We genuinely crack each other up and have so much fun on set! Always laughing together and at each other and making jokes. We each bring a different tone and a different element of comedy to the table, and it makes for some funny scenes.
Before TV, it was Broadway. Was it your dancing talents that led to the Broadway stage?
Singing and acting actually did. I am a dancer, but I wasn't dancing in any of my Broadway shows for a while. I was always in a singer track and understudied one of the leads. I finally got to spread my dancin' wings in Pippin and Chicago, and it felt so good.
For those who don't know about The Princess Grace Award, can you describe what it is, and how has it helped you?
It's a huge honor. The Princess Grace Foundation–USA is dedicated to elevating extraordinary emerging artists in theater, dance, and film via awards in the form of grants, scholarships, and fellowships. The awards program continues the legacy of Princess Grace by advancing excellence in the arts in America. The Special Award, along with the scholarship I received from PGF-USA, gave me the added confidence that I was on the right path, and doing what I was meant to do in this life.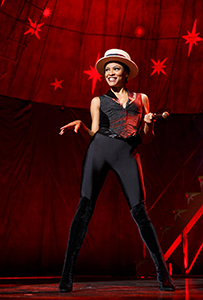 Pippin
Tell NYL readers all about your roles on Broadway? Do you have a favorite?
Two of my most favorite roles are The Leading Player in Pippin and Velma Kelly in Chicago. The Leading Player challenged me in ways I never knew possible and made me rise to every occasion, both physically and mentally. It stretched my talent to the lengths they had needed to go. And Velma is a cherished role I've always wanted to do!
Who are some of your favorite stage performers?
There are so many! I love watching Valerie Pettiford, who is such a temptress on stage! Lin Manuel always brings so much heart to every performance. Megan Hilty, yes, she's my best friend, but she's just so dang talented and charismatic! Patina Miller, definitely her stage presence is powerful. I never really got to see her on stage a lot because I was always in my own shows, but I recently had the opportunity to see her play the Witch in Into The Woods. She was magical!
Now that you've been seen on the Broadway stage and TV screen, is there one you prefer?
I mean, there's nothing like a live performance. The energy from the audience, the no take-backs aspect of it all—you can't beat it! Everything you see live on stage can never be seen again. Each performance is unique, and every show is different, even if just by the tiniest bit. However, there's fun on TV! You get to play more and try new things on the spot. And there's always a retake.
How did you win the role of Angela on American Housewife?
I auditioned! It was opening night of my last show in NYC, and I ran to ABC between rehearsal and the show to do so. I did two scenes, ran back to the theater opening. I did a tape with casting, and they sent it to ABC network and the executives. About two weeks later, I was flown to LA for a screen test! I then waited about another week to find out that I got the job. I found out as I was getting off the A train in NYC, and I just started crying and screaming and dancing right there in the street!
New Yorkers need to know how Carly Hughes gets to relax?
Ha! Not often. But when I do, it is glorious. I've become fond of getting a massage to release tension and relax. I always love going to the movies and watching them at home. I also love cooking, especially for friends or reading a good book under a soft blanket.
What is your dream project?
I would love to do a biopic film or miniseries. There are some amazing women whose life stories are so intricate and exciting. I'd love to dive into Lena Horne, Dorothy Dandridge, and Josephine Baker.
Are you working on any other projects?
I recorded a few songs last year that I'm in the process of finalizing. I am looking forward to releasing them.
FUN FACTS ABOUT CARLY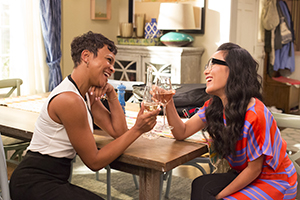 American Housewife
• What is the last show you binged?
Schitt's Creek.
• If you could go anywhere in the world right now, where would it be?
Back to Spain. I haven't been since I was 16 and it's my favorite country!
• What three words describe you best?
Kind. Outgoing. Compassionate.
• What always makes you laugh?
My dad laughing at his own jokes!
• What three words would your best friend use to describe you?
Loving. Caring. Fun.
• What is the scariest fear you've ever conquered?
I have a real fear of clowns!