BIG APPLE CIRCUS
Thrills, Chills & So Much More!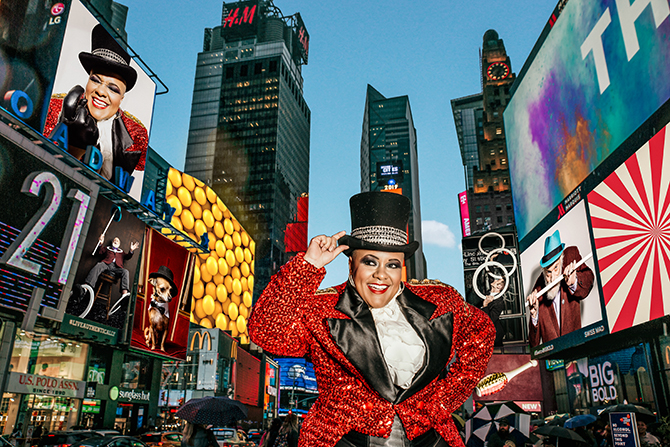 Ringmaster Storm Marrero
By Lisa B. Lewis
Big Apple Circus believes that celebrating all abilities creates limitless possibilities. World-renowned for its intimate and artistic style, Big Apple Circus is passionate about revitalizing the circus for modern-day audiences with unique and astounding human feats by performers with incredible real-life stories.
A New York Times Critic's Pick every year since its re-emergence in 2017, it continues a long-standing tradition of inclusivity, highlighting the most exceptional talent from around the globe. This year's thrilling spectacular begins performances October 12, 2019, through February 2, 2020.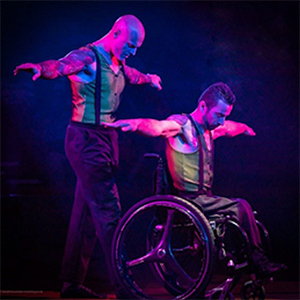 Dupla Mao Na Roda Balancing Act
HOW IT ALL BEGAN
Big Apple Circus was the brainchild of Paul Binder and Michael Christensen in 1977. From the very beginning, inclusion was its primary mission. The original show included the New York School for Circus Arts, Inc. 1987 brought the first performance of Circus of the Senses, a show enhanced with live audio description for the Blind. Paul Binder and legendary radio host Marty Glickman were the very first Audio Describers. The name changed to Big Apple Circus Ltd. in 1988. The idea of creating a circus school/one-ring stemmed from their experience in France, where they had performed as a comedy juggling act in 1975 with the circus of the legendary Annie Fratellini.
They fell in love with the circus. A circus in its original concept: intimate, artistic, theatrical, as opposed to the three-ring most Americans were used to. Binder thought that such a human-scale spectacle, where the performers' artistry was more important should have a place in his hometown of New York City. Big Apple Circus gave its first performance in July 1977, under a small Big Top located on a Manhattan landfill that was to become Battery Park City. New Yorkers loved it!
2019-2020 marks its 42nd season and is set to celebrate human talent in the concrete jungle like never before! Initially founded in 1977, with ups and downs over the past few years, it's back with a bang at Lincoln Center's Damrosch Park. The one-ring two-act spectacle offers thrills for all ages, in an intimate Big Top where no seat is more than 50 feet from the performers, no wild or exotic animals, and community outreach is a priority.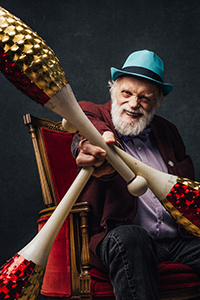 Hovy Burgess
LET THE SHOW BEGIN
There's undoubtedly lots of wonder and magic at the Big Apple Circus this year. The all-new cast of performers was single-handedly chosen as much for their astonishing talent as they were for their unique backstories and ability. Led by a trailblazing, Afro-Latina female ringmaster Storm Marrero, are the inspiring, super-hero acts along with some extraordinary New Yorkers.
Look for strongmen Alan Pagnota and Rafael Ferreira in Dupla Maoi Na Roda who never fail to amaze in their unforgettable routine highlighting breathtaking feats; the New York premiere of America's Got Talent finalists Savitsky Cats, consist of Svitlana, Marina, and Misha—and their ten adorable and wildly talented housecats; and after traveling the world and entertaining audiences in six languages, New York-comedian Amy Gordon returns to her favorite city.
But there's plenty more. Once you've seen The Aliev Troupe, you'll be mesmerized with their aerial maneuvers. The internationally-acclaimed acrobats are masters of the unique combination of Aerial Casting, Russian Barre, and Trapeze; the Trick Riders Caleb Carinci & Renny Spencer, and their horses, Boaz and Cupola are ready, willing, and able to take NYC commuting to new heights; and Big Apple Circus fan-favorite who also has the fastest feet north of FiDi, is the fantastic 79-year-young comedic acrobat Hovey Burgess. We'll also mention he's an NYU and Julliard Professor too.
And more New Yorkers only means more fun and thrills. Meet the hire-wire act Lopez Troupe, who have much more energy than even Times Square tour guides; and the darling Duo Strap act—featuring Maryna Tkachenko and Tetiana Yudina—gives a whole new meaning to straphangers; for the wildest ride in New York City, it's not the cab on Third Avenue, but Jayson Dominguez who dominates his Wheel of Death; and another proud New Yorker is the multi-talented Kyle Driggs who can probably juggle more than the average city slicker.
SPECIAL EXTRAS
One of the primary goals of the Big Apple Circus is to engage people on a human level, away from the technology which envelops our everyday lives. Nothing can compare to experiencing the circus in person. To see these fantastic feats less than 50 feet away, to speak to the performers, and to stimulate every single one of your senses provides memories for a lifetime.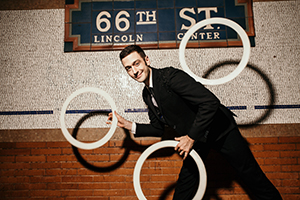 Kyle Driggs
Big Apple Circus always has honored and valued differentiated experiences. This year, the circus is celebrating each one with gusto. In addition to a spectacular season, they are offering 18 reduced-price performances ($10-$15) during school hours to share the joy with students of all means. This includes a complete CORE/STEAM study guide. There are two performances for those with sensory needs; Big Apple Embraces Autism. One for schools; as well as families (check the Big Apple Circus website for dates). These shows include a professionally staffed calming area, caring volunteers, modified lights and sound, and a social story free with your tickets. Big Apple Circus is the only circus in the world to offer Circus of the Senses! A performance which includes ASL, Live Audio description, both a pre- and post-show touch experience, Braille, and large print programs and tons of extra attention for all.
For one night only, Big Apple Circus presents Dinner and Show in the Dark, where audience members are asked to don blindfolds and enjoy the show through descriptive audio headsets. Enjoy the enhanced perspective formerly only enjoyed by the Blind. The evening includes a full three-course meal and a complete touch tour. You will be amazed at how much your other senses are enhanced when given a chance.
For more information on Big Apple Circus, visit bigapplecircus.com. For tickets go to Ticketmaster.com. Group rates available by calling 646-491-8934.