A VIRTUAL ESCAPE
It's A Whole New World In Chelsea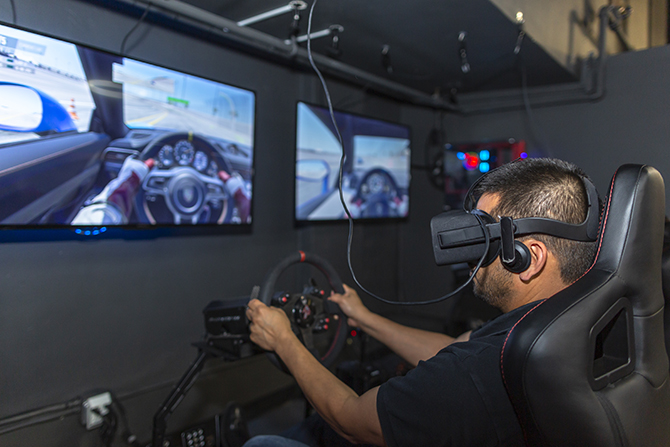 By Tom Joseph
Escape Virtuality, the new state-of-the-art entertainment complex, offers up non-stop fun and exclusive access to Virtual Reality including Simulators, an Augmented Reality Rock Climbing Wall, Virtual Reality Escape Games and high-tech Escape Rooms with lots of surprises. Guests are transported to new worlds and presented with challenges guaranteed to entertain adults and children of all ages.
Slide onto one of two full-motion car racing simulators or step onto one of four multi-directional treadmills that deliver 360-degree views. This technology allows each Escape Virtuality guest to walk or ride into a new world on demand. Once connected to the innovative equipment, every movement in the real-world triggers instant action in the virtual world.
Those up for more of an athletic challenge may enjoy the augmented reality interactive rock-climbing wall or go for a VR walk-through destined to get your heart pounding and your blood flowing. For the gamers, there are two Xtrematic machines that give access to 30 virtual reality games.
GHOSTS & GOBLINS
For larger groups, Escape Virtuality offers a challenging and exciting collection of production-style Escape Rooms with themes that include the Ghost Collector. In this Immersive Escape room one person known as the Ghost Collector has made it his mission to stop the ghosts terrorizing the streets of New York City. He's devised a way to capture and contain malevolent spirits by locating specific personal objects they were connected to. Now you and your friends can come to the Ghost Collectors séance room and see for yourself the ghosts that have been collected. However, the only way to view them is to temporarily release them from their containment chamber, locate their personal items, and then return them to containment before they are released permanently to terrorize the people of NYC again.
Additionally, there are VR experiences to stop a moving Runaway Subway Train, as well as sabotage your friends in a competitive Mission Galaxy Rescue and save NYC from a meltdown.
Escape Virtuality is also a wonderful way for families, couples, and groups of friends to celebrate a special occasion. Catering for events is also available for larger groups.
Access to Escape Virtuality in NYC is granted with pay by experience, hourly (up to two hours) or all-day passes, as well as single or group escape room tickets. It's recommended you buy tickets online to ensure availability on your preferred days.
For more information on Escape Virtuality, visit escapevirtuality.com.