RESCUE DOGS ROCK NYC
Leaving No Pups Behind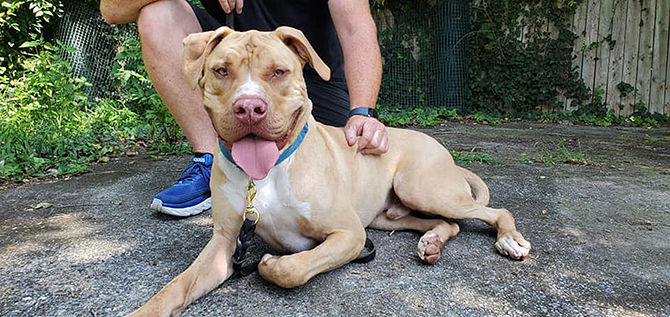 By Elizabeth Elston
Rescue Dogs Rescue NYC is a not for profit animal rescue charity founded in 2015, which relies solely on donations and fundraising to help animals in need. The charity has, to date, saved over 4,500 animals. Co-founders Jackie O'Sullivan and Stacey Silverstein started the rescue to protect abused and at-risk dogs from kill shelters and provide vetting services and ultimately loving homes.
After a successful career in sales and marketing, Jackie O'Sullivan left corporate America to pursue her dream of working with and helping animals. Jackie began volunteering at the Animal Care Centers of NYC and eventually went on to work with another large NYC rescue. Jackie was a managing partner for three years at the rescue where she worked with Stacey Silverstein, who also was a managing partner and volunteer at the Animal Care Centers of NYC. Stacey is a practicing attorney in New York, who had the mission of helping and saving the neediest of dogs and being the voice for the voiceless. Jackie and Stacey's dreams became a reality when they founded Rescue Dogs Rock NYC in March of 2015.
CONCRETE PLANS
Rescue Dogs Rock NYC's goal is to raise awareness of the ever-growing plight of homeless animals in the United States, in shelters as well as those abandoned in the streets. Working to educate about the considerable potential these animals have as family pets is one of the critical issues Rescue Dogs NYC is trying to tackle. There are way too many fantastic animals that are euthanized every day just because they are homeless. Rescue Dogs Rock NYC seeks to educate that these animals are not damaged goods or unworthy, but can be fostered into wonderful family pets.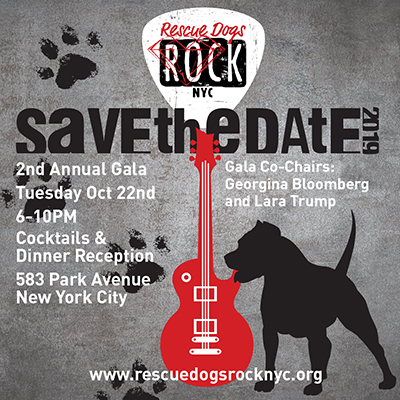 Sadly, the abuse, neglect, cruelty, and medical cases cost shelters the most money and often are the first animals to euthanize. "We believe that no injured or abused animal should lose its life simply due to lack of funds. We rely on volunteers, fosters, and adopters to take the animals into their home and provide them with proper care and a nurturing environment," said Jackie.
All animals are vaccinated, heartworm tested, micro-chipped, and behavior altered. Rescue Dogs Rock NYC thoroughly screens all homes, fosters, and adopters, by references, interviews with applicants, and a home visit to ensure the home.
And so with a successful last year, Rescue Dogs Rock NYC will host their 2nd Annual Gala this month on October 22nd at 583 Park Avenue, New York City. The gala will raise funds and awareness to help animals in need and will be co-chaired by Georgina Bloomberg and Lara Trump. Robin Lathrop of By Robin will produce the event.
Rescue Dogs Rescue NYC is currently working on developing its first adoption and rehabilitation center on Long Island. The new center will allow them to save many more dogs in need of rescue.
For more information on Rescue Dogs Rock NYC, visit rescuedogsrocknyc.com.