AN IMMERSIVE GREEK VOYAGE
Celestyal Cruises Offers An Authentic Experience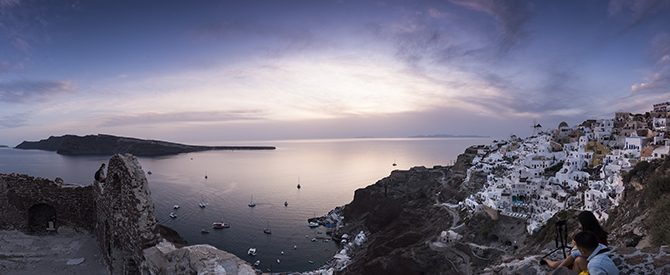 By Stacey Zable
Towering ancient stone ruins, marvelous beaches, turquoise waters, warm welcoming people, fresh Greek cuisine, and mild year-round Mediterranean weather are just some of what draws travelers to the Greek Islands. And to best experience these treasures and more, my family and I decided a Celestyal Cruise was the ideal way for us to island-hop Greek-style.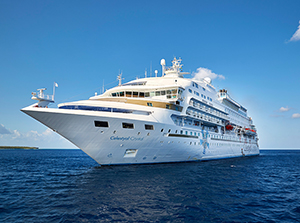 Inside the staterooms aboard Celestyal Crystal, all guests sailing the Greek Islands will find a welcome letter within the ship information book from CEO Chris Theophilides. "Greece is the very essence of Celestyal Cruises," he writes; and for my family, that was exactly what we were hoping for when we opted the 7-night "Idyllic Aegean" voyage. By choosing the Celestyal Crystal, we were able to integrate the region on and off the ship. The round trip Piraeus (Athens) itinerary featured not only port stops every day of the cruise, but more time in most of them. The itinerary included two overnights (in Mykonos and Santorini) and a late call at Milos, an under-the-radar gem. The other fascinating port stops included a late stay in Crete, and a full day in Turkey.
In addition to the itinerary, Celestyal offers all-inclusive rates that make it an especially good value in terms of pricing. It's also possible to upgrade to suite accommodations and private excursions, enabling guests to customize their dream trip. Included in the rate are all meals and an unlimited alcoholic and non-alcoholic drink package (soda, most juices, cocktails, non-alcoholic cocktails, coffees, Greek wine, and beer). Entertainment, activities, port and service charges, and all gratuities are also included. The cruise line even gives guests three included excursions within its seven-night itinerary as part of its all-inclusive rate.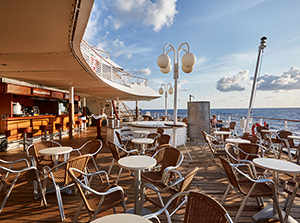 A CUSTOMIZED CELESTYAL CRUISE
Upgrade To The Suite Life Our home for seven nights was the 476-stateroom Celestyal Crystal which launched its Premium Suite Concierge Experience this year. The complete suites refurbishment included all new furnishings, fixtures plus a host of extras: a dedicated suite check-in counter for priority embarkation, and express luggage arrival in your suite. The Suite Concierge is at the ready to answer all questions and make reservations for additional activities and services. Priority disembarkation gets guests off the ship quickly.
A complimentary bottle of sparkling wine in the suite on arrival kicks off the cruise. A special pillow menu allows you to pick your ideal comfort. Suite guest perks while onboard also include complimentary room service from the dining room menu, and such food and beverage services as in-suite cocktails, morning tea and coffee service, daily delivery of fruit and canapés before dinner, and petit fours after dinner. Suite guests are also afforded complimentary shoeshine service, pressing, and unpacking/packing services.
Dine When You Wish Celestyal Crystal has two main dining rooms (no reservations needed) and a buffet, serving a choice of both Greek and international cuisine. It also has one specialty restaurant, the Fish Tavern, open for dinner at an additional cost. A buffet breakfast each morning fueled us for the day of discovering the Greek Islands.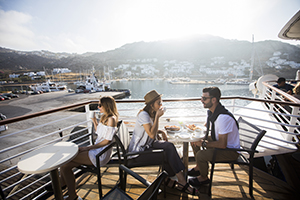 Choose Your Entertainment & Activities Celestyal Crystal offered plenty of activities and entertainment onboard day and night. During the day, you can experience the Greek culture by participating in such fun activities as Greek wine tasting, language lessons, or dance lessons. After a day of exploring the ancient world, we were treated to nightly shows that, in most cases, included a Greek mythology-theme, or music, dancing, and singers. The ship's intimate lounges and pool deck offered more options for music, including a Greek trio and piano players and other vocalists singing a range of music styles. There was also karaoke and dance parties for those looking for night-time fun and excitement.
Customize Your Excursions Celestyal truly soars in its offerings of excursions with an abundance of choice. The cruise line understands that guests are traveling to explore this magnificent part of the world and aims to provide almost a tour-like experience but on water. The incredible onboard staff can help you select additional group excursions as well as set up special private tours and transfers if booked ahead of time. They'll even suggest and make reservations at island restaurants for guests before boarding. We were able to do a mixture of included and additional group excursions and private tours. We felt as if our voyage was truly customized to our interests, that of a family of four, including our older teen and young adult daughters.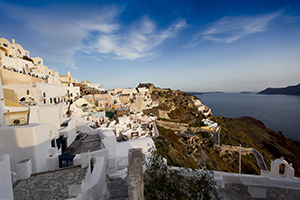 CELESTYAL IN 2020
Celestyal Cruises' is extending its 2019 and 2020 season as the first step toward its goal of year-round sailing cruises. In 2020, Celestyal will continue its seven-night "Idyllic Aegean" on Celestyal Crystal from May through October. The ship will also sail on the seven-night "Eclectic Aegean" from April until early May and then again in October featuring multiple stops in Turkey and Greece.
The "Three Continents Aegean" cruise, which will make its debut December 2019, on Celestyal Crystal will sail from the end of February through March and then again in late October through December 26th, with stops in Egypt, Israel, Cyprus, Greece, and Turkey. Celestyal will continue its three- and four-night "Iconic Aegean" cruises to Greece and Turkey on its sister ship, Celestyal Olympia, from March until November in 2020; it also offers a "Romantic Adriatic Cruise" itinerary with two options. In 2020, the 5-night choice in November is from Athens to Venice, and the 7-night December cruises are roundtrip from Venice, both with stops in Greece, Montenegro, and Croatia. —SZ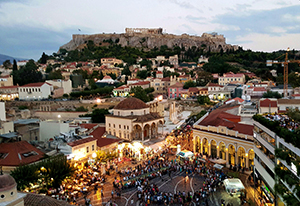 SEEING THE ANCIENT WORLD
Arrival: Athens Adding on a hotel stay upon arrival in Athens is a must after a long flight from the U.S. and Celestyal can easily arrange it. We stayed at the Athenaeum Palace and Luxury Suites. The lovely modern hotel included an abundant complimentary breakfast and large, comfortable guest rooms. Though located half-way between the port and Athens' city center, the property does provide complimentary shuttle service on select days and times to a stop near the Acropolis Museum. Other days, the front desk can arrange a cab to get you where you want to go.
We opted to explore on our own our first day in Athens and headed to the Acropolis. The famed UNESCO World Heritage site is home to the Parthenon and looks down over the city. Post-cruise, Celestyal set up a private tour guide to accompany us to the Acropolis Museum. She added a considerable amount of perspective on the many sculptures and treasures housed in the impressive site.
Days 1-2: Mykonos Arrival and Overnight
Our first port, once onboard the ship, was an early morning arrival at Mykonos, where the ship stayed until the next morning. The port town with its classic Cycladic architecture glistened with whitewashed buildings and sky-blue doors and domes. After a few hours of strolling along the streets, Celestyal arranged a private taxi transfer to the family-friendly Ornos Beach with its calm waters and lunch on the beach at the trendy Kuzina restaurant. We spent the remainder of the day in the Little Venice area where we shopped and dined with a view at the restaurant within the Mykonos Theoxenia boutique hotel. Naturally, we took the requisite photos of the Mykonos windmills amidst a stunning sunset.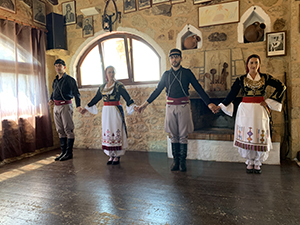 Days 2-3: Mykonos Departure/ Milos Arrival After leaving Mykonos in the morning, we arrived in Milos early afternoon and stayed until midnight. We opted for "The Amazing Beaches Tour" group excursion, which transported us from the port to two separate beaches. We felt as if we were walking on the moon at the striking Sarakiniko with its greyish-white volcanic rock. The second beach stop on tour was Paleochori, dramatically different from Sarakiniko with tall red rocks and a stretch of sand. Instead of returning to the ship right away, we spent the early evening walking along the shops of the lovely port town in Milos.
Days 4-5: Santorini Arrival and Overnight Stay An early morning arrival set up our stay for two full days in Santorini with an 11 pm departure on the second day. The first of Celestyal's three included excursions is the "Spectacular Oia Village Perched on the Caldera Rim" tour. It brings you to Santorini's famed cliffside city overlooking the magnificent Aegean Sea and caldera. You can return to the ship, or stay and explore more of Oia, including dinner and shopping, and its gorgeous sunset.
The second day in Santorini we set off on an arranged private taxi ride to Perissa Beach. Thanks to Santorini's past volcanic activity, Perissa boasts black lava sand. It was a lovely afternoon that included lunch at Ta Kavourakia Restaurant, where we were invited into the kitchen to view the fresh catch of the day. Heading back to the ship late that night, we took the cable car down from Fira to the tender transfer to the ship, offering yet again a spectacular view.
Day 6: Heraklion, Crete With an early arrival and late departure in Heraklion, Crete, we decided on an excursion in the morning and beach time in the afternoon. Celestyal offers an included excursion to "Knossos Palace and the Archaeological Museum," but we opted for the add-on excursion "Experience the Cretan Countryside and Cretan Lifestyle." We started the day at the archaeological site, the Minoan Palace of Knossos, with a guide who was part of the excursion. Afterward, our motor coach took us to the traditional tiny Crete village of Stironas, where we visited a winery and met the wonderful and impassioned owner, Vasilis. We enjoyed watching traditional dancers and tasting snacks, wine, and raki. The highlight, however, was Vasilis' animated description of the winemaking process and his love for his family.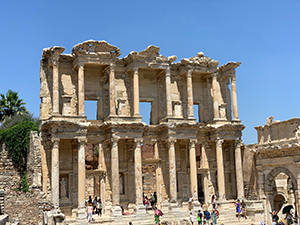 After the winery, the tour stopped in Heraklion for some shopping. We continued our exploration of Crete on our own with an arranged private transfer. If you want to go where the locals go and enjoy larger waves, Gournes Beach is the place to claim your spot in the white sand. Here, we ate lunch at Kima restaurant, a casual taverna facing the beach.
Day 7: Kusadasi, Turkey Our final port stop before returning to Athens took us beyond the Greek Islands to Kusadasi in Turkey. Though the shortest of our port stays with an early morning arrival and late afternoon departure, we maxed out our time with a private guide. Celestyal includes a shore excursion to the incredible Ephesus archaeological site. There is much to see of the ancient city, remarkably intact so much so that you can visualize its one-time residents of centuries ago walking along the marble-paved main street of Kouretes. The private guide added on with a visit to the wealthy families' Terrace Houses, the oldest dating back to the 1st century BC.
Following our tour of Ephesus, we drove with our private guide to the lovely hillside city of Sirince. We enjoyed an alfresco lunch at the boutique hotel Gullu Konaklari and shopping in town. At the end of the day, we sadly drove via private transfer back to the ship, which began its return to Athens and the end of the cruise.
For more information on Celestyal Cruises, visit celestyalcruises.com.