BEAUTIFUL BIMINI
It's Closer Than You Think, But Feels A World Away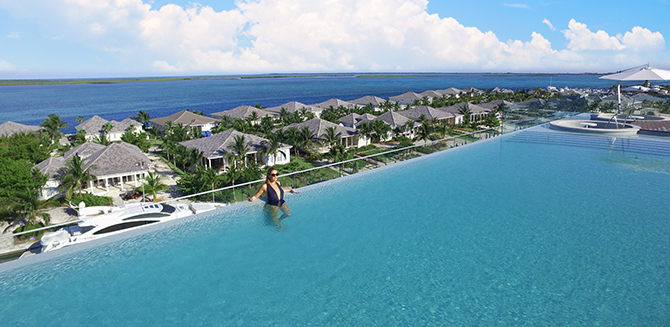 By Natasha Bazika
Thinking short getaway with friends? Here's a place that's off-the-beaten-track and only a 25-minute flight from Miami. The waters are blue, the Mai Tai's are bottomless, and treasures await. Bimini, which is known for attracting beachgoers, big game fishing, and even once the likes of Papa Hemingway—who briefly resided on the island—consists of a North and South Island. The North is where all the fun happens, from resorts to casinos and waterfront views, while the South Island is purely for exploring, adventures and underwater experiences. Whether you prefer a pamper, are looking to relax on the beach or want an adventure, Bimini has it all. Perfect for a girl's getaway.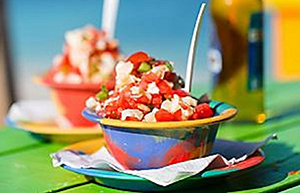 ARRIVAL
If you've never flown on a seaplane, you're missing out. I took off from a tar airstrip in Fort Lauderdale on a FlyTropic Seaplane, and 25-minutes later landed on a bed of turquoise waters, sandwiched between mossy green mangroves. My friends and I were whisked away from a dock to a bus, and in a mere 5 minutes, we arrived at our hotel, Resorts World Bimini. Even though it was a short trip, we felt a world away from the concrete jungle that is New York City, and it was the detox we all needed.
The resort was our playground. The rooms are fitted with floor to ceiling windows, which seemed unnecessary considering we had a private terrace that looked out over the water anyway. There was a rooftop infinity pool with views of the entire resort—including the line of yachts docked—and a lazy river pool on the ground floor. It was the ideal backdrop for a relaxing weekend, but the resorts casino was also the liberty we were seeking. Down the road, the resort has The Beach Club, a casual restaurant and bar serving grilled Bahamian fare and of course, more Mai Tai's. You can lounge on one of their day beds or grab a beach chair and relax by the ocean. What more could you want from a girl's trip? After a long day of lounging around and eating, it was spa time. After all, we were here to cleanse our bodies of city life.
The Serenity Spa was pure bliss. From a brightening facial to a deep tissue massage, there were no residual effects of the city life on us now. After the relaxing experience, food was next on our list. The Sushi Bar is a fantastic place for a choice from nigiri and sashimi to rolls and dumplings. The obvious choice here was a beautiful selection in a wooden boat covered in colorful raw delights, sushi rolls, and nigiri bites.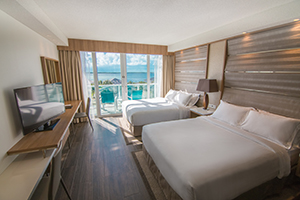 EXPLORING
The island is home to many treasures, including shipwrecks and several conch food stands, which in my opinion was a highlight of the trip. The resort offers golf carts to guests to use around the island, but if you're nostalgic like me, I couldn't pass up the opportunity to rent a bike and go for a ride around the island. We rode along the water, which seemed to fluctuate from light blue to verdant then to sky blue as we continued south on the north island. In only a few minutes we were in town, where we stumbled upon a conch shack. Bimini is perhaps, most famous for its conch salads and after trying three different ones, I can see why. The owner, who just arrived back from a day's catch showed us how to get the conch out of the shell and prepare it for the salad.
The locals on the island were kind, polite, and willing to share their local insights. We had followed a tip about this shipwreck not far from where we were. When we arrived, a large metal hull, that looked more like a skull than a seaworthy ship appeared half emerged in whitewash. According to the locals, this was the best place for the sunset, and they weren't lying. The sky was on fire, and the gentle sounds of lapping waves turned the chaotic song of New York into white noise.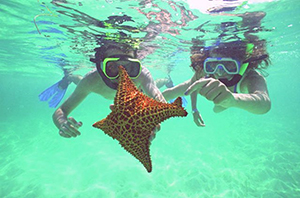 Swimming with sharks and stingrays is almost mandatory, so we couldn't wait to get up and out for a day of snorkeling and exploring. We headed to the Sapona shipwreck, a concrete-hulled cargo steamer that sunk in 1926 after running aground during a hurricane. Despite its tragic past, the wreck is a popular spot for tourists and sea creatures, such as sharks, dolphins, turtles and more. Even if you're nervous about swimming, the wreck sits in only 15 feet of water, so even the most novice swimmer will enjoy this excursion. For anyone in your life who loves a thrill, the shark excursion is perfect for coming face to face with the ocean's deadliest creatures. We jumped on a boat and traveled a few miles south of Bimini to Triangle Rocks, which is home to a local community of Caribbean Reef Sharks and Nurse Sharks. If you know anything about sharks—these are the more friendly kind. You can also take a boat to Honeymoon Harbor where you can swim, feed, and interact with stingrays.
For more information on Resorts World Bimini, visit rwbimini.com; for FlyTropic, visit flytropic.com.