LAND OF 10,000 LAKES
Put Minnesota On Your Bucket List!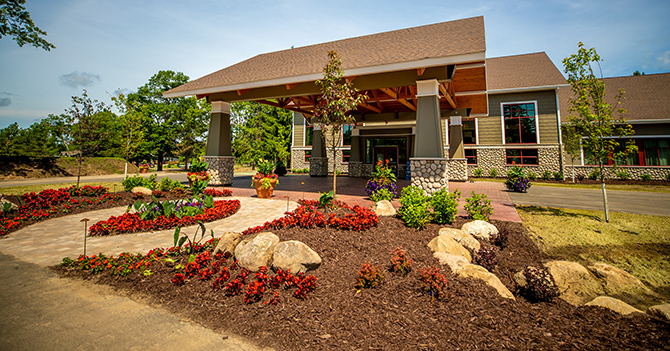 By Jenny Peters
Even if you've never been to Minnesota (I hadn't, until recently), every American knows that it is "the land of 10,000 lakes." Escaping the big city and heading into the Brainerd Lakes area taught me that there's a lot of fun to be had out in the countryside of Minnesota.
My home base was the Grand View Lodge, Spa and Golf Resort, a most venerable place that has been welcoming guests since 1916. Perched on the shores of Gull Lake, about a 30-minute drive from Brainerd Airport (BRD), it's right in the heart of the Lakes District and one of the most popular places to visit in the region.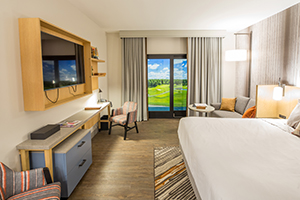 HEAD NORTH
The lodge, which already boasts rooms as well as 65 cabins and a number of garden cottages, has just added North, a sleek and beautiful 60-room boutique hotel on its property. The feel of the lodge and the other older parts of Grand View is rustic—think leather, plaid, and wood, with motifs of elk and bear scattered throughout. North is a whole new animal. Just steps from the lake, the lodge, and the beautiful spa facility, North is the kind of place where you want to settle into a comfy couch in the communal library space and watch the world go by.
That's an option, but there are so many things to do here. Whether on the sprawling 750 acres that make up Great View Lodge or beyond, you'll probably want to get moving—especially if you've brought the family along to this kid-friendly outdoor paradise.
YEAR-ROUND FUN
Minnesotans love the outdoors all year round, so no matter when you head "up north" (from Minneapolis to the Lakes District), there's always something happening. At the resort, the beach beckons when the weather is warm, with volleyball nets, wildly exhilarating banana-tubing rides (expect to get wet on those), leisurely pontoon boat cruises or rocketing jet skis awaiting your pleasure. You can go fishing, too, or grab a kayak or an inflatable SUP—or just jump in the lake for a swim.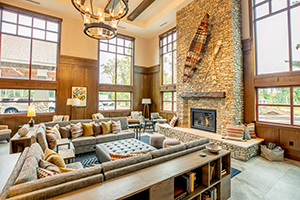 When fall arrives, the leaves offer up a riot of colors, making for a perfect time to head toward nearby Nisswa to the Brainerd Zip Line Tour. Here you can zoom through the trees on a seven-line zip tour that offers views for miles. You can also take a night zip trip to see the stars in all their brilliance. Or if you prefer terra firma, take an after-dark walk to glimpse the breathtaking Milky Way light up the sky on a clear night.
Wintertime brings snowfalls freezing lakes (Roy Lake is also part of this vast wonderland). Develop your skills as you set your sights on ice fishing, snowmobiling, cross-country skiing, or snowshoeing across the chilly landscape. Just remember to bring your warmest clothes, for Minnesota in the winter is not for the faint of heart! There are ski resorts nearby, too; at Mount Ski Gull you›ll find runs for skis, snowboards and even a chance to ride glow-in-the-dark tubes down the slopes in the dark of night.
INDULGE YOURSELF
After a day filled with active outdoor adventures, there's no need to go far to indulge yourself in an excellent meal, a spa treatment, or both. With two fine-dining restaurants, Cru and Char, you'll find beautifully prepared dishes, many using locally sourced ingredients. Eating fresh Walleye is a must in this part of the country; pair that local fish with wines from around the world and beers from Minnesota's finest breweries. Other more casual spots abound around the lodge, from sports bar pub food to Mexican, pizza, and more.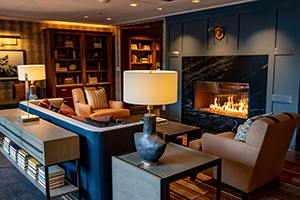 Just know that if you hit their Glacial Waters Spa and choose the signature "The Indulgence" treatment (blueberry body scrub, serenity soak, hot-stone massage, body wrap, facial and foot massage), you may feel like rubber and may end up missing dinner! Fortunately, for the ultimate decadence after that blissful treatment, you can easily order a pizza delivered right to your room.
So no matter what season you decide to jump into Minnesota's Lake District, you'll find lots to see and do. Or you can always switch off and sit on a deck chair, relaxing and reveling in the natural beauty that surrounds this lovely place.
For more information on Grand View Lodge, visit grandviewlodge.com.