THE SYMON
Luxury Arrives In Brooklyn

By AP Connolly
The Symon is the new boutique luxury condominium offering contemporary residences with an elevated design sensibility adjacent to the Brooklyn Heights Historic District. Located at 76 Schermerhorn, between Court Street and Boerum Place, the 13-story full-service building brings a sophisticated retreat to one of the borough's most popular living destinations.
Developed in partnership with Lonicera Partners, Orange Management and The Davis Companies, the highly anticipated condominium recently topped out and is being readied for first closings in less than a year.
"Honoring its remarkable surroundings and distinguished architecture of Brooklyn Heights, we're excited to unveil The Symon, which brings a beautiful and design-conscious," said Steve Rutter, Head of New Development New York at Compass Development (Stribling Marketing Associates), who is exclusively handling sales and marketing for the building. "In addition to the idyllic residential neighborhood just outside your door, the location provides access to Brooklyn's best dining, retail, cultural venues, and parks, as well as the best transportation hubs in New York City."
The name The Symon is a nod to the patriarch of the Schermerhorn family, whose aristocratic mercantile legacy dates back to the founding of Brooklyn Heights in the 1600s. The Schermerhorn's were known for their incredible entrepreneurial success, a deep sense of civic duty, and enormous philanthropic efforts. The Symon celebrates the confluence of history, culture, and commerce that make the neighborhood one of the best in New York City.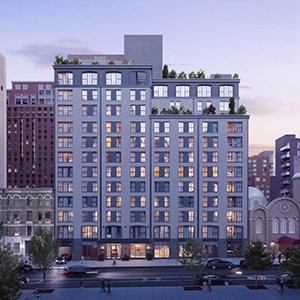 THE BUILDING
The Symon was designed by Studio DB the New York-based firm led by husband and wife Damian and Britt Zunino known for custom home portfolio and high-end interiors work. "Our vision for The Symon is deeply rooted in the rich story of Brooklyn Heights," said Britt and Damian Zunino. "We drew inspiration from historic buildings and elements throughout the neighborhood while infusing contemporary details throughout. It was important to us to reference the past with contextual exterior finishes and traditional interior design motifs, but to do so through a modern lens."
The Symon's captivating facade marries luxurious, natural materials with classic detailing to evoke the character and distinction of the neighborhood's treasured townhouses and grand apartments. With its distinctive arched windows, prominent canopied entryway and hand-laid brick, The Symon's façade makes a stately presence along Schermerhorn's charming streetscape.
Upon entering the building, the 24/7 attended lobby is accentuated with signature design elements including hand-painted wall coverings, custom oak paneling, marble floor patterns modeled on classic marquetry, and select furnishings taken from modern and Old World collections.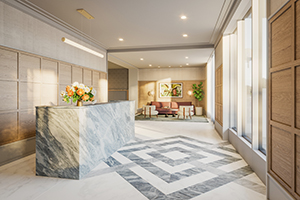 THE RESIDENCES
The Symon's 59 one-to-four-bedroom contemporary homes boast exquisite features. One-of-a-kind entry foyers with large solid panel doors, crown molding accents, eight-inch baseboards and inlaid wood flooring medallions with a basket-weave motif top the list. Oversized divided-light windows and custom washed-oak floors fill each residence with natural light and warmth. Graciously proportioned kitchens feature custom raised-panel cabinetry, marble countertops, and high-end appliances, while bathrooms offer refined material selections, diamond tile patterns and master bath fixtures in antique brass from Waterworks. Additionally, select residences offer private outdoor space; expansive terraces come complete with gas grills, including three penthouses that crown the top of the building.
THE AMENITIES
A carefully curated amenity selection will be available to future residents at The Symon including a hotel-like private lounge which boasts an urbane amalgam of contemporary and vintage décor. The rooftop terrace will be beautifully landscaped offering scenic vistas of the neighboring historic district, providing a lofty getaway for relaxation and intimate social gatherings. Additionally, a state-of-the-art gym outfitted with Peloton fitness equipment, a children's playroom, storage, and bicycle spaces for purchase are offered. A limited number of on-site private, indoor automatic parking spots are also available for purchase.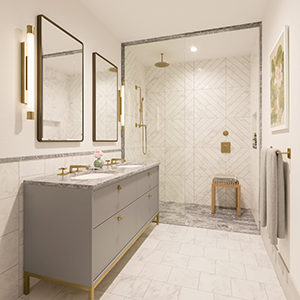 THE NEIGHBORHOOD
Located within a half-block of the Brooklyn Heights Historic District, The Symon boasts immediate access to the enchanting streets and beautiful townhouse blocks with exquisitely preserved architecture. Just minutes away, The Symon is near the heart of Downtown Brooklyn, the commercial and cultural backbone of the borough. Together, these two neighborhoods provide residents with the unbeatable combination of serene residential surroundings along with convenient access to world-class cultural venues including the Brooklyn Academy of Music and Barclays Center, unparalleled green space including Brooklyn Bridge Park and The Promenade. Getting around is easy with access to 13 subway lines. Besides, there is a plethora of local conveniences ranging from Apple and Equinox to Whole Foods and Trader Joes, as well as an array of beloved local culinary and nightlife establishments.
A rare combination of high design and value, pricing for The Symon begins from just under $800,000. The sales gallery is located at 130 Clinton Street.
For more information on The Symon, visit theesymom.com or call 212-404-7676.