BITS & BAILEY
The Who, What & Wow Of The Luxe Scene
By Bailey Beckett
Cheers, dears. I'm writing this month's dispatch from Vitae, the sexy-cool midtown restaurant by Chef Edwin Bellanco, which celebrates its 8th anniversary this coming winter. As I sip (ok, gulp) an Italian 2011 Barolo at its uber-chic bar, I am contemplating my fall social calendar, while noticing a piece of lint on my new Burberry cashmere scarf. It reminds me of my stunning wardrobe that will also be front and center, as you might expect. Priorities, reader. Priorities. Hence this month's lifestyle diary by yours truly.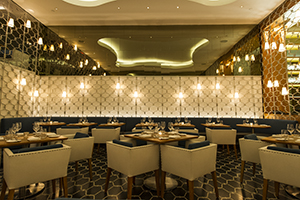 HURRAY FOR VITAE
There's a reason I'm here, folks. I fell upon this Midtown maven during a leisurely walk down 5th Avenue and was taken in by its nonchalant signage and entry. But lo and behold, there is little modesty about this culinary mecca. Led by Bellanco, who is both proprietor and chef, Vitae is a rarity in the restaurant scene: combining Michelin-star quality food in a sophisticated yet casual setting. The décor is worthy of a Vogue photo shoot and the menu traditional but surprising—pulled pork tacos!—which makes Vitae the perfect spot for a working lunch or casual, after-work dinner and/or drinks. Bellanco, a veteran of French Laundry, Gramercy Tavern, Bouley Cru and Danube, is that rare maestro whose food is exquisite without pretension, avoiding labels like "farm to fork" (most food is, duh) and fads that start with foam for filling. The menu consists of satisfying fine-dining worthy foods. Consider Bailey impressed. Info: vitaenyc.com.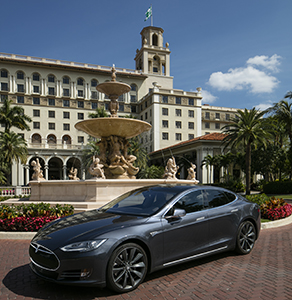 GO BREAKING MY HEART
Even Elton John would be impressed by the ultra-exclusive Flagler Club at The Breakers Palm Beach, the vacation magnet on the tony south Florida island. A hotel-within-a-hotel, this unique experience raises hoteling to the stratosphere. Re-imagined as an intimate yet 25-room guest house nestled in a beachside estate, Flagler Club is a private access experience located on its own floor with breathtaking views of the resort's spectacular palm tree-dotted driveway. "We wanted to create a new premium at The Breakers for guests who wish to invest in a truly intimate and extraordinary VIP experience," said Tricia Taylor, senior vice president & general manager of The Breakers. "Inspired by our guest's evolving expectations, Flagler Club was conceived as a modern enclave of private access—a service-intensive boutique hotel with numerous, best-in-class amenities." Even before departing New York, I was contacted by Flagler Concierge inquiring about my needs and preferences (it's a long list, folks). Upon arrival, I was greeted by another Flagler folk, who whisked me to the check-in desk for their special arrivals. There, I spied a buffet worthy of a billionaire, from Belgian waffles to hot, fluffy pastries, morning charcuterie and a well-attuned staff. Within minutes, I was transferred to The Flagler Club—in style!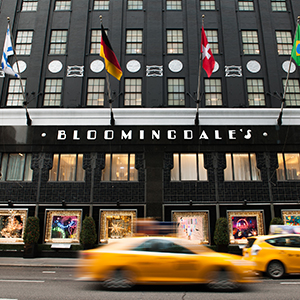 The rooms on the Flagler Club floor are unique Breakers-style: light, bright stylish (think color palette of crisp off-white base with accents of blues, beiges and browns) and brimming with luxurious amenities: PranaSleep beds, Frette linens and robes, rainforest showerheads, Jo Malone bath amenities and even a curved Samsung Smart television set. What separates the Flagler Club apart is its intimacy. After a day at the beach or pool, you can retreat to a quiet, stylish setting where four meal presentations are provided throughout the day. At night, you can indulge in a cocktail, too. After ordering my usual Macallan 12, I was met with my favorite quote of all time: "Would you prefer Macallan 18?" Sold!!!!! Info: thebreakers/accommodations/flagler-club.
VROOM TO THIS BLOOM
Two of Bailey's must-stops in New York: Loews Regency New York Hotel on Park Avenue and Bloomingdales, the shopping mecca also on the Upper East Side. Now, imagine them together. Ho-ho-go! Starting late November, the beloved department store will be sponsoring a "Pop Up" shop inside the Regency, featuring a selection of holiday-themed items keeping in mind today's stylish traveler. Whether a seasonal gift, accessory, or even Bloomingdale-branded present, the shop combines the experience with on-site monogramming of leather gifts by ROYCE New York. "Bloomingdale's has been a great partner of ours for the past few years," said John Maibach, Managing Director of The Regency. "We are constantly looking for new ways to provide our guests with seamless and unique experiences, and we believe this partnership offers a new and fresh take on the hotel gift shop." Info: loewshotels.com/regency-hotel.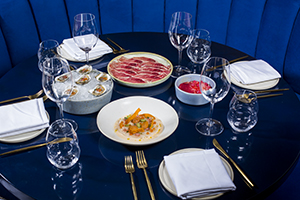 HIS NAME IS BAILEY
...and he's officially a fan of Her Name Was Carmen, a restaurant founded by Thatcher Schultz and Andres Diaz that combines seafood with culinary inspiration from countries in Latin America. Witness a menu of delicacies like Salmon Crudo, Tuna Majaja, and Hamachi Tiradito. "Each dish is created with a Peruvian soul, but perfected with a French technique," says Chef Omar Ben Hammou, inspired by his training in Peru and work in kitchens across Latin America (he also worked with world-renowned French chef Eric Ripert. "I've been lucky enough to cook and train all around the world, but nothing gets me more excited than bringing food from my native South America to New York City." Equally as enticing is its wine program, mastered by Sommelier Yuval Bar-Kokhb. Its menu includes selections from oceanic regions in Mallorca, Sierras de Malaga, Galicia, and Uruguay, among other places. Housed in an upscale two-story venue located on Broome Street in the heart of West Soho, Her Name Was Carmen embodies the essence of Latin America culture by fusing an outstanding culinary experience with an exuberant social scene. Info: carmennyc.com.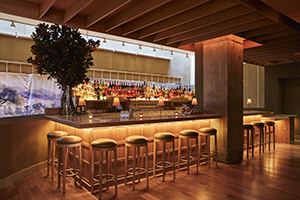 AND FINALLY
Bailey is obsessed with the new Felice inside the Chambers Hotel on West 56th Street off 5th Avenue. Serving breakfast, lunch, and dinner, the restaurant brings its legendary Tuscan to midtown, featuring classics by Chef Adrian Kercuku. My favorite is the Fusilli Cavolo Nero e Salsiccia. The ample, two-level space is large and stunning, including a landscape watercolor mural by Italian painter Fiona San Giuliano. Info: felicenyc.com.