A QUEST TO REVERSE CANCER
An Interview With Dr. Samuel Waxman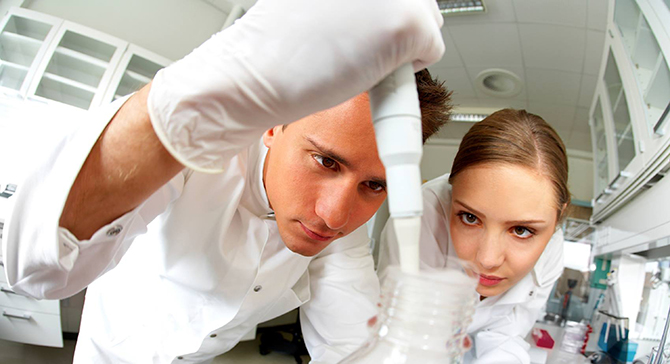 By Peter Elston
Samuel Waxman, M.D., has dedicated his entire career as an oncologist/hematologist and research scientist with the goal of developing scientifically based minimally toxic therapies for patients with cancer.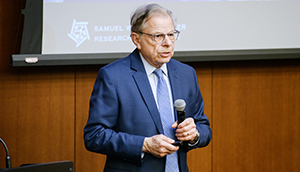 Born in New York City and raised on Long Island, Waxman is a valued member of the faculty at the Icahn School of Medicine at Mount Sinai for more than 30 years, Dr. Waxman currently holds a variety of positions, including, Distinguished Service Professor of Medicine, Icahn School of Medicine at Mount Sinai, Honorary Professor and Co-Director of the Center of Differentiation Therapy at Shanghai Jiao Tong Medical University. In addition, he is the Founder and CEO of the Samuel Waxman Cancer Research Foundation (SWCRF).
Dr. Waxman has authored more than 300 scientific papers and was among the first to study differentiation as a cancer therapy. He has also contributed chapters to textbooks on hematology, chemotherapy and nutrition as well as authoring a series of books entitled Differentiation Therapy, and another called The Leukemia Cell. Waxman helped found the International Conference on the Differentiation Therapy of Cancer, which brings together researchers from around the globe every two years.
New York Lifestyles recently met with Dr. Waxman who shared vital information on the fight against cancer.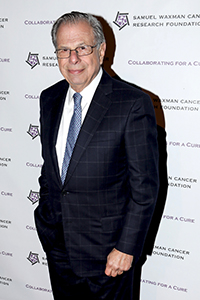 What made you get into the medical field?
I received my undergraduate degree at Cornell University, where I received a B.S. Soon after I attended medical school at the State University of New York Downstate Medical Center, where I received my M.D. and graduated Summa Cum Laude. I completed my residency and research fellowships at the Mount Sinai Hospital.
Why did you enter into cancer research?
After a family member was diagnosed with cancer, it inspired me to pursue oncology/hematology. Once I began treating patients, I grew frustrated with the side effects of treatments brought about by their toxicity. Since then, I dedicated my entire career to understanding why normal cells become cancerous, how to prevent or treat cancer and to develop minimally toxic therapies.
What prompted you to launch the Samuel Waxman Cancer Research Foundation (SWCRF)?
After I successfully treated a young man for leukemia, the man's uncle presented me with a donation and challenge to start a foundation after learning that early-stage research, which often leads to novel breakthroughs, was only funded through private dollars. I then established the Samuel Waxman Cancer Research Foundation (SWCRF) in 1976 and since then, it has directed nearly $100 million in donor-supported research to more than 200 of the world's top research scientists and physicians.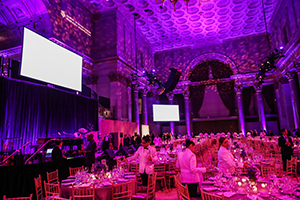 What is your proudest career moment so far?
In collaboration with other researchers around the globe, I helped find and discover a cure for a form of leukemia known as acute promyelocytic leukemia, which once had a 100 percent fatality rate but now has a 95 percent survival rate. Also, through the SWCRF, I pioneered collaborative research and mandated that all scientists who received funding from the SWCRF, initiate a collaboration with another researcher, ideally outside of their research institution and discipline.
Where do you see yourself and the Foundation in the next 5 years?
Recently, we spearheaded a research partnership with the National Cancer Institute and the National Institute on Aging to boost research that examines why aging is a leading risk factor for cancer. A first of this kind, the partnership has paired scientists who study cancer with those who study aging. The premise of this partnership was born out of the SWCRF's collaborative research model as a means to hasten research breakthroughs. In five years, I see the SWCRF as the leader in amassing a global investment in this area of research since aging is the leading cause for cancer but at present, remains understudied.
For more information on Dr. Samuel Waxman and SWCRF, visit waxmancancer.org.
---
ABOUT SWCRF
The SWCRF is an international nonprofit organization dedicated to curing and preventing cancer. The Foundation is a pioneer in cancer research and its mission is to eradicate cancer by funding cutting-edge research that identifies and corrects abnormal gene function that causes cancer and develops minimally toxic treatments for patients. Through the Foundation's collaborative group of world-class scientists, the Institute Without Walls, investigators share information and tools to speed the pace of cancer research.
Much of the support for the SWCRF cancer research funding comes from events such as The Hamptons Happening cancer research benefit held each summer, an annual golf tournament and the Waxman Gala. This year, the 22nd Annual Waxman Gala will be held on November 21, 2019 at Cipriani Wall Street in New York City.