FOGO DE CHÃO
A Brazilian Steakhouse With Flash & Finesse
By Anne Raso
If you're in the mood for something different and have a large appetite for good food and a lively atmosphere, the conveniently located Fogo de Chão is the place for you. There's never a dull moment as gauchos come by your table with fire-roasted skewers of meat done in many delicious ways. Each guest gets a round card to flip to the green side when they want to be served and flip to the red side when they need a break. The endless supply of succulent meat and poultry is accompanied by a salad bar that comes with the dinner prix fixe of $66.95 (currently at the promotional price of $49 through December 1, 2019).
Many aspects of the Fogo de Chão dining experience make it unforgettable. Included in what might be Manhattan's best sophisticated prix fixe dining is the remarkable Market Table, a salad bar that features about 50 Brazilian, European, and American specialties. Everything from fresh mozzarella and assorted popular Brazilian beans and charcuterie to mixed grilled veggies is beautifully displayed and gives plenty of vegetarian options for non-carnivorous guests. Fluffy and light Brazilian cheese bread (Pao de Queijo) served at the beginning of each meal is highly addictive—no doubt you'll ask for seconds! Each table also has sides, including polenta and plantains.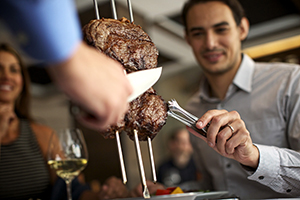 QUALITY CHURRASCO
New York Lifestyles asked Ricardo Oliveira, General Manager of Fogo de Chão NYC, about the authentic churrasco experience and how they became number one in this exclusive dining field. He responded, "Fogo de Chão has specialized for 40 years in fire roasting simply seasoned meats utilizing the centuries-old Southern Brazilian cooking technique of churrasco. We deliver an authentic Brazilian dining experience through the combination of high-quality Brazilian cuisine and a unique service model of continuous service delivered by our gaucho chefs. Although we are known for our full churrasco experience, we are always updating ways to give our guests more reasons to choose Fogo. From our weekend brunch, the new bar and lounge experience complete with happy hour offerings, or even our lighter dining options, like seafood and Gaucho Lunch, Fogo offers something for everyone."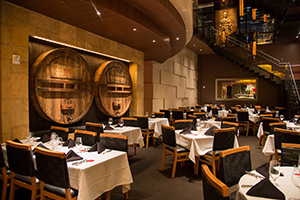 PRIDE IN HOSPITALITY
Oliveira has adored his time working for this award-winning restaurant group and tells us candidly, "I have been in the restaurant industry for more than 20 years, originally specializing in the areas of coffee and wine. Growing up in Rio Grande do Sul, Brazil, I was always very familiar with Fogo de Chão and dreamed of working for them one day as a gaucho chef. So, when I learned that they would be opening a restaurant in New York City, I jumped at the chance to join the Fogo family and have never looked back."
He continues, "The biggest highlight for me is the culture at Fogo. Once you come to know gaucho culture, you can't help but get involved and feel passionately about it—especially as a native of Brazil. At Fogo de Chão, we take great pride in the hospitality we extend to our guests, always striving to make them feel right at home with us."
GAUCHOS IN THE MAKING
The gauchos go through rigorous training to achieve an optimum dining experience for guests. Explains Oliveira, "Over the years, we've brought many chefs to the United States from our restaurants in Brazil. The recruitment and development process helps to ensure the success of each of the new chefs who become experts on meats and Southern Brazilian cuisine. During training, they learn to be responsible for every culinary aspect of the business, which includes butchering, skewering, grilling, and carving meats tableside. At Fogo, we're not only constantly innovating, but we're always investing in training our teams at every restaurant."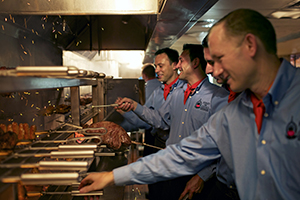 SEASONAL FLAVORS
As you read this, the kitchen staff at Fogo de Chão is discussing the freshest locally sourced produce available for their Market Table and menu items. Oliveria explains, "It is a tradition in Southern Brazil to utilize the season's fresh produce when preparing meals for family and friends. To follow suit, we offer menu innovations that incorporate the same seasonal flavors. Look for New York Strip as part of the full churrasco experience, as well as new Market Table additions, such as a butternut kale salad, butternut and sweet potato soup, pear and endive salad, and roasted sweet potatoes. We're also open on Thanksgiving and Christmas, offering special holiday menus for both."
AN ENGAGING ATMOSPHERE
Who is the typical clientele that turns up at Fogo since they are located smack dab in midtown at West 53rd Street just east of Sixth Avenue (directly across from MoMA)? Oliveira remarks, "At Fogo de Chão, we offer guests an engaging atmosphere with a unique, Southern Brazilian flare that still maintains the roots and tradition of their very first restaurant in Brazil. On a typical day at Fogo, you can find everyone from young families or millennials celebrating a special occasion dining next to business guests. We frequently have celebrities dine with us and post about their experience on their social media pages."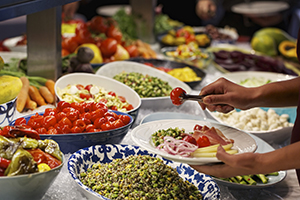 SPECTACULAR SERVICE
Fogo is a great place to take families and large groups. Kids especially love it because they get to use their personal metal thongs to grab the sliced meat off each giant skewer. Fogo provides a truly unique dining experience at a reasonable price, with service among the most attentive in the city. The staff is genuinely caring without being a distraction to your dining experience. It's much more than a "meat extravaganza"—Fogo De Chão brings authentic Brazilian flavors and culture to the center of Manhattan!
For more information on
Fogo de Chão, visit fogodechao.com.