ON STAGE
David Byrne's American Utopia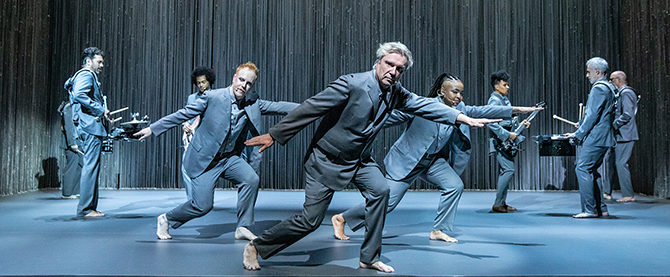 By Lori Zelenko
You may ask yourself, "How did I get here?" to quote a line from the Talking Heads "Once In A Lifetime" hit—as you find yourself dancing in your seat to "Burning Down The House" (no dancing in the aisles!). In fact, you're compelled to get on your feet—dance, scream, shout, and yes, applaud—the moment the first number in David Byrne's American Utopia ends. By the time the encore is over and this marvelous evening of the most inclusive music performances has completed, you may wonder how Broadway's illustrious Hudson Theatre replicates the avant-garde music scene of CBGBs and the Mudd Club. Not to mention the visionary aesthetic of David Byrne's band, The Talking Heads, once a cult favorite turned new wave pioneers earning massive critical acclaim, not to mention millions of video views.
The Talking Heads ended their run in 1991, but their music lives on through their lead singer and guitarist, David Byrne, now up there in the pantheon of pop-rock icons. He has mixed familiar hits with new concepts and songs in an intimate Broadway show, David Byrne's American Utopia through January 19, 2020.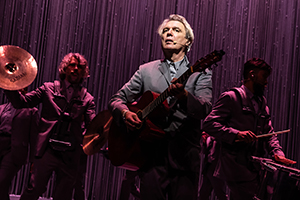 SPONTANEOUS COMBUSTION
Ask David Byrne what his motivation is for staging a dynamic musical performance based on his 2018 album, American Utopia and for creating a show that is continuously evolving, overflowing with spontaneity and he'll tell you, "A few years earlier I had toured with the musical artist St Vincent, and we had a large horn section that we decided should be completely mobile. Could I liberate the other instruments in the band as well for the new show? It turns out I could. Drummer Mauro Refosco, whom I've worked with for years, said we'd need six drummers to reproduce the necessary grooves. There is now a technology that allows a keyboard to be mobile, so musical director Karl Mansfield tested it out."
The music, like the musicians themselves, hails from all over the world. Here and there, you recognize a tribal sound from Africa or that particular New Orleans twang or the raspy rhythm of Brazilian gourds. David Byrne celebrates the true nature of his merry band of musicians and reveals that he too is "an immigrant," hailing from Scotland, coming to America as a child. Indeed on that revelation, you see not only the Scottish austerity in his minimalist presence, but an entertaining geniality surfaces erasing the anxious, clean-cut image expressed in Talking Heads videos.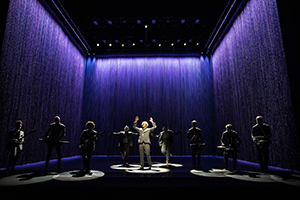 TIMELESS HITS
Yes, you wonder, "How did I get here?" as the evening unfolds, surprising us all. How did I travel back to the 80s to hear timeless hits? How did I wind up at a performance hosted by a quietly intense performer who weaves in politically-tinged messages encouraging us all to take hold of our own beliefs and act accordingly? This is not what you expect from Broadway, and that is what makes this show so rewarding and, yes, an experience that is not to be missed.
Karl Mansfeld acknowledges that there is an underlying structure to the show, which seems willfully haphazard. He reveals that certain parts are highly choreographed, but the rest he says is "loosey-goosey"….a "successful experiment" he calls it. Mansfeld wants all to realize, American Utopia "is one of a kind. True, there's a subtle narrative but it evolves, making each performance unique."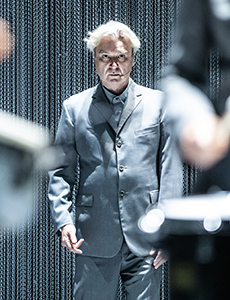 The supporting cast here is the 11 musicians integrated into the performance, interacting joyfully with one another and with David Byrne who moves naturally among them. No stars become diva acts here. The mood and actions are inclusive in every sense of the word. The standouts among the musical cast include Bobby Wooten III, a guitar player that Jimi Hendrix might even envy, delightfully engaging he is a natural, can't take my eyes off him. Jacquelene Acevedo brings a sparkle to the stage, blond and beautiful; her presence on drums and other global percussion instruments is uplifting, playful, and compelling. The ensemble also includes Gustavo Di Dalva, Daniel Freedman, Chris Giarmo, Tim Keiper, Tendayi Kuumba, Stephane San Juan, and Angie Swan.
As the lyrics to "Burning Down The House" say, "Watch out, you might get what you're after…." If you're after a great time, a brilliantly staged innovative musical performance and an evening hosted by a performer who embodies the avant-garde with humor and style then watch out indeed because American Utopia is what you'll get.
For more information on American Utopia, visit americanutopiabroadway.com.