ON THE BIG SCREEN
By Jenny Peters
SEQUELS AND REMAKES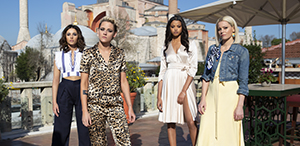 CHARLIE'S ANGELS
Rated PG-13
Elizabeth Banks takes the helm of this reboot of the Charlie's Angels franchise, as she stars, writes, and directs this new take on the familiar adventures of three gorgeous women who take on the bad guys across the globe. She's Bosley, while Kristen Stewart, Naomi Scott and Ella Balinska are the new angels. It's a big-budget action flick helmed by a woman, which is very good news in Hollywood.
---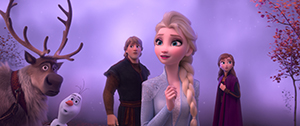 FROZEN 2
Not yet rated
Little girls and grown women, rejoice! Your favorite Disney ice princesses are back in this animated adventure sequel to Frozen, the Oscar-winning and highest grossing animated movie of all time. Naturally, Elsa and Anna are back, along with Olaf and Sven; together they will have to protect their kingdom from dangerous forces. New songs, the same beautiful animation and the vocal talents of Idina Menzel, Kristen Bell, Jonathan Groff and Josh Gadd are sure to make this yet another Disney home run.
---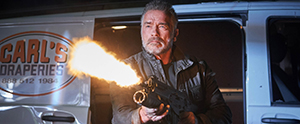 TERMINATOR: DARK FATE
Not yet rated
Heee's back . . . and so is she! Arnold Schwarzenegger and Linda Hamilton reprise the roles that made them both household names back in the 1980s, as the Terminator and Sarah Connor. Creator James Cameron produced this next chapter in the continuing saga and joined in the writing process, so fans should be very happy with this next installment.
---
BIOPICS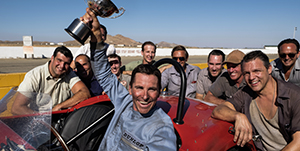 FORD VS. FERRARI
Rated: PG-13
Matt Damon and Christian Bale lead a stellar cast in this automobile lover's dream of a movie, all about the competition between Ford Mustang designer Carroll Shelby and Italian race car genius Enzo Ferrari. With a heady combination of racing footage, fascinating interpersonal relationships and two A-list actors working at the top of their game, Ford vs. Ferrari is a real-life exhilarating action flick.
---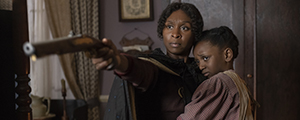 HARRIET
Rated: PG-13
Harriet Tubman's life is legendary, as the woman who was a former slave became the strongest advocate for freedom in the United States during the 1850s, in the years before the American Civil War broke out. Cynthia Erivo stars as Harriet in this biographic film directed by Kasi Lemmons. Look for the talented ensemble of Leslie Odom Jr., Janelle Monae, Clarke Peters and Vondie Curtis Hall who help bring this emotional drama to life.
---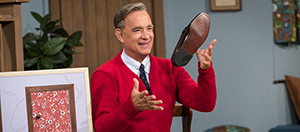 IT'S A BEAUTIFUL DAY IN THE NEIGHBORHOOD
Not yet rated
Tom Hanks transforms into one of America's most-loved children's television stars, as he brings the incredible story of Mr. Rogers to life. With cardigan sweater and a gentle attitude, Hanks transforms into Fred Rogers, the man who made millions of American kids into better people, just by being the nicest guy in the world.
---
CRIME CAPERS

THE GOOD LIAR
Rated: PG-13
What could be more fun in the cinema than a cat-and-mouse comedic thriller starring Helen Mirren and Ian McKellan? If there's anything else you can do in public, we don't know what that is! Those two consummate thespians bring a sly sensibility to this caper flick that starts in one direction and then – surprisingly – swerves into a whole new place. For young or old, this one's a ton of fun.
---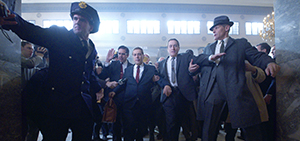 THE IRISHMAN
Rated: R
Director Martin Scorsese is back with a vengeance after a quiet six years, bringing Robert De Niro and Al Pacino together in a mob tale about the man who helped make Jimmy Hoffa disappear without a trace back in the 1980s. A Netflix film that took to theaters early, The Irishman may just be the famed 76-year-old actor's swan song—and an Oscar winning one at that.
---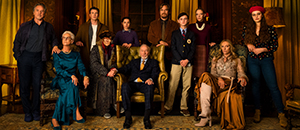 KNIVES OUT
Rated: PG-13 This stylish whodunit is a little bit funny, a tad mysterious and an overall delight to watch as Daniel Craig stars as a detective out to solve a family crime. Add in Chris Evans, Jamie Lee Curtis, Don Johnson and more slyly comical actors and you've got a clever movie that would have made Agatha Christie smile with delight.