THE ANNUAL HOLIDAY GUIDE TO NYC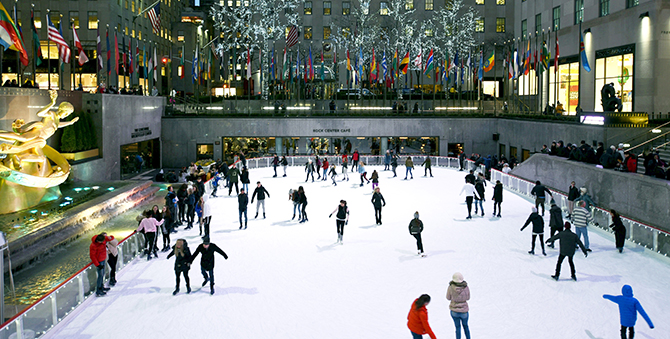 By Natasha Bazika
It's the most beautiful time of the year when New York City finds its magic in the 50,000 twinkling lights on the Rockefeller Center Tree, and the twirling Rockettes. And, of course, there's always the wish for a blanket of pure white snow that turns Central Park into a winter wonderland. Whether this is your first time or your fiftieth time, Christmas in New York is an experience that should be on everyone's bucket list. Unwrap your festivities with our special holiday guide, where we highlight the best events to attend, and the best sights to see from now through to December.
HOLIDAY PARADES & FESTIVALS
The season kicks off with the Thanksgiving Day Parade and a host of tree lightings and festivals to keep the season alive right into the new year.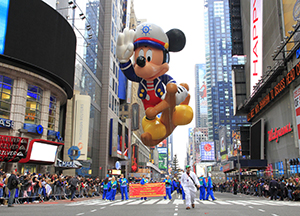 Macy's Thanksgiving Day Parade
New York's own Thanksgiving Day Parade is one of the most iconic global holiday events drawing in over 3 million people a year on the streets and 50 million watching at home. This year the parade will be taking place on Thursday November 28th from 9am to noon. The parade will kick-off between West 77th Street and Central Park West and will make its way down to Columbus Circle, Central Park South and 6th Avenue and finally will come to a stop at Macy's Herald Square. As for the balloons, this year parade-goers will see a variety of characters including astronaut Snoopy, Smokey Bear—which hasn't been seen since 1993—Chase from Paw Patrol, Goku, Olaf, Pillsbury Doughboy and much more—most measuring over 30 feet long. The crowd-pleasing floats will include New York Life (first appearance in the parade), 123 Sesame Street, Ronald McDonalds' Big Red Car, Kinder Chocolate Factory, 3D Christmas Calendar, Mount Rushmore, and so much more.
Don't Miss Before the balloons rise from the Manhattan Skyline on Thursday; you can get a behind the scenes look at the Balloon Inflation. You could be the first one to see the brand new Snoopy in his astronaut suit, or Smokey Bear, who is returning to celebrate his 75th Birthday. Taking place at the American Museum of National History (just off Central Park West between 77th and 81st St), the Balloon Inflation begins around 1 pm. But keep in mind the balloons don't start taking shape until around 4:30 pm, with the last area admission at 8 pm. If you show up in the evening, there are many more balloons to see, but also more massive crowds than if you were to show up earlier. Either way, pick a good spot and watch these gigantic characters come to life. Info: macys.com/social/parade.
Lincoln Square Annual Winter's Eve
On Monday, December 2nd, the Annual Winter's Eve at Lincoln Square—New York's largest holiday festival will begin with the tree lighting ceremony. The highly anticipated event promises a lively lineup of legendary performers, musicians, dancers, street entertainment and more to ring in the holiday season and light up the Upper West Side. Info: winterseve.nyc.
Luminocity Festival
This year immerse yourself in a wonderland of lights at the Luminocity Festival held at Randall's Island Park from November 23rd to January 5, 2020. This family-friendly event includes three journeys; The Winter Fantasy, The Wild Adventure, and The Sweet Dream. Each journey has its own theme with a spectacular display of lights. This is a must-see light spectacle this holiday season. Info: luminocityfestival.com.
HOLIDAY THEATER
Christmas shows are on everyone's mind as we all prepare for the holidays. How can you have Christmas in New York without the latest Christmas Spectacular and a whole bunch of Nutcrackers and A Christmas Carol?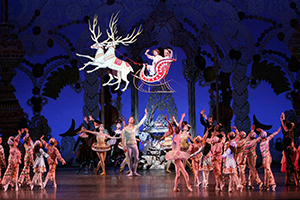 The Radio City Christmas Spectacular
Head to Radio City Music Hall to see the famous Rockettes and their high-stepping Christmas Spectacular, which has been entertaining audiences since 1993. This year if you're looking for something special for the dancer in your life, you can buy tickets to take a 3-hour dance class with the Rockettes themselves. The high-energy class includes choreography from the Christmas Spectacular, a mock audition, and Q&A with the Rockettes, as well as several photo opportunities with the dancers and Santa himself! Price also includes premium tickets to the show, pre-show reception buffet and open-bar, and a private entrance into the hall—it's an experience not to be missed. This year's show will run from November 8, 2019 through January 5, 2020. Info: rockettes.com.
New York City Ballet The Nutcracker
The New York City Ballet's production of George Balanchine's The Nutcracker is at the heart of New York City's holiday season. Whether a family tradition or a once-in-a-lifetime visit, your experience of this glittering classic ballet will stay with you forever. Young and young-at-heart will be transported to a magical place filled with adorable children, marching toy soldiers, waltzing snowflakes, and some of the most breathtaking costumes ever seen. The most famous example is the massive Christmas tree that grows to 40 feet, evoking audible gasps from the audience every time. This year's performances will be held from November 29, 2019 through January 5, 2020, at the David H. Koch Theater, Lincoln Center. Info: nycballet.com.
A Christmas Carol
Charles Dickens' classic tale comes to Broadway this holiday season. Prepare to meet a brand new Scrooge (Campbell Scott) as this gloriously festive reimaging sweeps into The Lyceum Theater. Brimming with wit, festivity and Victorian charm, discover why A Christmas Carol remains the world's favorite holiday show. Joining Scott are Tony winners Andrea Martin and LaChanze, who will star as the Ghost of Christmas Past and Ghost of Christmas Present respectively. Open from November 20, 2019 through January 5, 2020. Info: telecharge.com.
HOLIDAY TREES
The Tree at Rockefeller Center is hands down the iconic Christmas image and continues to attract visitors every holiday season. However, there are beautiful conifers spread throughout the city that deserve your attention.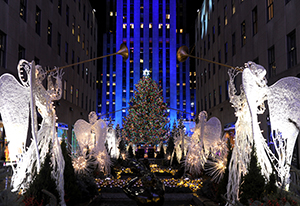 Rockefeller Center Christmas Tree
It's the most celebrated of holiday trees and a classic destination for holiday visitors and residents alike. The 86th annual tree lighting will be December 4th and will continue to light the iconic skyline into the new year. Info: rockefellercenter.com/holidays.
Bryant Park Tree Lighting Skate-acular
This New York City Christmas tradition is fun for the whole family. Each year a celebrity guest reads an original Christmas tale to the crowd. World-class skaters bring the story to life as they whiz around on the ice under the stars. The finale is the best part—when the tree is lit, and fireworks light up the sky. This year the tree lighting will take place on December 5th at 6 pm. Info: bryantpark.org/programs.
Origami Christmas Tree At American Museum Of Natural History
For over 30 years, the AMNH has celebrated the joyous with its 13-foot Origami Tree. The museum draws inspiration from its exhibits for the 1,000 folded-paper works, constructed by volunteers throughout the year. Info: amnh.com.
Central Park Holiday Lighting
Watch thousands of lights animate Central Park at the 21st annual holiday lighting on November 29th. Bring the family to meet Santa, watch an ice carving demonstration, sing carols on the Plaza, and indulge in hot cocoa and cookies. Info: centralpark.org/central-park-holiday-lighting.
Hidden Trees: Lighting Up The City
Even though there are dedicated Christmas Tree Lighting events, keep an eye out for the hidden trees of the city. The Park Avenue trees that line the iconic stretch (between 54th and 97th street) are always a delight and make for a scenic detour. If you're near Wall Street, head to the New York Stock Exchange to see the large Christmas tree at the front. The tree will be lighted in late November.
HOLIDAY WINDOWS
A visit to New York City during the holiday season wouldn't be complete without a view of the city's department store windows.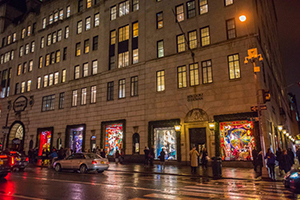 Barneys New York If you're shopping along Madison Avenue, Barneys windows are a must-see. Every year they show hip and stylish displays, accented with a dose of fun. Info: Madison Ave. at East 61st St.
Bergdorf Goodman Holiday windows feature high-fashion and authentic antiques: each a work of art. Put this one on your list of must-dos. Info: Fifth Ave. at West 58th St.
Bloomingdale's The holiday window displays are playful and on display before Black Friday, so holiday shoppers can enjoy them throughout the season. Info: Lexington Ave. at East 59th St.
Macy's Here windows depict animated scenes of New York. In years past, Miracle on 34th Street and a Charlie Brown Christmas have created a stir on 34th Street. Info: Broadway at West 34th St.
Saks Fifth Avenue The holiday window displays feature funny animations. Conveniently located, Saks Fifth Avenue's windows are located across from the Rockefeller Center Promenade. Don't miss: Saks also produces a beautiful Winter Palace Light Show on the facade of the building during the evening hour. Info: Fifth Ave. at East 49th St.
HOLIDAY MARKETS
Shopping for gifts is already stressful enough, so why not go to these holiday markets for a fun night out, with food, unique gifts, and that magical atmosphere. It certainly will get you in the holiday spirit.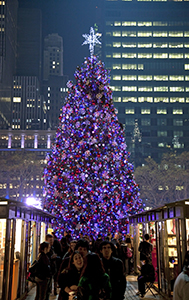 Bank Of America Winter Village At Bryant Park
The Holiday Shops include more than 100 boutique-like kiosks offering lovely gift ideas from jewelry, decorative goods, local foods, and much more—for all ages. The Holiday Shops are housed in Bryant Park's custom-designed booths, and for the first time, will be open before Halloween. Info: wintervillage.nyc.
Deck The Stalls/Rooftop At Pier 17
Starting in mid-December, shoppers will find a winter wonderland on the Rooftop at Pier 17 this year. Skate the skyline rink, eat your way through the stalls or cozy up with a winter cocktail and take in the sights from this magical spot. Info: pier17ny.com.
Grand Central Holiday Fair
Holiday Fair is the only one held indoors. This year, the fair will fill Vanderbilt Hall with vendors offering an incredible array of holiday gifts. Clothing for adults and children, handbags, hand-crafted jewelry and accessories for men and women top the list. The fair is open through December 24th. Info: grandcentralterminal.com.
Columbus Circle Holiday Market
This market is considered by many as one of the most elegant places for holiday shopping. Conveniently located near the entrance to Central Park, at 59th Street, shoppers enjoy walking around discovering one-of-a-kind items, including art and jewelry, from local designers. (closes December 24th). Info: urbanspacenyc.com.
Union Square Holiday Market
Over 100 merchants are on hand to bring you unique gifts. Hand-blown glass, housewares, handmade leather goods, bags, and accessories are on display for purchase. There's also a variety of handmade jewelry. As in years past, there will also be nibbles and noshes throughout the market, which is open through December 24th. Info: urbanspacenyc.com.