ENTREPRENEUR'S CORNER
Maryanne Parker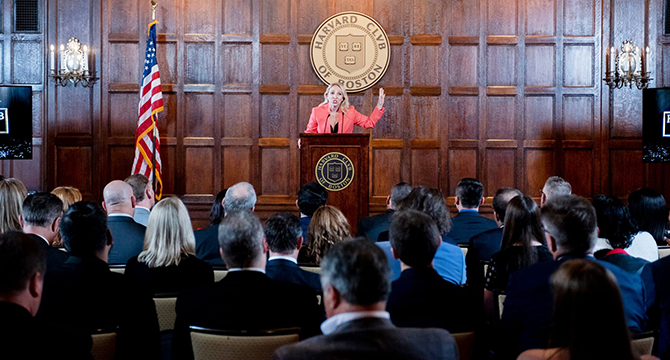 By Lillian Langtry
Have you ever been reminded to mind your p's and q's? Well, unless you were working a mechanical printing press or playing a game of Scrabble, chances are you were subtly being told to mind your manners.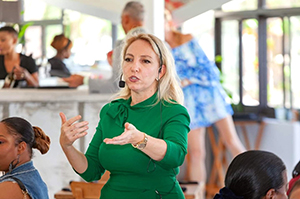 Maryanne Parker takes this subject to heart. She's the international business and social etiquette expert who has been teaching the timeless practice of etiquette in the boardroom, ballroom, and classroom for nearly a decade. As the founder of Manor of Manners, an etiquette consulting business, Parker provides its clients with the confidence, skills, self-awareness, and knowledge that will help equip them to reach their professional and personal goals, using proven methods for easy learning.
Manor of Manners specializes in engaging public speaking arrangements, elite coaching, and certification programs tailored to the client's needs. "Good manners enabled me to be extremely successful in Corporate America and are the inspiration behind my Etiquette consulting business," Parker says. "I can't help but think of this quote by Etiquette expert, Jeanne Nelson, A degree will get your foot in the door, and good manners will open it. In the U.S. we refer good manners as good business and consider soft skills as a management tool. In fact, according to a recent study, 85 percent of our success is based on our social skills."
A LACK OF CIVILITY
Originally from Bulgaria, Parker came to the U.S. 15 years ago. Living and working in this global economy, she developed her training and certification programs reaching London, San Diego, New York City, and Los Angeles. Additionally, Parker also conducts the Etiquette program in The Bahamas. "I worked in the corporate world for almost 20 years. My background was in accounting when I noticed a huge void in civility and good manners. This was especially true in the corporate world, which prompted my idea for getting into the field of etiquette. The rest, as they say, is history!"
In addition, Parker is the author of two number one international bestselling books The Sharpest Soft Skill (business etiquette) and Posh Overnight (social etiquette). Both are available on Amazon.com in paperback and Kindle editions. The Sharpest Soft Skill pinpoints the importance of soft skills, poise, elegance, and sophistication in corporate success. Posh Overnight is a contemporary guide adjusted to the constantly evolving world of etiquette, beginning from the days of Louis XIV of France down to modern-day 21-century manners.
GOOD MANNERS ARE NECESSARY
Parker's credentials are impeccable. So much so that she is certified by the Protocol School of Washington which trains the White House and the Pentagon, the International School of Protocol and Diplomacy in Brussels, and Minding Manners in London. She frequently speaks on the topic of etiquette and recently spoke at entrepreneurial conferences held at the U.S. Military Academy West Point, Harvard Club of Boston and NASDAQ. As Parker told us, "Etiquette and good manners are often associated with ballroom dancing, castles, and odd rituals. Some might even say it's old-fashioned. Etiquette is a timeless practice, as its purpose is to show respect and make everyone feel valued, comfortable, and at ease.
The etiquette expert was a recent speaker at Carnegie Hall's Living Legends event along with nine highly successful entrepreneurs and business legends including Martha Stewart, Ice T and Coco Austin, Michael Gerber, Jerry Greenfield, Steve Larsen, Walter O'Brien, Dylan Howard, and Hal Elrod. Her presentation "Etiquette Secrets to Save Your Life and Catapult You into Luxury Lifestyle" shared etiquette essentials from her vast knowledge of diplomacy, protocol, and intercultural relations.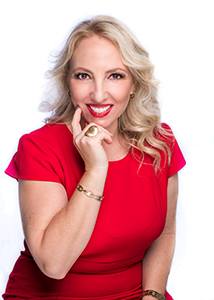 Parker believes honing one's soft skills is a crucial element of achieving professional success. "I would love to share five essential business etiquette tips with you today. These tips will help you present yourself and your business with ease, class, and confidence."
Communication It's one of the most important skills you will have as a business professional. Your non-verbal communication skills need to convey a positive professional, warm approach because the client or business partner might not remember your name, but surely they will remember how you make them feel. Also, your verbal skills need to meet the necessary criteria for a business professional. Use polite words, do not use slang and bad language. While slang and the occasional curse word can give the illusion that you are relaxed, it often makes others uncomfortable.
Punctuality In some countries, punctuality is not considered an essential element of professionalism. But in the U.S., this is one of the most important components of a successful business. The U.S. believes that time is money, so being on time, shows your dedication to your job, business partners, and clients. It also indicates that you are capable of handling responsibilities. Let's face it, who wants to work with a person, who doesn't project a sense of commitment?
Proper Attire American culture values a relaxed look and formalities (especially in dress) can often seem outdated. But how you dress has a meaning. Our attire reflects our presence and personality. Also, your attire demonstrates that you value and respect others and their events. There are basic guidelines for business attire, and we need to stay within them.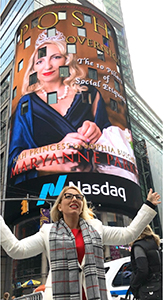 Social Networking We realize that over 300 million people are using Facebook, and the number is growing. We really need to be aware of the posts we share, and always need to ask ourselves, "Is this appropriate?" or "is it possible this post could hurt somebody's feelings?" People should be able to exchange thoughts and ideas in a very civil manner, without being a target of abuse. Be sure to distinguish your personal profile from your professional page.
Competition & Conflict It's an inevitable part of the business. The way we handle competition and conflict reveals our true colors. While competition can leave a bad taste in your mouth, let's try to look at its silver lining. Also, try replacing competition with collaboration. Collaboration and healthy competition shows maturity and demonstrates that your passion trumps the need to win. No matter the case, the conflict has to be handled with grace and dignity.
No stranger to the media, Parker has been sharing her etiquette advice on most TV networks and print media. In her free time, she is involved with Professional Women Group of Dress for Success (San Diego), which helps underprivileged women gain financial independence and self-sufficiency. She inspires women with the message that you do not need money to have class, while sharing etiquette tips on style, dressing for job interviews, and more.
For more information on Maryanne Parker, visit manorofmanners.com.