HOLIDAY BEAUTY
Gifts You'll Want To Give (And Get)!
By Gerrie Summers
Joy to your world! Here are beauty products that make great gifts and to keep skin, hair, and makeup beautiful for holiday festivities, to bring in the New Year and to relax when it's all said and done!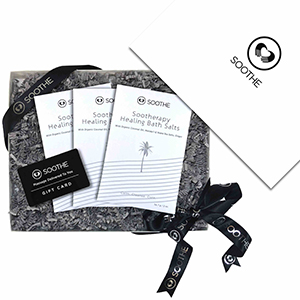 SOOTHE
Holiday Gift Set
The holiday season can be festive, but it can also be stressful, so give the gift of calm. The Soothe Holiday Gift Set helps you truly get the home spa experience. It features a gift card for a 60-minute on-demand massage (available in the 60+ U.S. market Soothe serves) sending a licensed, insured massage therapist to your home, office, or hotel room. The gift also includes a three-pack of Sootherapy Healing Bath Salts for a warm bath soak after your therapeutic body massage, with ingredients from Hawaii that will send your mind to the tropics.
Info: soothe.com.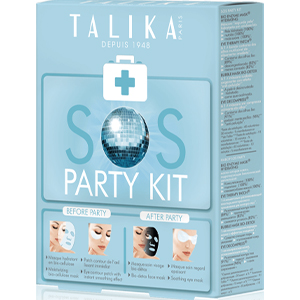 TALIKA
SOS Party Kit
After holiday parties, our skin often sends out an SOS (save our skin!) The SOS Party Kit gives your skin pre-party help with the Bio Enzymes Mask to refresh, soothe and moisturize. Don't forget the Eye Therapy Patch to smooth areas around the eyes with a skin-firming effect that helps reduce the look of puffiness and fatigue. Then post-party, use the Bubble Mask Bio Detox, a charcoal mask that contours to the face and releases oxygen micro-bubbles, leaving skin rehydrated and detoxed for a cleaner, brighter glow. The Eye Decompress (too much celebrating?) is a deep relaxation treatment to soothe tired eyes.
Info: talika.us.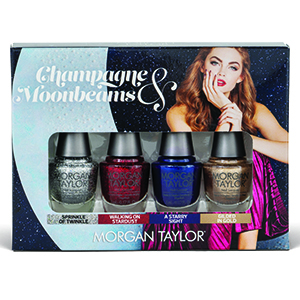 MORGAN TAYLOR
Champagne & Moonbeams
The much-anticipated Holiday/Winter Collection from Morgan Taylor features twelve nail lacquer shades, including glittery and shimmery holiday party colors: Sprinkle of Twinkle (silver glitter), Walking on Stardust (red glitter). There are metallics, too, like  Gilded in Gold and Copper Dream along with winter hues that are subtle like Dancing & Romancing (soft pink) and Let There Be Moonlight (soft, gray creme) or more daring and sultry shades like A Starry Night (indigo pearl) and A Kiss in The Dark (black-purple creme). There are also mini packs that make cute stocking stuffers and are perfect for touchups during holiday travel.
Info: morgantaylorlacquer.com.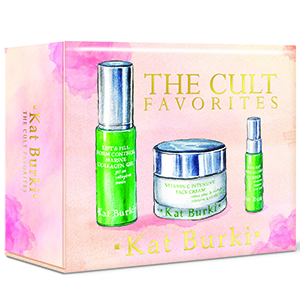 KAT BURKI
The Cult Favorites
For a radiant and healthy holiday glow, this limited edition collection features three of the most popular Kat Burki treatments. Look for Lift & Fill Form Control Marine Collagen Gel that targets areas like expression lines and improves skin elasticity; Rose Hip Intense Recovery Eye Serum, a lightweight serum to reawaken tired eyes; and Vitamin C Intensive Face Cream to rejuvenate and protect skin from environmental toxins.
Info: katburki.com.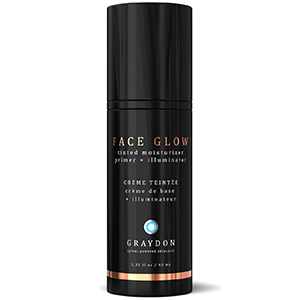 GRAYDON SKINCARE
Face Glow
Looking for a tinted moisturizer that doubles as an illuminator and highlighter? Face Glow is your key to brightening and highlighting effects for a dewy, healthy-looking glow. It helps to smooth skin texture and diffuse the appearance of fine lines and is infused with semi-precious crystal smithsonite, said to promote relaxation, awareness and encourage an open mind. You end up with a facial and mental primer!
Info: graydonskincare.com.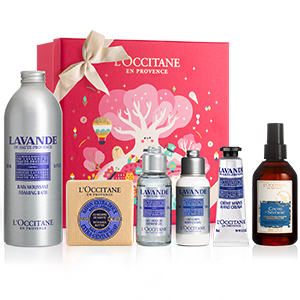 L'OCCITANE EN PROVENCE
Time To Relax/Lavender Collection
If someone you know needs to chill (and we don't mean in the snow!), L'Occitane has a few holiday gift sets to calm the mind and inspire relaxation. Time To Relax uses lavender, sweet orange, mandarin, and geranium essential oils to lull you into a peaceful state of slumber. The set includes Cocon de Serenite Relaxing Pillow Mist and Cocon de Serenite Relaxing Candle. Or the Lavender Collection contains items from L'Occitane's lavender range of products. In addition to the aforementioned Pillow Mist, you'll find Lavender Foaming Bath, Shower Gel, Body Lotion, Hand Cream and Shea Extra Gentle Soap in Lavender.
Info: usa.loccitane.com.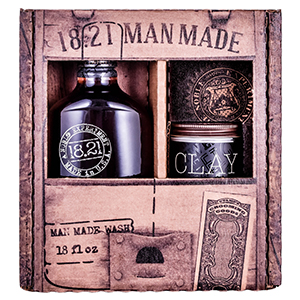 18.21 MAN MADE
Gift Sets
Described as "top shelf grooming," 18.21 Man Made has seven spirited duo product gift sets for the men in your life. All gift sets feature 18.21 Man Made Wash, which is a 3-in-1 body wash, shampoo, and conditioner. The packaging is inspired by prohibition (i.e., "the feel of fine whiskey and the roaring spirit of swanky Prohibition-era speakeasy lounges"). There are grooming "mixtures" like styling products for fine or thinning hair textures and pomades to shape modern and classic hairstyles, in sweet tobacco scent (a signature oil blend with citrus, vanilla, tonka bean, and undertones of tobacco, exotic woods and musk), as well as beard balms and shaving gels in spiced vanilla.
Info: 1821manmade.com.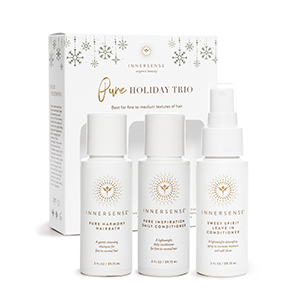 INNERSENSE ORGANIC BEAUTY
Pure Holiday Travel Trio
Perfect for holiday travelers are these three sets from Innersense Organic Beauty customized for particular hair types: Hydrate (thick and dry/curly and coarse types), Pure (color safe/fine to medium), and Color (color-treated/all hair types), so you can have great holiday hair, free from silicones, resins, and harsh ingredients. Each set includes a travel-friendly 2 oz. Hairbath and Conditioner duo and Sweet Spirit Leave-in Conditioner, perfect for holiday travel or as a stocking stuffer.
Info: innersensebeauty.com.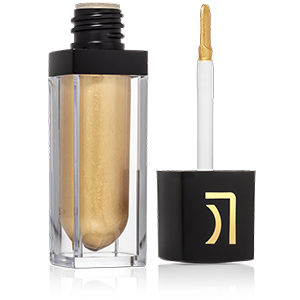 LUCKY CHICK
Eye Jewels Duo
For beautiful eyes that sparkle at the holiday soirees, Lucky Chick's Eye Jewels Duo has long-wearing, shimmering eye shadow in Gold Mine (metallic gold), and Platinum (metallic grey) for party-perfect eyes. Plus, the gel-based liquid eye shadow contains anti-inflammatory cucumber extract to reduce puffiness after a night of too much revelry!
Info: luckychick.com.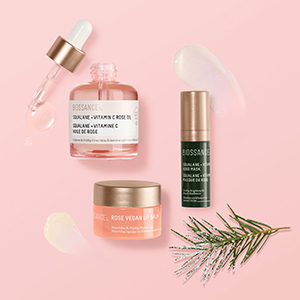 BIOSSANCE
The Rose Radiance Trio
Keep the season festive and your skin rosy. The Rose Radiance Trio contains three of the company's best-selling products: Squalane + Vitamin C Rose Oil brightens, firms and evens skin tone, Squalane + Vegan Lip Balm, that plumps and moisturizes lips and Squalane + Vitamin C Rose Mask to revitalize the look of dull skin for a radiant complexion.
Info: biossance.com.