PEDDLER'S VILLAGE
Anything But Ordinary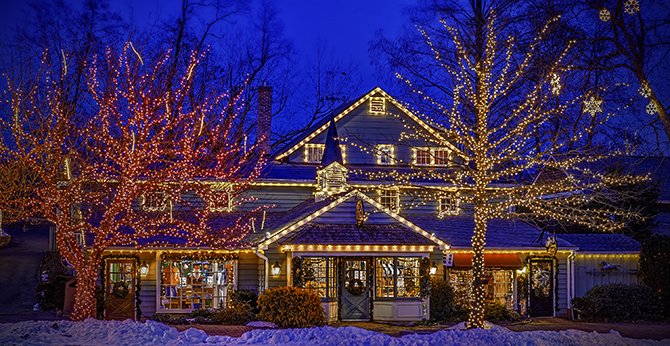 By Jeff & Stephanie Sylva
The holidays are fast approaching, you've run out of ideas for unique gift giving. Why not tackle that shopping list and enjoy a relaxing getaway to the bucolic countryside of Bucks County, Pennsylvania, at the same time. Peddler's Village in Lahaska, PA, is a colonial-themed shopping and entertainment village set on 42 acres of landscaped gardens and winding red brick pathways. Just 90 minutes from Manhattan, the Village encompasses 65 unique shops and boutiques, six restaurants, the luxurious 70-room Golden Plough Inn, and Giggleberry Fair (a family entertainment center), you could say Peddler's Village is quite the experience.
Following a family tradition of hospitality that dates back to 1763, Earl Hart Jamison founded Peddler's Village in 1962 on six acres of property in Lahaska, once known as Hentown. Jamison transformed the property's chicken hatchery, barn, and chicken coops into 14 shops and the Cock 'n Bull Restaurant. In 1989 Jamison fulfilled a lifetime dream to continue the family tradition of hospitality with the opening of The Golden Plough Inn.
Characterized by cozy fireplaces, down quilts, and window seats overlooking ancient oak trees, guest rooms and suites at The Golden Plough Inn are located in The Main Inn and tucked above the shops and restaurants throughout the Village. All are beautifully decorated in warm neutral colors with accents of green, blue, and red. Many suites and guest rooms have four-poster beds and gas fireplaces.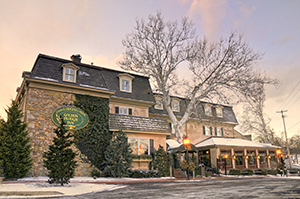 EAT AND BE MERRY
From casual to upscale, dining choices at Peddler's Village will satisfy every taste.
• The Village's flagship restaurant. The Cock 'n Bull, serves traditional American classics such as Country Chicken Pot Pie and Beef Burgundy in a colonial setting featuring many of the Jamison family's private collection of fine art and antiques. For more informal fare, the restaurant's Hart's Tavern serves a traditional pub menu.
• Earl's New American pairs the rustic charm of a Bucks County farmhouse with the contemporary vibe of an upscale bistro. The cuisine is modern and creatively presented. Be sure to try the Braised Molasses Short Ribs or the Shrimp and Grits with Orange and Rosemary Marmalade. The Buttonwood Grill, a more casual choice, is known for its burger—and has garnered "Best Burger in Bucks" many times. Fresh ground daily from chuck, brisket, and short rib, the burgers are served in a variety of exciting ways. The Mediterranean with feta cheese, tzatziki sauce, and red onion is a good choice. An excellent draft beer selection provides a perfect accompaniment.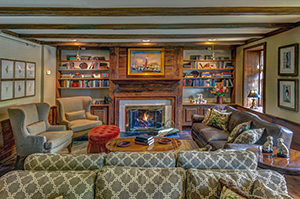 • FresCafe serves breakfast and lunch until 4 pm. This cozy café is focused on "doing simple food really well." The croissants are freshly baked daily, and the Sweet Lemon Ricotta Stuffed Croissant is a treat.
• Be sure to get a quick bite at Moku Bowls which features island flavors of traditional Hawaiian dishes in their poke bowls. Then, satisfy your sweet tooth at Nina's Waffles & Ice Cream with a scoop of homemade ice cream atop Nina's scrumptious traditional Liege waffle.
Peddler's Village offers three ways to experience some local libations—the Chaddsford Winery, Hewn Spirits, and Free Will Brewing. Each venue provides tasting options as well as comfortable seating to enjoy one of their selections. One trendy spot is the new outdoor deck at Free Will. Or you can sip your drink while browsing the red brick pathways of the Village—ask for a "to-go" cup. Taking the maxim "It takes a village…" to heart, Peddler's Village offers the Village Happy Hour weekdays from 4:00 to 6:00 pm at just about all of their food and drink venues.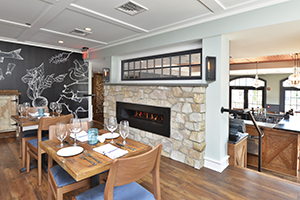 SHOP AWAY
With more than 65 specialty shops and boutiques in the Village, finding the perfect gifts is easy and fun. Some shops offer a hands-on activity with its shopping experience.
• In addition to Greenology's sustainably natural lifestyle gifts, natural home decor items, and planted arrangements, shoppers can design and build their own terrariums in just 15 minutes.
• Sticky Situations offers "single-farm, single-crop" honey following an Old World tradition. Its sister shop, Extra Virgin, not only makes but imports olive oil and vinegar from Italy's Amalfi Coast. And the experience here? – sample different flavors to find your favorites and then have them blended to create your marinade or salad dressing.
• Stop into Best Gift Idea Ever to pick out unique letter art photos, a custom-color matte, and an all-wood frame, to create personalized artwork for that difficult person on your holiday list.
• Soon to open is Cuboid Nature Aquarium, a unique aquatic store featuring natural woods, rocks, plants, and freshwater fish to design and create your aquarium.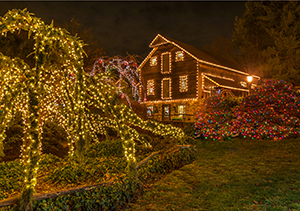 RELAXING DAYS
Take the perfect break from shopping at the David J. Witchell Salon & Spa. A full array of salon and spa services are offered as well as unique home décor items and chic fashion items at the DJW 25 South Boutiques.
Families love experiencing Giggleberry Fair, an indoor family fun center. Giggleberry Mountain offers an elaborate three-story obstacle course. Giggles Discovers is an active exploratory center designed for kids six and under. A highlight of the fun center is the fully restored 1922 Grand Carousel.
The Peddler's Village calendar is loaded with special events and festivals throughout the year including the popular Village's Murder Mystery Dinner Theater presented on Friday and Saturday nights.
For more information on Peddler's Village, visit peddlersvillage.com.