STORE WARS
Two Behemoth Department Stores Change NYC's Real Estate Landscape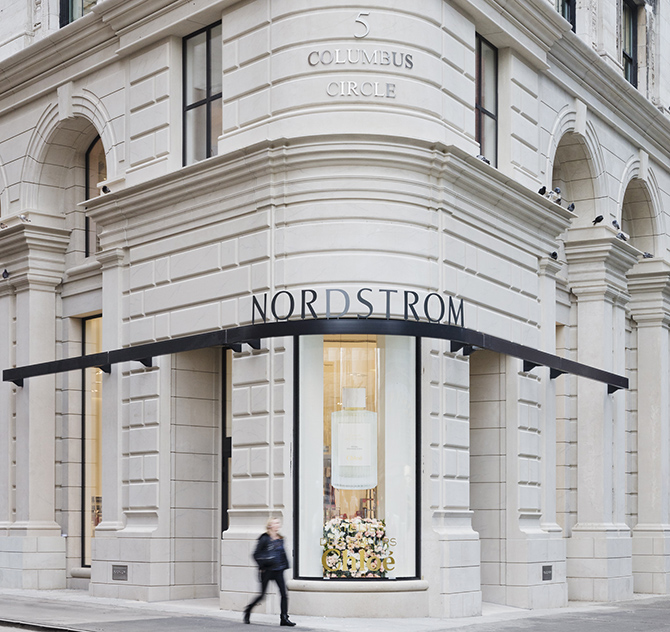 By Bailey Beckett
They are on brand the moment you walk into the door. At the new Nordstrom, on West 57th Street, the greetings are warm and effusive. Staff are genuinely happy to see you. At Neiman Marcus, in Hudson Yards, that reception is more measured, almost Victorian. Instead of a hug, you get an approving gesture, as if you've made the cut.
They are living up to their legends, that's for sure. And trying to become one in New York's ever-changing retail wars. With Lord &Taylor closed and Barneys in liquidation, it's jarring, yet hopeful, to see two esteemed shopping brands invest over $1 billion collectively into building two huge, glittering oases.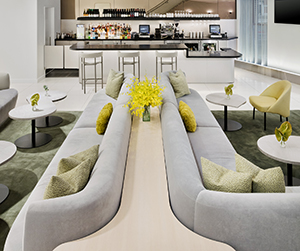 Nordstrom NYC Broadway Bar
NORDSTROM
James Carpenter Design Associates Nordstrom, known for their impeccable customer service, just opened its largest store to date: occupying the base of the new Central Park Tower (a.k.a., the tallest residential building in the world) and measuring 320,000 square feet over seven levels, it has been deemed the company's flagship store.
"We're building in the context of the world's greatest stores and hope to create an experience for customers that serves as a destination and is authentically Nordstrom," said Jamie Nordstrom, president of stores. "We chose this location purposefully as the West Side retail environment is growing rapidly, and we wanted to be part of a residential neighborhood. We're opening a store that's commuter and tourist friendly—and is just steps away from Central Park, the single largest attraction in New York City."
Through this store, the chain is raising its luxury cred, showcasing brands as varied as Dries Van Noten, Givenchy, Saint Laurent, Vince, Ted Baker London, Madewell, Reformation and Topshop, complemented by an extensive selection of accessory brands like Longchamp, Chloe, Valentino, Fendi, Loewe, MCM and Coach, among others.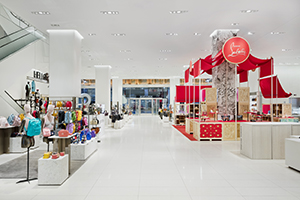 Nordstrom NYC
What Nordstrom is known for especially is shoes, a tradition the dates back to its founding in 1901, and here is no exception: spread over three floors—that's right, we said three—it includes designers like Gucci, Prada, Christian Louboutin, Golden Goose, Tory Burch, Birkenstock, UGG, Steve Madden, Nike and more. In fact, J.Lo's favorite Louboutin occupied a pop-up shop on the first floor of the store to celebrate its opening and offered custom selections exclusive to Nordstrom.
Its emphasis on beauty is also impressive. Located on two floors, among the largest spaces in New York, it offers products from 100 different brands, including Armani, Dior, MAC, La Prairie, Byredo, Le Labo, Diptyque and Creed. Among its unique features:
• Fragrance Finder, an interactive quiz designed to narrow down the perfect scent, including a button to press and smell the desired scent;
• Skincare Finder to assess the individual needs of each customer and recommend helpful products;
• Beauty Stylist Virtual Mirror, an interactive mirror that allows customers to virtually 'try on' trend makeup looks.
Customers looking for a bigger transformation can go upstairs to Nordstrom Beauty Haven where the most-branded beauty services come together under one roof, including Base Coat manicures, Sisley and Heyday facials, blowouts by Dry Bar, eyebrow shaping by Anastasia Beverly Hills and threading by Blink Brow Bar, St. Tropez spray tans, The Light Salon light therapy, and for the first-time at a department store injectables with Kate Sommerville.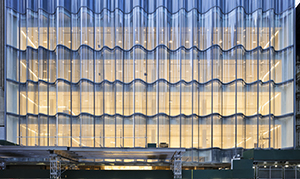 Nordstrom NYC 57th Street
"We're focused on having the best product and creating a sense of discovery and newness for our customers," Nordstrom said. "Speed and convenience are the greatest luxuries for customers, and perhaps no one understands that more than New Yorkers. The store will serve customers on their terms through services like 24/7 Online Order Pickup, Style Boards, Personal Stylists, Beauty Stylists, Same-Day Delivery, Tailoring & Express Alterations, and more."
But like The Metropolitan Museum of Art, it's impossible to do in one day. You might need a week. Thankfully, the store is up for the challenge. There are six bars and restaurants spread throughout the store. Its signature restaurant Wolf by Chef Ethan Stowell, voted Food and Wine's Best New Chef in America, offers Italian-inspired small plates in an ambiance that is both comfy and refined, and includes a vantage of West 57th and Broadway. At Jeannie's, Chef Tom Douglas presents a more casual menu, featuring pizza, pasta and salads on the store's lower level floor. Douglas also oversees Hani Pacific next door, providing Pacific Rim-inspired cuisine. There's also the family friendly Bistro Verde, with a large contemporary menu. And don't forget cocktails! Nordstrom offers two distinct venues, including the Broadway Bar, offering stunning views of the famed avenue, and the Shoe Bar, located smack dab in the middle of the shoe floor.
For more information on Nordstrom, visit nordstrom.com.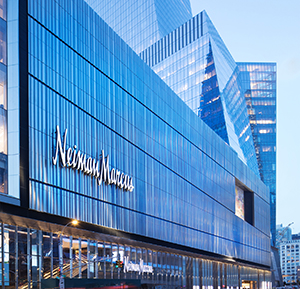 Neiman Marcus at Hudson Yards
NEIMAN MARCUS
Designed by Janson Goldstein LLP Further downtown, in the glittering retail/office/residential space known as Hudson Yards, Neiman Marcus offers a more curated (read: smaller) experience. Over 188,000 square feet, the store is exquisite and thoroughly New York. Art personally selected by Stanley Marcus includes pieces by Elias Sime, Ian Davenport, Shinpei Kusanagi and Caetano de Almeida. Spread over three floors in the retail sector, the store also offers its usual mix of top brands, restaurants and beauty services.
"This store recognizes our brand's history and heritage while adapting to how the next generation of luxury customers shop," said Geoffroy van Raemdonck, CEO of Neiman Marcus Group. "Neiman Marcus Hudson Yards [is] all about providing physical and digital experiences in a way not seen at other stores, creating a personal customer experience that is seamless and magical."
He got that right. There is something truly transformative about this retail mecca, as if you can enter as one person, and leave someone more stylish and confident. That has always been the charm of Neiman Marcus.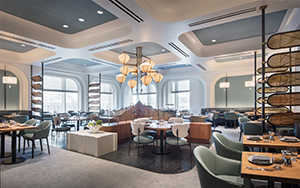 The Zodiac Room
Among the store's more unique features are:
• The Neiman Marcus Travel Shop, outfitted with a perfectly curated assortment of travel apparel and accessories for women and men on-the-go
• Cook & Merchant's Kitchen offering demonstrations, tastings, and mixology classes which will serve up culinary delights to customer.
• Neiman Marcus Live, a performance stage offering live activations and concerts.
• BLVD beauty salon, the new standard in beauty services, offering blowouts, manicures, pedicures, nail art, lash extensions, laser hair removal, waxing, brow shaping & peel services.
• The brand's first Resurrection Vintage boutique curated by Katy Rodriguez and Mark Haddawy
• Santana, an in-store shoe shiner and cobbler experience.
• A Lucchese boot shop, bringing a bespoke Texan tradition to the Big Apple.
• And PopUp Florist on level 5 creating fresh bouquets by Kelsie Hayes.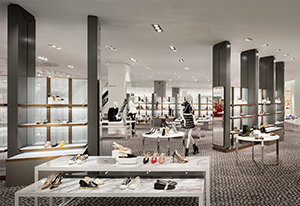 Ladies Shoes
Bar Stanley, named after "Mr. Marcus," as he is known, is warm and hospitable, and serves food appetizers and entrees like tortilla soup and a pot roast with Neiman Marcus' legendary warm monkey bread, along with a mixologist-curated selection of specialty cocktails, wines, beers, and non-alcoholic drinks including spiced tea, and a selection of single malt scotches. Guests looking for more of a fine dining destination can look no further than The Zodiac Room, where they can sample classics along with innovative culinary creations that include everything from composed salads, fresh seafood, including a selection of oysters and caviars, plant-based, and gluten free options. The beverage menu includes an excellent selection of specialty cocktails, wines, beers, and non-alcoholic drinks.
For more information on Neiman Marcus, visit neimanmarcus.com.