ON THE BIG SCREEN
Oscar Contenders Flood The Theaters
By Jenny Peters
ADVENTURE CANDIDATES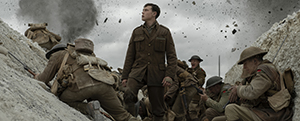 1917
Rated: R
British director Sam Mendes took home the Best Director Oscar for American Beauty way back in 2000; he's also known for Skyfall and The Road to Perdition. Now the talented auteur tackles World War I with 1917, an epic drama-adventure that follows two young British soldiers (George McKay and Dean-Charles Chapman) as they attempt a daring mission behind enemy lines. Benedict Cumberbatch, Mark Strong, Richard Madden and Oscar winner Colin Firth co-star.

STAR WARS: THE RISE OF SKYWALKER
Not yet rated
The final chapter of the Star Wars saga, which George Lucas created back in 1977 (and won six Academy Awards for that first film), is helmed by J. J. Abrams and brings back Daisy Ridley, Oscar Isaac and John Boyega as Resistance fighters. And of course, no Star Wars adventure would be complete without its villains, so Adam Driver returns as Kylo Ren. Other well-known faces are found in the universe, too, like Billie Lourd (the late Carrie Fisher's daughter), Lupita Nyong'o and Keri Russell.

THE AERONAUTS
Rated: PG-13
Oscar winner Eddie Redmayne reunites with Oscar nominee Felicity Jones (their The Theory of Everything collaboration garnered five nominations, including his win) in this exhilarating action tale about two pioneering balloonists who fight the elements in their search for the ultimate high. Set in 1862, long before airplanes were invented, the film is a heady exploration of intrepid adventurers who push human possibilities to the limit.
---
BIOGRAPHIC CHALLENGERS

BOMBSHELL
Not yet rated
The powerhouse trio of Charlize Theron, Nicole Kidman and Margot Robbie take the leads in this real-life tale of the women who took down power broker Roger Ailes. As the head of Fox Television News, Ailes used his position to force his sexual agenda on his female news reporters; this searing tale is a strong contender for Best Picture and a cautionary tale, too. John Lithgow takes on Ailes in a creepy performance likely to finally win him his Oscar (he's been nominated twice before).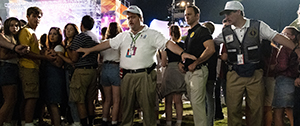 RICHARD JEWELL
Not yet rated
Four-time Oscar winner Clint Eastwood is at the helm of this fact-based story that centers on the 1996 bombing at the Atlanta Olympics. Paul Walter Houston stars as Richard Jewell, the security guard whose actions saved countless lives, but was then falsely accused of being a terrorist. This cautionary tale also stars Oscar winners Sam Rockwell and Kathy Bates, along with Jon Hamm and Olivia Wilde.

SEBERG
Rated: R
Jean Seberg was a luminously beautiful American actress, best known for her films Breathless, Paint Your Wagon and Lilith. She was also known for her radical politics in the late 1960s and for her tempestuous personal life. Jean Seberg is one of Hollywood's tragedies, a woman whose life spiraled out of control while the world watched. In this biopic, Kristen Stewart takes on her life—and death—in a role that just might bring her first Academy Award nomination.
---
DRAMATIC FRONT RUNNERS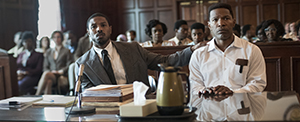 JUST MERCY
Rated: PG-13
Oscar winners Brie Larson and Jamie Foxx star alongside Michael B. Jordan in this legal drama that delves deep into the U.S. prison system. This fact-based story follows a young Black American lawyer's attempts to save an African-American man from death-row execution; it's an intense look at the inequalities and racism inherent in the American justice system.

LITTLE WOMEN
Rated: PG
Greta Gerwig, the actress turned Oscar-nominated director and screenwriter (Lady Bird), follows up that project with one straight from her heart. Little Women is her take on the oft-told cinematic tale of the March sisters, Louisa May Alcott's story of a family of women coping with the changes in America just after the Civil War. Her all-star cast includes Emma Watson, Saoirse Ronan, Florence Pugh and Eliza Scanlen as the four sisters; and Oscar winners Meryl Streep, Laura Dern and Chris Cooper add to the pedigree of this much-loved, emotional family saga.