ON THE SMALL SCREEN
By Jenny Peters
DOING IT ONE MORE TIME

LIVE COMEDY SPECIAL: ALL IN THE FAMILY & GOOD TIMES
ABC
With the first Live in Front of a Studio Audience show winning the 2019 Emmy for Outstanding Variety Special, it's no surprise that producers Norman Lear and Jimmy Kimmel are doing it again. This time there will be another All in the Family episode (presumably starring Woody Harrelson and Oscar winner Marisa Tomei as Archie and Edith), along with a Good Times show. Done live, there's always the chance for added comedy, like when Jamie Foxx (as George Jefferson) completely forgot his lines in the first show.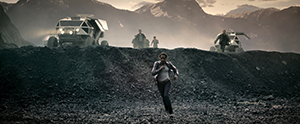 LOST IN SPACE
Netflix
Sci-fi favorite Lost in Space, initially shown in 1965, is back, filled with cool special effects (which was not the case in the original!), the Robinson family, and, of course, their trusty robot. If you don't remember, the family's space ship crashes on an alien planet, stranding them "in space." This time out, Molly Parker (Deadwood) and Toby Stephens star as the parents, whose primary goal is to protect their kids from the dangers on the unknown planet.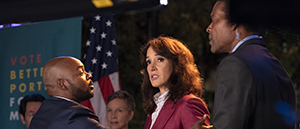 THE L WORD: GENERATION Q
Showtime
This reboot of the groundbreaking lesbian drama that aired from 2004 to 2009 brings back Jennifer Beals, Katherine Moennig and Leisha Hailey in their original roles. It also adds a slew of new, young characters as they tell the story of how things have changed (and stayed the same, too) in our world over the last ten years. Jacqueline Toboni, Rosanny Zayas, Leo Sheng, and Adrienne Mandi co-star.
---
LAUGH, CRY AND AVOID GETTING BITTEN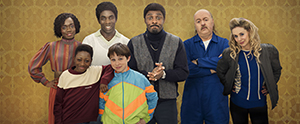 IN THE LONG RUN
Starz
Idris Elba created and stars in this family comedy-drama based on his own childhood experience back in London in the 1980s. He plays a working-class dad whose household is disrupted when his younger brother moves in and immediately becomes a terrible influence on his children. You'll barely recognize Elba with his Afro!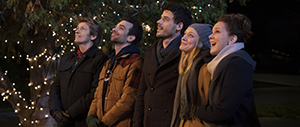 THE MOODYS
Fox
The Moodys is a three-day comedy event, the story of a dysfunctional family led by Denis Leary and Elizabeth Perkins as they try to navigate the holiday season. Beginning on December 4th and followed the next week on December 9th and 10th, it's set in Chicago at Christmas, as the more-than-a-little eccentric Moody family gets together to celebrate. It isn't pretty, but it is funny.

TRUTH BE TOLD
Apple TV+
Oscar-winner Octavia Spencer stars in this murder mystery opposite Breaking Bad's Aaron Paul. She runs a true-crime podcast, and he's the man she helps put into prison, but is he guilty? This drama explores the new phenomenon of podcasts in America that is affecting the course of justice as they investigate real crimes.

V WARS
Netflix
Ian Somerhalder of The Vampire Diaries fame returns to the world of human bloodsuckers in this new horror series. He's a doctor trying to stop a strange disease from spreading, for as people are infected, they become vampires and (naturally) then begin to bite and infect others. It's an oft-told story with a twist—and a perfect replacement for those missing Somerhalder's last bloody series.
---
DON'T MISS DOCUMENTARY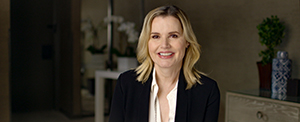 THIS CHANGES EVERYTHING
Starz
This important documentary focuses on the traditional marginalization of women in the media, a subject that Geena Davis and her foundation have been studying for over ten years. As she maps out here, gender discrimination in TV and film is rampant and insidious; happily, she also points out the ways that things are changing as we enter the 2020s. She's joined by Meryl Streep, Cate Blanchett, Taraji P. Henson, Reese Witherspoon, and a host of other successful women in this fascinating look at where we've been and where we are headed as a society.