RED HOT
Celebrate Beauty & Style
By Gerrie Summers
It's February, the month of love and romance. We've got a lot of red hot love, hearts, and (calorie-free!) chocolate to help you celebrate. And since we believe in self-love, we've got items to pamper yourself!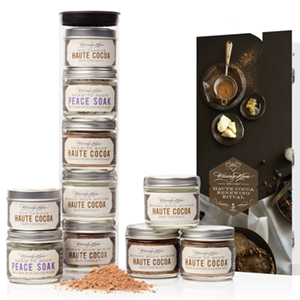 WAXING KARA
Haute Cocoa Spa Tower
Chocolate lovers, here's a treat with fewer calories than a box of chocolate (actually zero) but just as decadent! Waxing Kara's Haute Cocoa Spa Tower contains Haute Cocoa Honey Body Butter (dark chocolate), infused with real cocoa extracts and rich plant butters; Haute Cocoa Cocoa-Blueberry Renewing Mask, made with real cocoa and antioxidant-rich botanicals; Peace Soak (bath soak with lavender buds), a combination of Epsom and dead sea salts and fresh-picked lavender buds to ease sore muscles; Honey Body Scrub (dark chocolate) honey crystals, cocoa powder, and plant butters to gently exfoliate and moisturize the skin; and Haute Cocoa Soy Candle with an aroma-therapeutic chocolate scent. Info: waxingkara.com.
---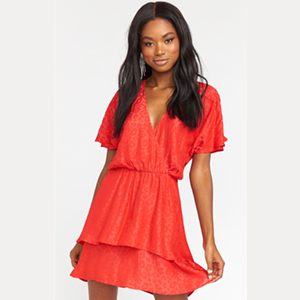 SHOW ME YOUR MUMU
Sandrine Ruffle Dress
What could be more fitting for Valentine's Day than to step out in the perfect little red dress? Show Me Your MuMu has several. A red hot pick: the Sandrine Ruffle Dress in Red Silky Cheetah has tiered ruffles and a subtle animal print. You can walk on the wild side and have them seeing red (in a good way, of course!)
Info: showmeyourmumu.com.
---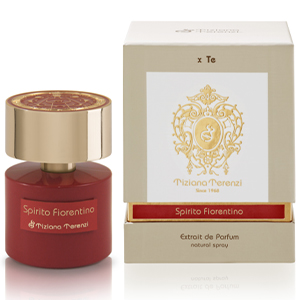 TIZIANA TERENZI
Spirito Fiorentino
Spirito Fiorentino is a fragrance you can share. The bottle is inspired by the red moon and comes with a weighty 24K plated cap (you can use later as a paperweight) featuring a map of the constellations. The fragrance is inspired by the history and tradition of Florence, Italy. The unisex scent has top notes of lily, orange, saffron and jasmine and a base of oak moss, sandalwood, birch, and musk. Available at Neiman Marcus.
Info: tizianaterenzi.com.
---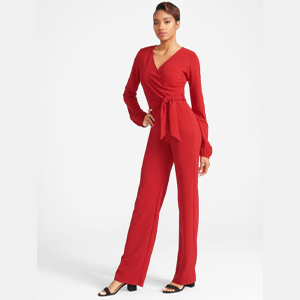 ALLOY APPAREL
Tall V-Neck Long Sleeve Jumpsuit
Alloy Apparel offers styles for tall women of all shapes and sizes. The Tall V-Neck Long Sleeve Jumpsuit in Cherry Red is perfect for Valentine's Day dinners, as well as work parties, soirees, and other events. The stretch-crepe long sleeve jumpsuit has an elastic waistband that contours to the body, giving the wearer a sleek and slimming look.
Info: alloyapparel.com.
---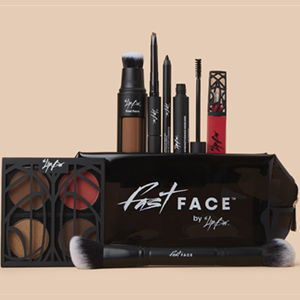 THE LIP BAR
Fast Face Kits
The Lip Bar's Fast Face palettes are created to help you get through your makeup routine fast, so you're ready for the day and special nights. The kits are available for all skin types and curated by complexion. Included are hyaluronic-infused Skin Serum Foundation, Minute Finish 4-in-1 Face Palette with face powder, contour, blush, and highlighter shades. Also, you'll find a Dual-ended Blending Brush, 2-in-1 Eye Brow Gel & Pencil, two Straight Line Matte Eye Liner pencils, Lash Flash Strengthening Mascara and the perfect Vegan Liquid Matte lip shade for your complexion. Everything you need for a finished look in no time! Info: thelipbar.com.
---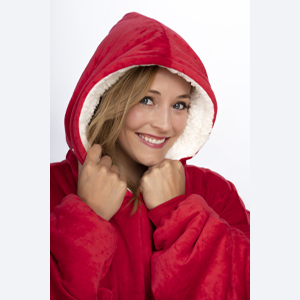 THE COMFY
The Original Comfy
Chilly nights mean snuggling up in this soft comfy blanket/sweatshirt. The Original Comfy is one size fits all (adults and teens) and is made of luxurious fleece microfiber material and fluffy polyester Sherpa lining. The Original Comfy is available in several colors and plus you can buy matching Comfy Feet slippers. There's also the new Comfy Hoodie that is perfect for use to feel cozy outdoors.
Info: comfy.com.
---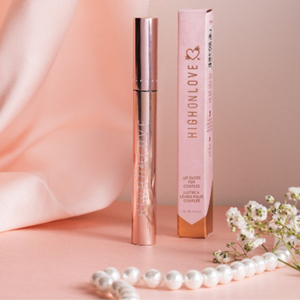 HIGH ON LOVE
Lip Gloss for Couples
Lip Gloss is not often very tasty or pleasant, but High On Love's Lip Gloss for Couples is designed to plump and hydrate lips to make them irresistibly soft and kissable. All High On Love products are infused with cannabis sativa seed oil (i.e., hemp seed oil) and are chemical-free, vegan, and cruelty-free.
Info: highonlove.store
---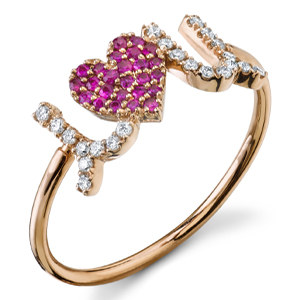 SYDNEY EVAN
Love Collection
If you want to splurge for love, Sydney Evan's Love Collection has jewelry featuring hearts, love and diamonds, and rubies. Like the Rose-Gold & Diamond Large I Heart U ring with pave diamonds and rubies, and 14K rose gold band, or Rose-Gold & Pink Sapphire Love Ring, a 14K love ring finished in rose-gold and pink sapphires.
Info: sydneyevan.com.
---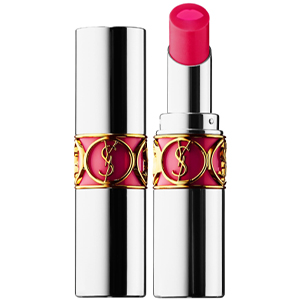 YVES SAINT LAURENT
Volupté Tint-in-Balm
Volupté Tint-in-Balm is a hybrid lipstick that combines a melting balm with sheer lipstick color. The outer shell delivers the moisturizing balm with macadamia and apricot butters mixed with passionfruit and jojoba oils. The lip-shaped heart in the center runs from top to bottom and provides sheer color. Try it in Try Me Berry or Seduce Me Pink.
Info: ysbeautyus.com.
---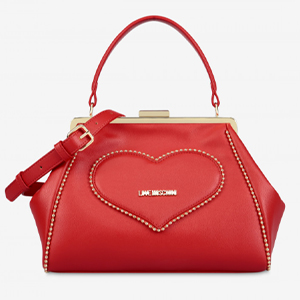 LOVE MOSCHINO
Studded Heart Handbag
If you're into heart shapes, you'll love this. Italian fashion house Moschino's sub-label Love Moschino has a fun line of handbags with several featuring hearts, including the Studded Heart Handbag. The red handbag is made of faux leather and has a polyester lining.
Info: moschino.com.