LIFE & STYLE
Romantic Musts For Valentine Superstars
By Griffin Miller
For Valentine's Day 2020, I decided to seek out words that capture the pure essence of Love, beginning all starry-eyed and nostalgic for tiny heart nuggets reading "Be Mine" and "Love Bug," and primary colored greeting cards with bunnies kissing and baby ducks in hats. (My absolute favorite was a couple of smiling sunny side up eggs in a frying pan that said: "Maybe I'm just a small fry, but I'm a good egg… Be My Valentine")
Happy Valentine's Day!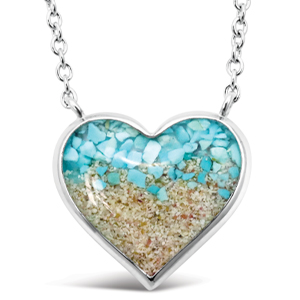 ROMEO & JEWELRY
One of the most enchanting necklaces I own doesn't come kissed by diamonds or any costly stones. Rather it's a perfect heart filled with sand from the Bradenton Beach in Florida where I once walked with my husband at twilight, and my birthstone, Turquoise. It's backed in sterling silver, large enough to be engraved and when I wear it, it rests close to my heart. From Dune Jewelry, the piece uses the company's signature Gradient Technique as well as sand from their massive library of destinations. Still, many pieces of Dune's Experiential Jewelry® can be customized with your own sand and natural elements capturing personal memories from your backyard, favorite beach or mountain vacation. Info: dunejewelry.com.
---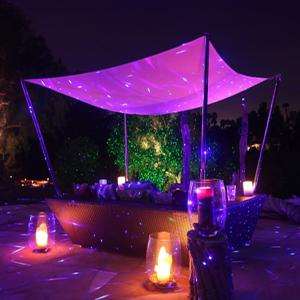 STARSCAPE
Setting a romantic mood is often a no-brainer. Light a few candles; play some Barry White (or Chopin or Beyoncé…totally your choice); pour a good wine, special cocktail or sparkling cider (again, up to you); and serve something seductive to eat. That said, it just might be time to ratchet up the ambiance courtesy of BlissLights, a company that ingeniously serves up star-studded indoor mood lighting—either by USB module or lightbulb. Hundreds upon hundreds of laser stars fill the room and, for my Valentine and me, let's just say it was like being wrapped in our own starry night cosmos. Info: blisslights.com.
---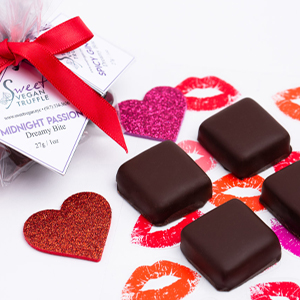 LOVE CONFECTION
Ah, the subliminal power of a heart-shaped candy box—Valentine's Day summed up in a single object. Today, Valentine's boxes have evolved into any number of eye-catching designs and, in the case of Sweet Vegan, arrive filled with 70 percent dark chocolates, handmade to delight even the most persnickety dietary limitations. Made with a mere 4 percent sugar content, they are totally free of all dairy, soy, nuts and gluten. As for the holiday at hand, the company's special Dreamy Bites truffles—among them the bewitchingly named "Midnight Passion" are on tap, ready to captivate lovers one nibble at a time! Info: sweetvegan.nyc.
---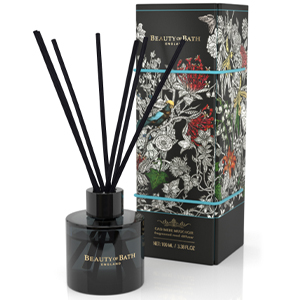 SCENTSATIONAL
Special occasions—and what could be more special than Cupid's signature holiday—call for pampering. Lingering baths come to mind as do lush body lotions, soaps wrapped in inspired fragrances. The Somerset Toiletry Company of England has been an international player in the deluxe bath field, a genre that also includes their Beauty of Bath Reed Diffusers. And of the trio of fragrances offered, I suggest their Cashmere Musk Noir Diffuser—with its top notes of mandarin and creamy undertones of sandalwood as a sensuous room enhancement. Just remove the stopper and insert the black reeds into the glass bottle. Heavenly. Info: thesomersettoiletryco.co.uk.
---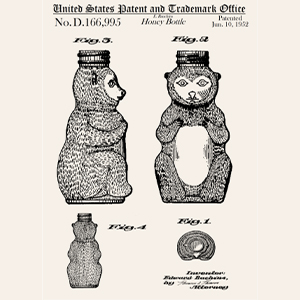 SEALED WITH A KISS & A SMILE
Allow me to introduce the mother of invention: Bob Hickey, founder of Patent Press Greeting Cards where every 5x7 card features interesting, iconic and/or witty art plucked from patent applications filed with the United States Patent & Trademark Office. Brilliantly curated, with wildly diverse subject matter (I would reserve a couple of hours for scrolling) the most obvious Valentine card features the original Honey Bottle, patent number D.166,995, with the inside message reading: "Be My Honey?" But should your squeeze (pun intended) be into Kermit, Star Wars, ballet, bikes or Betty Boop, consider yourself covered. All created with longevity (i.e. framing) in mind. Info: patentpressgreetingcards.com.
---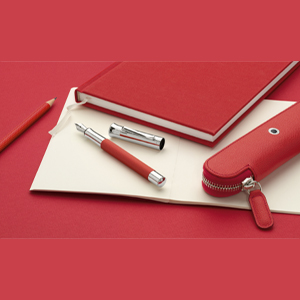 TOUCH OF THE POET
If, by chance, you prefer to express affection in flourishes of poetry or romantic prose—or to encourage your loved one to go old school for their novel-to-be—the perfect pen just might provide sans pareil inspiration. The Graf von Faber-Castell's Fountain Pen Guilloche: India Red is a writing instrument up to the task. Individually engraved with a method used by jewelers, each of these impeccable hand-lacquered and repeatedly polished resin pens is one of a kind or, as the literature would put it, "an individual example of the craftsman's art." Info: graf-von-faber-castell.com.
---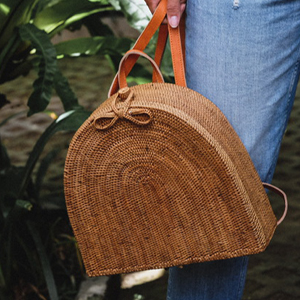 THIS SIDE OF PARADISE
The design is both inspired and striking; the impact, palpable. Here is a singular backpack that catapults the routinely utilitarian into the realm of elegance. Skillfully woven by an artesian Bali family from ata grass (similar to rattan), the Jenn Lee Malam Bag curves so seductively and opens to reveal a stunning batik lining in a traditional Bali print. So beautifully tactile, mine is making its debut on February 14th bearing a slender tin of chocolate covered strawberries and two tickets to Moulin Rouge! on Broadway. Compliments are inevitable even if it is still technically winter. Info: shopjennlee.com.
---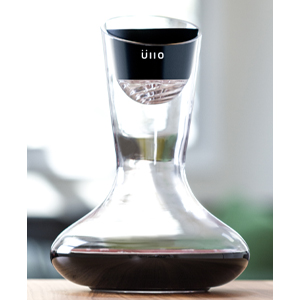 SPLENDOR IN THE GLASS
Whether this year's romantic toast involves red or white, there's smooth sipping in your future courtesy of the Üllo Wine Purifier. Beyond easy to use (I had no problem and I'm quite the accomplished klutz), this sleek little gadget serves two important functions: it separates out the sediment and improves the through Selective Sulfite Capture technology that jettisons sulfites. The aerator can be placed atop a wine glass, carafe or decanter. And if you wish to insert a rather idyllic decanter into your Valentine's Day plans. I suggest checking out either Üllo's Florence Decanter, inspired by the Florence flasks found in chemistry labs, or the lovely Crystal Üllo Carafe. Info: ullowine.com.