THE ROMANCE OF TRAVEL
Places To Love In 2020
By Norah Bradford
Looking to kindle the flames of love with a romantic escape? Maybe it is a desire to experience the excitement of visiting new places and learn about new cultures. Or, perhaps fall in love and reignite an old passion for places once visited. Relaxing beaches, adventurous ski slopes, and desert retreats are just a few of our favorite romantic getaways.
ST. BARTHS, Caribbean
St. Barths has become the destination of choice for the world's most influential jet setters. Whether in search of exotic scenery or exclusive luxury, this Caribbean gem is more than a secret haven of laid back refinement, it is a lifestyle beyond compare. Days are spent on soft white beaches that stretch along the contours of the magnificent coves, and evenings begin watching the sunset to make for an intimate setting.
Stay & Eat A visit here is the perfect spot to relax, dine, and party. Stay at the sumptuous Hotel Eden Rock St. Barths. The luxury hotel has been fully renovated and has an extensive Eden Spa featuring local artisanal products from Ligne St Barth. The Eden Rock combines designer decor, high-quality amenities, stellar service, and superior attention to detail—not to mention the Jean-Georges Sand Bar restaurant and legion of celebrity followers.
Do not miss some of the best French/Caribbean-inspired beachside restaurants along the Grand Cul-de-Sac. Not to be missed is a lunch a duex for which your choices range from a chic afternoon lunch drinking rosé and watching the world go by listening to an achingly hip soundtrack at Nikki Beach in St. Jean. Info: saintbarth-tourisme.com.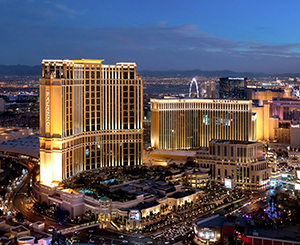 LAS VEGAS, Nevada
Sure there's gambling and glitz. But there are also top-of-the-line hotels, gourmet dining and haute shopping. It's a whole new deal in Vegas!  Yes, Nevada's place-your-bets mecca offers so much more than gambling. Do not worry that all the new chic is dulling the edge of the city's outrageousness. What else could you call a town where you'll see slot machines the moment you step off the plane and bump into Elvis impersonators strutting across any casino floor?
Stay & Eat Luxury takes many forms when you check into The Palazzo Tower at The Venetian Resort. The accommodations are truly outstanding: Generous suites with plenty of space, beautiful appointments, and views of the Strip are just the beginning. Other features of note include a fitness center and spa from the hallowed Canyon Ranch to work out together. Be sure to make a reservation at Thomas Keller's Bouchon, which offers diners an elevated take on classic French bistro fare. Sunday brunch on their outdoor terrace is a must to show one another off to the world. For cocktails, The Palazzo boasts Electra and Rosina cocktail bars. At the Venetian head to the Dorsey Cocktail Lounge, which looks more like a library complete with a fireplace to enjoy pre-dinner cocktails and conversation. Also, be sure to include TAO on your bucket list of dining, offering an excellent Asian fusion menu.
For even more romance, a gondola ride is sure to please as you ply the waterway and marvel at St. Mark's Square. Build an appetite for shopping with a brunch/lunch snack at Sixth and Mill Ristorante and enjoy their pizzas. Info: lasvegasnevada.gov.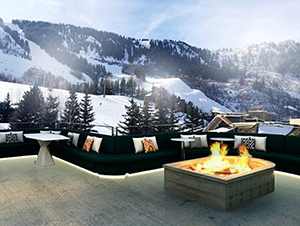 ASPEN, Colorado
Aspen's as well-known for its après-ski activities as it is for the ski slopes themselves. The cobblestoned streets are lined with designer boutiques (Gucci, Prada, and Chanel among them) as well as cherished emporiums of Western wear selling everything from Stetson hats and Lucchese boots. Like the town, the skiing is first-rate. Aspen Mountain (affectionately called Ajax) is right downtown; the slopes are a mere gondola ride away from those impressive shops. This winter sees the return of the U.S. Alpine Tech Championship at Snowmass and Aspen from March 28th to 31st for the first time in sixty years.
Stay & Eat For those familiar with the Aspen scene, book a stay at the new W Hotel Aspen, which offers ski-in/ski-out experiences at the base of Ajax Mountain. Reserve a table at the WET deck—the rooftop with heated pool and hot-tub with views of Aspen and the surrounding mountains. Meanwhile, for something more intimate, why not enjoy a late-night rendezvous at the Hotel Jerome's speakeasy, Bad Harriet, in the former Aspen Times Building. Info: aspensnowmass.com.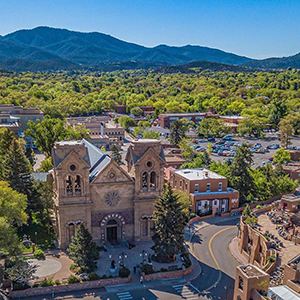 SANTA FE, New Mexico
New Mexico is a crossing point of cultures, as well as scenery and climate. Visit Santa Fe, which blends Hispanic, Native American, and Anglo cultures and is America's third-largest art market today. The town has some 400 restaurants and boasts a 'Margarita trail' which possibly no one has ever completed in one visit.
Stay & Eat The Rosewood Inn of the Anasazi combines the service of the Rosewood Group with the charm of a hotel containing a library and art collection focused on the Southwest. Take a stroll downtown and shop some of the 250 art galleries and markets. Dine together at the Amaya Restaurant located in the nearby Hotel Santa Fe, which features a Southwestern menu complimented with vegan and gluten-free options. Info: santafe.com.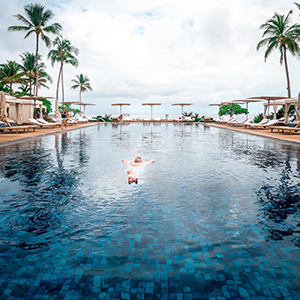 THE BIG ISLAND, Hawaii
Travel to a mystical oasis that charms with its welcoming aloha spirit. Twice the size of Hawaii's other islands combined, the Big Island encompasses 11 of the world's climate zones. You can experience snow-capped mountains, lush rain forests, and jet-black beaches all in one trip, without having to fly to different continents. The temperature rarely fluctuates, so you're guaranteed sunny skies and refreshing breezes year-round. Whether you're drawn makai (seaward) or mauka (inland, towards the mountains), you won't be able to resist the isle's magnetic pull towards adventure.
Stay & Eat Situated on the mystical Kona-Kohala Coast, Four Seasons Hualalai was designed to fit into its natural tropical setting. The luxurious bungalows are carved into the black volcanic rock landscape, allowing ocean views from all the rooms. Take a moment and visit the Hualalai Spa for its unique apothecary where you can choose natural ingredients for a spa treatment. After a day of soaking up the rays, indulge at the at the hotel's ULU Ocean Grill and Sushi Lounge, one of the most romantic places to dine, and where the menu focuses on local cuisine with an artisanal philosophy. It's a favorite and one of the best restaurants in all of Hawaii. Info: gohawaii.com.