PLAYA LARGO
The Key To Paradise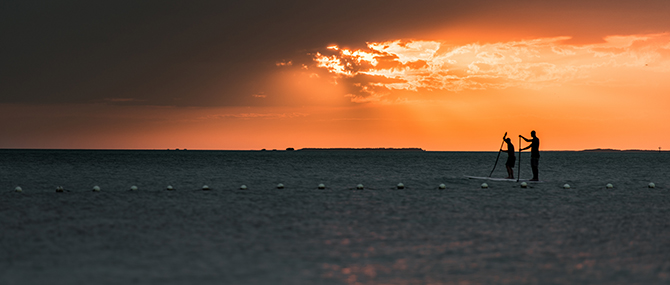 ©Christopher Crews
By Gerrie Summers
Key Largo is the northernmost and largest of the Florida Keys. Originally called Cayo Largo (meaning Long Island) by Spanish explorers, it became well-known with the classic film starring Humphrey Bogart and Lauren Bacall. Actually the area was called Rock Harbor and the movie inspired the name change to Key Largo.
The area is also a popular romantic vacation spot. Nestled within 14.5 beachfront acres is the beautiful Playa Largo Resort & Spa, which is part of the Autograph Collection of luxury hotels.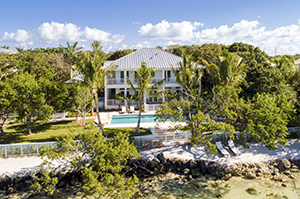 Playa Largo Resort Beach House
THE KEY TO PARADISE
Playa Largo has 167 luxury rooms and suites, as well as 10 two-story bungalows and a three-bedroom, four-bathroom Beach House. With a private pool and beach, it can be used for events like wedding parties and girlfriend getaways. Accommodations at Playa Largo have island-inspired decor that match the area's relaxing blues and soft white sand.
Guests get to enjoy a resort pool, two cozy fire pits with seating area, a 15-slip marina with boat launch. There's more! A menu of water-sports, basketball and tennis courts and a jogging trail that runs through hammock trees should keep you fit. In addition, there is a private members club, Club Playa Clubhouse with lounge, locker room and a private lawn, where we enjoyed a Chef's Choice farewell dinner on our final night.
For a pampering experience, the full-service 6,000 foot Ocean Spa, has six treatment rooms, including a couple's room. Ingredients are sourced from tropical fruits to marine algae. There is a Playa Largo Scrub Bar where guests can create their own tropical scrubs. The spa also has a salon and state-of-the art fitness facilities.
If kids are in tow, there's Playa Kids, a daily discovery camp and fun activity center that will keep them busy for hours.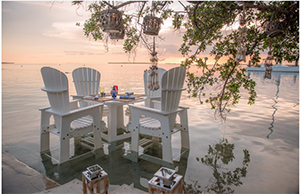 Water Table at Sol by the Sea
RESORT DINING
Playa Resort has four places to dine. Poolside restaurant La Marea features dishes with seasonal ingredients, using local farmers, fishermen and its own seaside vegetable and herb garden. It's open for breakfast and dinner, and has charming curtained booths.
Sol by the Sea features a menu inspired by Trinidadian cuisine, and is a rustic beach shack at the edge of the pier with driftwood benches and a view of white yachts and gorgeous sunsets in striking oranges and pinks. Even the best camera might not do the sunsets justice. A romantic toes-in-the-sand dinner can be set up just down the steps and on the beach.
Las Olas, an authentic Peruvian ceviche bar, referred to as the only true ceviche restaurant in Florida's Upper Keys, is a late-night hangout serving fresh seafood ceviche cured in tropical citrus juices.
Sand Bar by the beach and pool is where you can get "barefoot cocktails," fresh-squeezed juices and snacks. There are cozy cabanas nearby.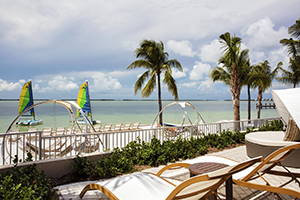 Playa Largo Resort Beachview
REVEL, RELAX, RECLINE
Relax or swim in the calm waters of the Florida Bay where wooden lounge chairs rest in the water, set up next to your beau with an island drink.
Parasail over Florida Bay to get a bird's eye view of the area, overlooking the island, and the gorgeous blue waters of the Gulf of Mexico and the Atlantic Ocean.
Take a sunset cruise around the islands on the Bay on the Carolina Moon, make a champagne toast and listen as the captain blows the conch shell at sunset. Conch shell blowing is an island tradition for over 50 years and has such an important history in the Keys, that there's actually a conch shell blowing contest in Key West.
And for those couples who are ready to tie the knot, the resort can arrange to have an undersea ceremony among coral reefs and shipwrecks.
For more information on Playa Largo Resort & Spa, visit playalargoresort.com; for Key Largo and the Florida Keys, visit fla-keys.com.
WHAT TO DO IN KEY LARGO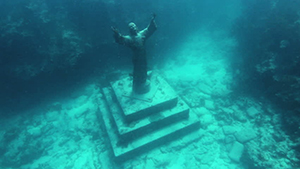 Called the Dive Capital of the World," the Florida Keys island chain is home to the continental U.S.'s only living coral barrier reef. While visiting Key Largo be sure to explore the world's second largest artificial reef, and the shipwreck of the 510-foot USS Spiegel Grove. You can snorkel and dive at the undersea park John Pennekamp Coral Reef State Park, and see the underwater statue Christ of the Abyss.
A must for lunch is The Fish House. If you are a seafood lover, you'll have a hard time deciding what to get. The fresh seafood is smoked, seared or sautéed in specialty blackened, Jamaican Jerk or Matecombe-style. All seafood is purchased from local commercial fishermen and prepared on the premises. Be sure to leave room for a slice of Florida's famous Key Lime pie.