THE FOUR SEASONS HOTEL PHILADELPHIA
SKY HIGH WITH LUXURY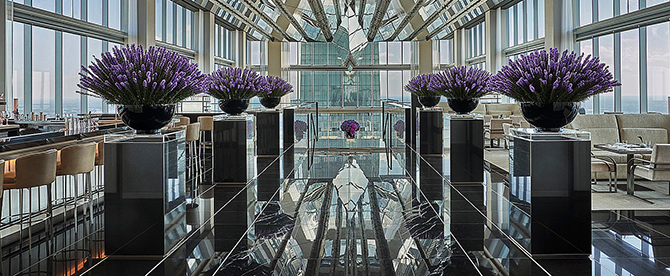 By Jenny Peters
You'll find it on North 19th Street, centered between Rittenhouse and Logan Squares, but don't expect to see the lobby on the ground floor. For this hotel begins on the 48th floor, with the lobby located at the very top, on 60. As you enter on the ground floor, be sure to notice Vernick Fish; that's a hotel partner and place you'll want to try later on.
Once you're escorted to your room, the fun begins. For every one of the Four Seasons' luxurious rooms (180 of them, and 39 suites, too) has a spectacular, unobstructed view of Philadelphia and beyond from floor-to-ceiling windows. From the north side, you'll easily pick out the Philadelphia Museum of Art with its famous steps; if you›re living on the south side, look left to spot Independence Hall. Book a corner Skyline Suite, and you can even take a bath with a view!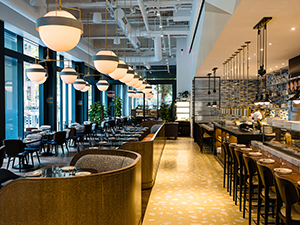 SLEEK & MODERN
Everything is sleekly modern and stylish at the hotel, including Spa at The Four Seasons, where a stunning display of crystals (700 pounds, believe it or not) begins your wellness retreat. Every treatment room has a spectacular view, and more crystals are at the ready as part of the spa's signature treatments. The warm crystal massage will melt away your kinks, especially if you've hit the fitness center or the sky-high lap pool beforehand.
Indulge yourself even more with a meal from one of the two main restaurants, and both helmed by world-famous chefs. Discover sublime fare on 59 with a visit to Jean-Georges Philadelphia, where that Michelin-starred chef brings his favorite dishes to Philly. If you've never had his Yellowfin Tuna Noodles with Avocado and Radish, you are in for a real treat, as that dish alone is worth the trip.
Also worth a visit for lovers of seafood of all types is Vernick Fish, that convivial ground-floor eatery complete with an oyster bar, lots of raw bites, and small and large plates designed for communal eating. As James Beard Award-winning Chef Greg Vernick says, "We love it when guests share everything." Order the Octopus Carpaccio as well as the Crispy Beignets and Spicy Clam Ragout, but be warned—you are not going to want to share!
For more information on Four Seasons Philadelphia, visit fourseasonsphiladelphia.com; for the City of Philadelphia, visit visitphaldelphia.com.
MUST-SEE SPOTS IN PHILLY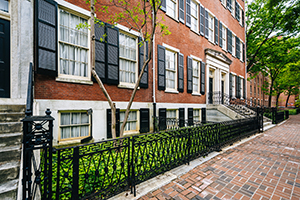 Tear yourself away from your Four Seasons aerie to discover Philadelphia's top attractions; most are within a mile or less from the hotel.
The Barnes Foundation is an art lover›s dream, with a collection that ranges from masterpieces created by Van Gogh, Renoir, Picasso, Cezanne, and Matisse to Native American pottery and textiles. Collected by Dr. Albert Barnes, the complete collection is now housed in a massive stone structure on Ben Franklin Parkway.
The Rodin Museum is just steps away from the Barnes, boasting the most extensive collection of works by the famed sculptor found outside of his home country of France. Originally opened in 1926 and refurbished in 2012, this is a gorgeous place to spend a few hours marveling at the master›s work.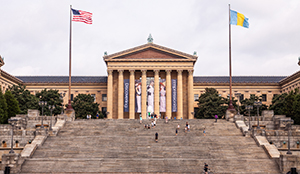 Also nearby is the Philadelphia Museum of Art, so run up the stairs and soak up all the works in this legendary museum. This one could take you all day!
History buffs will love Philadelphia's National Historical Parks, which include Independence Park, where America's existence began. See the Liberty Bell, Independence Hall (where the Declaration of Independence and the U. S. Constitution were both signed), and the Benjamin Franklin Museum. Don't miss the Edgar Allan Poe Home or the John Coltrane House, and take time to visit one of the oldest churches in America, the Gloria Dei, built by Swedish settlers in 1698.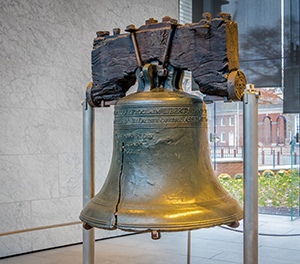 When you're ready for some chow, head to the Reading Terminal Market. This historic market began in 1893 and features everything from flowers and fresh meats and seafood to Philly›s famed hot pretzels, made by Pennsylvania Dutch cooks precisely like in the olden days. If you›ve got the family along, do what we do: buy a freshly baked, lattice-work cherry pie from the Amish, grab four forks and eat the whole thing on the spot.
Or hit one of the most famous spots to try a Philly Cheesesteak Sandwich: Pat's (on Passyunk Avenue where the sammy was invented) and Geno's (nearby on 9th Street) are the acknowledged masters of this thinly sliced beef smothered in melted cheese and cooked onions and served on a crusty French bread sub roll. But be warned, unless you ask otherwise, the cheese will be Cheez Whiz, that weird Kraft processed "cheese." Ask for provolone instead!