NEXA Pilates & Fitness
Stressing Down & Shaping Up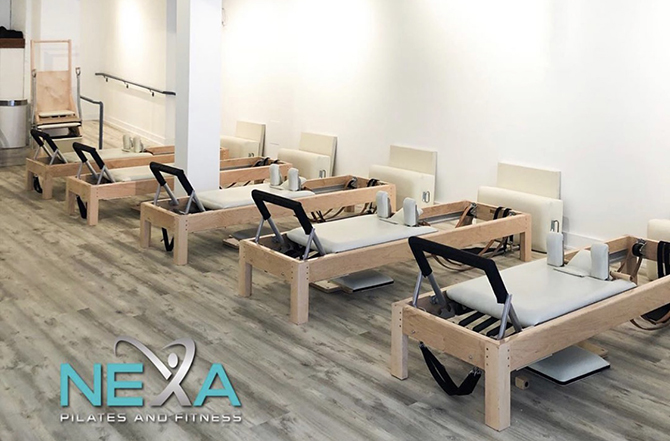 By Ann Grenier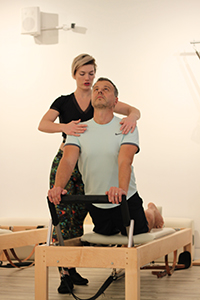 Today, more and more people—stressed by the hamster wheel that is their daily lives—are discovering that they can indeed change their approach to wellness. While less than a decade ago, yoga and Pilates classes may have been considered alternative-lifestyle activities, this fitness style has since become as commonplace as a run in the neighborhood or a workout at the gym. Enthusiasts are taking Pilates classes like never before, seeking to reduce stress, loosen kinks, and find a little peace of mind.
One champion of this movement is Anna Clark, the co-founder of NeXa Pilates & Fitness. She has worked in the fitness industry for over 16 years, teaching Pilates, yoga, personal training, and dance. She leads a diverse team of elite instructors and top personal trainers, all of whom share the goal to make their clients healthy, fit, and beautiful.
NeXa is equipped with a group fitness studio and wellness spa offering a range of services, including an infrared sauna and local cryotherapy. Whether beginner or expert, guests are provided an experience that challenges the body and mind toward a healthy lifestyle. New York Lifestyles sat down with Anna Clark to discover what motivates her and her revolutionary fitness studio.
Tell us about your early years.
I was raised in Hell's Kitchen and studied at the Joffery Ballet on scholarship. A wonderful experience. And like every young dancer performed in The Nutcracker. Dance has always been an essential part of my life.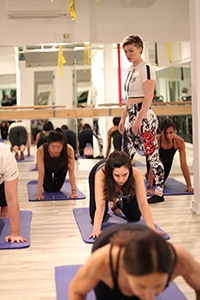 Anna Clark
At that time, I was home-schooled until the last few years of high school. I got to see what going to school was like in a small brownstone school called Beekman on the East Side. I always knew I wanted to be in the dance and fitness industry from my early teens, so right out of high school graduation, I told my dad, I want to be a Pilates teacher! I had been studying religiously at one of the biggest Pilates centers in the city for a few years already, so at 18, it was a natural progression to enter their teacher training program. I became one of only three students ever to graduate at only 19 years old.
Why Pilates?
I started training Pilates on a daily basis when I was 13. It is important for serious dancers to cross-train in this discipline because you can build strength without gaining size, weight, or bulk, thus adding to your dance abilities yet still maintaining your figure. I think this underlying fact is what first made Pilates gain popularity. Pilates has been on top of the fitness community because of its capacity to strengthen, stretch, stabilize and build stamina for whatever your body goes through in a day. It is also an incredible solution for chronic back pain, joint issues, and creating muscular symmetry in the body. The maintenance of a solid Pilates routine can mean living a pain-free, higher quality of life.
When did you start your fitness studio?
My business partner Anne Jameson, an enthusiastic Pilates student of mine, convinced me to go into business with her. I really must take my hat off to her because it was her persistence and persuasion that gave me the motivation to undertake this whole project. Together in 2017, we committed to making our dream Pilates studio a reality. Two years of planning, finding the perfect location, building out space, and hiring the dream team of trainers and staff went into this endeavor before we opened our doors.
What are some of your favorite classes to teach at the studio?
Since we have such ample space on the UWS, we were able to expand and offer several styles of group and private training in our open studio space. I think my favorite compliment to the Pilates work is the high-intensity (HIIT) training classes taught by personal trainers Rahmel Reid and Nick Ervin. The other favorites are Yoga, Barre, and several styles of dance cardio, including Zumba!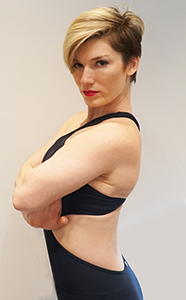 Besides the unique classes and top trainers, what are other amenities clients can find at NeXa Pilates & Fitness?
We built out the lower level into a spa-like atmosphere allowing clients some tranquility after their workout. You have the option to use oversized showers, go in the infrared sauna (one of the few available in the city), get a local cryo treatment for joint pain or a facial for skin tightening, or sit down with our nutrition specialist and confess your sins.
What is downtime look like for Anne Clark?
When I'm not working out or rehearsing with my dance team, I am living it up in the city. My favorite pastime is going to stand-up comedy shows around town. You can also find me out for dinner and drinks with friends on a Saturday night or out at a Latin Club dancing Salsa and Bachata.
Where do you see yourself and NeXa Pilates & Fitness in the next five years?
We hope to grow the NeXa brand over the next few years, making us a go-to destination gym for fitness and health in all aspects! Growth through hard work is inevitable, and we plan to eventually expand nationally, opening more and more fitness centers in the future.
For more information on NeXa Pilates & Fitness, visit nexapilates.com.