CONTOUR
A Refreshing New Dining Style At The Ritz!
By Anne Raso
If you love modern day luxury at a casual and pleasant pace, then definitely check out Contour at The Ritz Carlton (situated on the SE corner of Central Park South and Sixth Avenue). The powers-that-be at this most legendary of luxury hotel chains have come up with a truly revolutionary yet simple way of hotel dining and lounging that you won't want to miss!
Leave it to the clever and classy crew at The Ritz to come up with something new and unforgettable using the gorgeous lobby lounge, bar and restaurant that already exist but spicing them up. Contour takes up all three of these spaces and turns them into a luxe Modern American dining and drinking experience. Gone are the white table clothed tables and formal dining chairs—patrons can decide whether they want to lounge or eat on a mixed bag of tables and, plush seating. It's comfy and cozy and has a no-rush atmosphere; the service is strictly "white glove" yet friendly.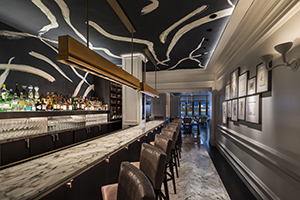 Bar Room to Salon Room
A UNIQUE SET UP
New York Lifestyles asked hotel manager Loic Vince (who came over from The St. Regis two years ago) about the unique set up of the restaurant. He responded, "Contour is an all-day gastro lounge comprised of threes distinct spaces: Contour Grand Room, Contour Bar Room and Contour Salon Room. Upon entering the hotel, the all-day gastro lounge draws guests into the heart of the lobby's transformation, where the rhythm builds through the three distinct rooms for a day-to-night cocktail and culinary experience. Inviting guests to gather and socialize, the Contour Grand Room and the Contour Salon Room have a sophisticated yet playful design of plush banquettes, marble accents, New York-inspired artwork and a variety of seating arrangements—secluded and sociable."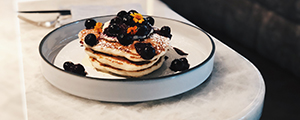 Blueberry & Lemon Pancakes
LOVE THAT ART
Bold and beautiful art by legendary artists is encountered when walking from one posh area to the next. "Connecting the two lounge areas is the vibrant Contour Bar Room where accents of marble, bronze, and gold are complemented by a bold Matisse sketch across the ceiling, lending inspiration for Contour's namesake," explains Vince. "Collaborating with music curation firm Sonodea, the ambiance is set with an expertly selected playlist to take the space from day to night, with the beat increasing as time progresses."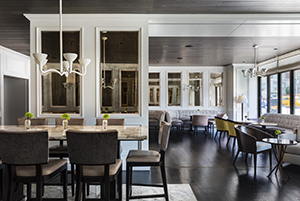 Daytime in Salon Room
SPECIAL TOUCHES
We couldn't resist asking what Vince thinks are the famous Ritz-Carlton luxurious touches that are apparent in Contour's food, service, and ambiance. The distinguished looking hotel manager states, "The famous luxurious touches are intertwined throughout Contour's design, exemplary service and delectable dishes. From the moment you walk through the three distinct rooms, you can feel the attentiveness from the staff with immediate service, as well as anticipation of needs and fulfillment of even the most unexpressed needs and wishes of all guests. Contour's atmosphere further illustrates the Ritz-Carlton touches with the combination of striking and vibrant accents complemented by bold sketches throughout, creating a unique and stylish yet comfortable setting, encouraging guests to mingle. The fresh and carefully selected ingredients coupled with refined spirits and crafted bites further exemplifies the Ritz-Carlton standards of being the best of the best."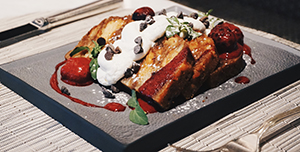 French Toast
GO AHEAD AND SHARE
Would Vince consider Contour a farm to table restaurant (which seems to be the gold standard for posh dining and drinking establishments in Manhattan right now)? He responds, "The restaurant focuses on a luxury beverage experience complemented by inspired sharable plates, utilizing locally sourced ingredients. The menu changes seasonally and is always sourced with the freshest ingredients, herbs and vegetable varieties to ensure the finest of food quality is always met."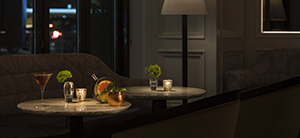 Evening Cocktails in Salon Room
FROM BAR FOOD TO WAGYU BEEF
Of course, the New York Lifestyles team had to go get up-close and personal with some of the fine cuisine offered here. As assumed, plates can be shared with items from the city's highest quality bar food like homemade German Pretzels with Artisanal Cheddar Cheese Dipping sauce to Burgers topped with Tomato, Onion Rings, Bacon and your choice of cheese to more high-end items like Wagyu Strip Loin and freshly made pastas. We were wowed to say the least. Don't leave without trying the Millefeuille (layered crispy French pastry with cream) or the house chocolate cake, which actually looks more like a Napoleon than a traditional layer cake and melts in your mouth.
THE ULTIMATE VALENTINE'S DAY SCENE
What will be going on at Contour for Valentine's Day? We can't think of a more romantic spot in midtown—the high wood ceilings with gorgeous hand-carved trim, the romantic lighting and art, and the shareable luscious food make it our top choice for a memorable V-Day. Don't forget—you can also start your evening out with a romantic walk through Central Park just across the street.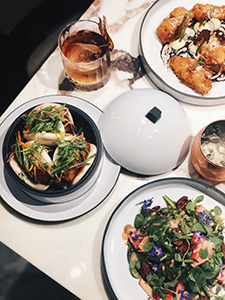 Sharable Plates
Vince tells us, "Contour will be open and accepting reservations for Valentine's Day. The all-day gastro lounge will provide an intimate and romantic setting for couples on this special day along with a set specialty curated main-course for the evening as well as a featured cocktail." (Don't forget that The Ritz-Carlton has the city's most famous Manhattan cocktail thanks to the fact that former bartender Norman Bukofzer had a celebrity clientele coming in for them every night up until his retirement in 2018—the new bar crew uses his recipe and unique blending methods.)
POWER (AND ROMANCE) BREAKFAST
You can get breakfast here as well and don't be surprised to find yourself rubbing elbows with the rich and famous or overhearing a CEO's power meeting. But we also think it's just charming for a couple who wants a little alone time before going off to work. Says the affable Vince, "Contour is an all-day gastro lounge that follows the flow of the city from day to night, showcasing a luxury beverage experience best shared with small plates and friends. An emphasis is placed on the artisan beverage experience with impressive handcrafted cocktails and seasonal infusions with striking presentations to provide a moment of wonder. The menu concept focuses on 'For Us' and 'For Me' plates, encouraging guests to share and mingle within the lounge."
The NYL crew will be back. It's a joy to know that Contour welcomes guests any time of day or night and in all honesty, prices are actually very reasonable for what you're getting. Contour is all about relaxing and unwinding which we find very refreshing in a high-end establishment. You can even get some great stories out of the wait staff that you'll find no other place in town!
For more info on Contour, go to www.ritzcarlton.com. Reservations are recommended but not necessary.