FRANKIE & JOHNNIE'S STEAKHOUSE
The Longest Running Show On Broadway
By Ellis Nassour
The original Frankie & Johnnie's, on West 45th Street, was a celebrated Theater District fixture. When it opened in 1926 as a speakeasy, tipplers would travel there for illicit drinks and hunks of beef. To gain access, patrons knocked on the unmarked door. Asked who you were, the password answer was Frankie. Asked who sent you, a reply of Johnnie gained you admittance.
And so a legend was born and became synonymous with good food and drink in a pleasant setting. Through the decades, the steakhouse, known as The Longest-Running Show on Broadway, became a favorite haunt of producers, directors, Broadway stars, and sports celebrities.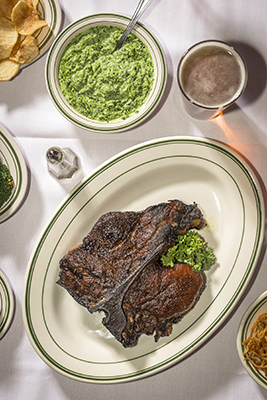 THE SIZZLE CONTINUES
The original served as a prototype for its offspring—West 37th Street and Rye, NY. It closed its doors in 2015 and opened in the former B. Smith's on West 46th Street, Restaurant Row—a stunning, bi-level, 140-seat restaurant highlighted by an elegant, custom-built mahogany bar. Volumes of theater memorabilia from the original location made the transfer.
The West 37th location is John Barrymore's former townhouse. The dining room, on the second floor, was Mr. Barrymore's study, complete with his original fireplace, dark wood walls, and stained glass ceiling panels. The first floor offers the same warmth, but with casual dining booths and a dark wood bar.
In traditional Frankie & Johnnie's style, the menus offer quintessential steakhouse fare: succulent steaks, chops, and seafood—distinguished by the house hallmark: prime cuts of USDA dry-aged beef. All steaks are seasoned with a secret blend of herbs and spices and served with Frankie & Johnnie's own steak sauce. Creamed spinach and garlic mashed potatoes are popular sides. A consistently updated wine list offers a broad range of reasonable selections.
A LOYAL CROWD
Owners and brothers-in-law Van Panopoulos and Peter Chimos believe the secret to their success is genuine hospitality and a memorable dining experience accented with good food. "We buy local," notes Peter. "Our meats come from the same New Jersey and Queens purveyors we've been buying from for over 20 years."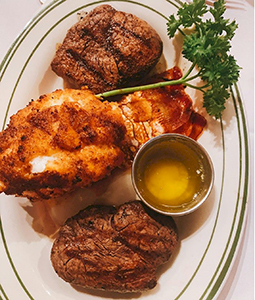 Sharing another secret, they say their generous cuts of Rib-Eyes, Porterhouses, T- bones, and other prime cuts come off a grill set at 800 degrees. And what's the New York favorite? Both agree it's the Rib Eye. The menu includes other headliners, such as Chilean Sea Bass, Lobster Tail, Crab Cakes, Little Neck Clams, and Blue Point Oysters. Other staples include Crab and Jumbo Shrimp Cocktails, Lobster Bisque, and French Onion Soup.
According to Van, "The most important element in restaurant hospitality is caring. It builds customer loyalty." Adds Peter, "There's also the work to stay ahead of trends. It consumes you, but it's our life. We spend more time at work than at home."
For more information on Frankie & Johnnie's, visit frankieandjohnnies.com.