LOT 15
Cocktails & More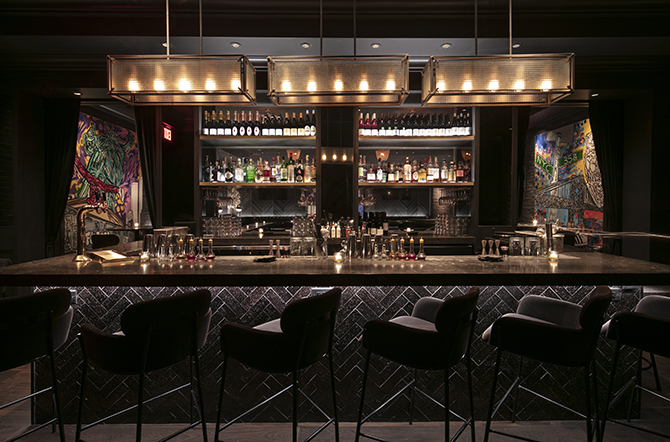 By Kristie Kellahan
There's a part of me that doesn't want to tell you how great Lot 15 is, because then I might not be able to get a reservation whenever I want one. That would be a shame, because Lot 15 at The Kixby Hotel has all the makings of a favorite Midtown cocktail lounge for food and drinks that always satisfy.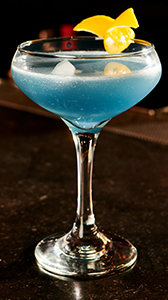 Perfect for a date, or dinner with your parents, or for those moments when you've been wandering around the sales at Macy's for hours and you really, really need a drink. Opened late last year in the Herald Square area, it was quiet on the November night I visited, though that is sure to change as word spreads about the perfect Lemon Drop Martini and decadent Crispy Chicken Skins on the menu.
SULTRY & GLAM
Located on the ground floor of the newly renamed Kixby Hotel on West 35th Street (you might remember it as Hotel Metro), Lot 15 has been brought to life by the team behind Black Tap Craft Burgers & Beer. Designed by Rockwell Group, the dimly-lit lounge seats 70, with bar seating for 12. The mood is sultry and glam, all black wood walls with pops of gold, and pop-culture artworks by muralist Fumero.
Executive Chef Stephen Parker's menu features classic dishes with modern-day twists: a Caesar Salad of Kale with Serrano Chilies; Lamb Harissa Meatballs drizzled with Cucumber, Red Onion, and Tzatziki. The House-roasted Turkey Club is a showstopper, plentiful enough to feed four and then some. The delicious Fried Chickpea nibbles that arrived with a martini were still on my cravings list two days later.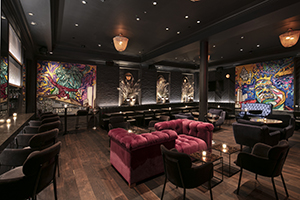 CHEERS TO YOU
Beverage Director Cameron Shaw's cocktail and wine list is previewed in the "House Picks" selection, served daily from 4 to 7 pm. During those happiest of hours, featured cocktails are $12 each, wine is $8 for a glass and beer is $5. The offerings will change seasonally; for now there's a tasty sparkling Chenin Blanc and refreshing Pilsner to complement the cleverly constructed cocktails. The full wine list has been thoughtfully curated, with plenty of choices by the glass. And isn't there something delightful about a streamlined New York cocktail list that lets the classics shine? A well-made Old Fashioned, Whiskey Sour or Classic Martini will never go out of style.
Elsewhere in the hotel, there's a new Black Tap restaurant plus a seasonal rooftop bar, The Lookup, to explore. We're predicting The Kixby is soon to become a firm favorite of locals and visitors alike.
For more information on Lot 15, visit lot15.nyc.