ON STAGE
Tina: The Tina Turner Musical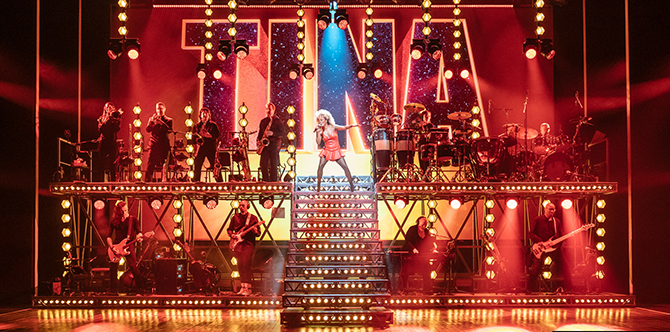 Adrienne Warren in TINA THE TINA TURNER MUSICAL, Photo by Manuel Harlan, 2019
By Lori Simmons Zelenko
In a word: Electrifying! Sizzle that pops off the stage and jazzes the audience to its feet. We all know and love Tina Turner and until we meet Adrienne Warren who embodies her in this bio-musical overflowing with Tina's hits, "River Deep-Mountain High," "Let's Stay Together," "Proud Mary," "We Don't Need Another Hero," and of course, the mega chart-topper "What's Love Got To Do With It" among others.
We might have thought there was no one who could capture her sass, her energy, her tough girl/tender heart attitude, the vulnerability belied by a powerhouse voice and a will to survive like no other. Well, by the time the curtain goes down on this show, we're convinced we just spent the evening with Tina herself. Adrienne Warren captures the essence of Tina without sacrificing her own identity, she is thrilling to watch.
The story (book by Katori Hall) begins with Tina as a child in Nutbush, Tennessee (the origins of "Nutbush City Limits"). We see her gospel roots and share her early heartache as her mother, in a violent marriage (foreshadowing Tina's relationship with Ike), takes off leaving her behind to be raised by her abusive father and her grandmother (played by Myra Lucretia Taylor).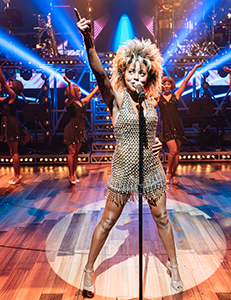 Adrienne Warren in TINA THE TINA TURNER MUSICAL, Photo by Manuel Harlan, 2019
NEVER EASY TO LOVE
Tina's mother Zelma is not a character who is easy to love. Yet, Dawnn Lewis (Grammy winner, actress, Veronica Mars, A Different World, Major Crimes) makes her as sympathetic as she can be: "There are two sides to every story. It would have been easy to paint Tina's mother as a villain but no, I wanted the audience to feel her humanity and see that she just didn't know how to love this daughter. She knew that to survive she had to protect herself before she could protect anyone else. Tina's childhood mirrors my own so naturally I felt a tremendous empathy for her and for her mother too, having to make painful choices.
"Times have changed now and there is more awareness of a climate of violence towards women, and less tolerance. But back then, divorce wasn't common and women were told to stand by their man, no matter how many times he hit her. I never knew Tina's mother," Dawnn Lewis reveals, "but I had friends who did. The character as I play her is grounded in reality. She is a divided woman yet I sought to bring compassion to her. No one is all good. No one is all bad."
PLAYING WITH FIRE
Tina tries to come to terms with her mother in one of the show's most moving scenes. As she asks the parent who deserted her—why? Why she never deserved the love she desperately wanted? Dawnn Lewis as Tina's mother replies, "You can't hold fire. You can't embrace fire."
Fire is a great way to describe Tina's will to be, as her song says, "Simply the best. Better than all the rest." Daniel J. Watts plays Ike, one slimy Svengali, who soon shows his sadistic side. But Tina's spirit is never defeated and her talent triumphs in the end. The songs propel the narrative, biographical and authentic. When Ike proposes, Tina sings and her mother echoes the irony in the message, "Better Be Good to Me," a plaintive cry from Tina and a warning from her mother that Ike never heeds.
WHAT'S LOVE GOT TO DO WITH IT?
Depressed, down and out in London feeling unsuccessful at resurrecting her career, she sings "I Can't Stand the Rain"—the weather was never more exquisitely painful. Our hearts go out to her, feeling the agony of defeat but we know Tina, and we know no one can keep her down.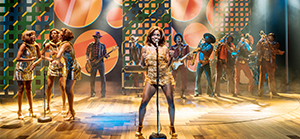 The cast of TINA THE TINA TURNER MUSICAL, Photo by Manuel Harlan, 2019
Despite her initial misgivings about the song that re-defined her and brought her back into our orbit—"What's Love Got To Do With It"—she abandons her gig singing disco in trashy dives for a shot at re-found success. Her commitment to Buddhism stands behind her and sustains her, as she leaves the past behind, she places her trust in a man who becomes her husband, German record executive, Erwin Bach (played by Ross Lekites.) The show takes flight in the second act when Tina rises from the ashes of her burnt career, powerful, older and wiser ready to assume the mantle of stardom even if such success doesn't appear to immediately be in the cards.
Tina: The Tina Turner Musical ends gloriously. We are with her as she takes the stage; a superstar who has been through hell to ascend to heaven. Adrienne Warren as Tina delivers a performance that brings the audience to its feet.
Tina: The Tina Turner Musical is at the Lunt-Fontanne Theater. For more information, visit tinaonbroadway.com.