TOKYO PRIMER
Eight Things You Need To Know Before You Go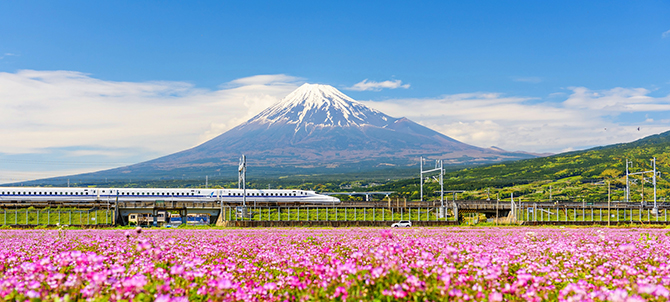 Shinkansen bullet train with Mt. Fuji view
By Meryl Pearlstein
Japan is an island country filled with wondrous sites, exotic foods, and gracious people. And with just five months before the torch ignites the flame at the Summer Olympics, it's prep time. So, in addition to booking your hotel rooms and flights immediately, you need to become Japan-savvy when it comes to customs and practices.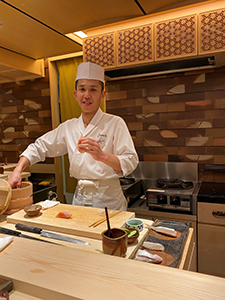 Onodera Ginza, Tokyo ©Meryl Pearlstein
Language
English is taught throughout Japan. But this doesn't mean that everyone speaks English. On top of this, the Japanese people can be shy. If you have no mastery of the language, arm yourself with Google Translate and a phrasebook like Just Enough Japanese, and always carry a card with your destination written in Japanese.
Transportation
For visitors used to public transportation, the Japanese transit system will still feel daunting. It's extensive and efficient and covers everywhere you'd want to go, but it's confounding. Metros, subways, and trains all crisscross at various stations like Shinjuku and Tokyo, two of the busiest (and largest) commuter hubs in the world, and you can easily get confused searching for a line or an exit. Google Maps is helpful, as are station attendants. But don't count on passersby to know where you need to go—it's possible they're as confused as you are and, then, there's the language barrier.
Japan's train network is far-reaching and everything runs on time. If you plan to travel countrywide, book a Japan Rail Pass before you arrive in Japan for significant savings. For more tips, check out JR Rail Pass info online, The Beginner's Guide to Train Travel in Japan at The Man in Seat 61, and train and plane schedules at Hyperdia.
Travel as light as you can. Changing trains and running upstairs and escalators are challenging, as is locating storage space on transit if your luggage is leading you instead of the reverse. Think wash-and-wear clothing as you pack for your trip.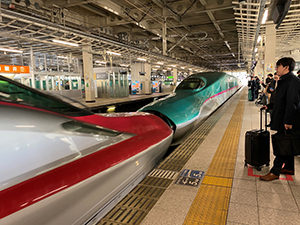 Shinkansen ©Meryl Pearlstein
Money
ATMs in Japan work only with Japanese bank cards. Plan to arrive in Japan with yen in hand in the event you can't find a place to change money when you land. Your best bet will be the ATMs at 7-11's and Family Marts located: it seems, every two blocks. Japan is largely a cash-based country, too, so don't count on using credit cards exclusively.
Taxis
Taxis are expensive in Japan. Personally, I love taxis because I'd rather see more of the city above ground than below, but given the traffic, they're just not practical. On the plus side, taxis are extremely clean, and some have heated seats. Doors open and close automatically and you can use credit cards. Larger, accessible JPN Taxis by Toyota, some with hybrid engines, are gradually replacing workhorse Toyota Crowns in anticipation of the 2020 Summer Olympics.
Food
Be an adventurous diner. Eschew the boring American chains. For a burger fix, hit up MOS Burger where you can enjoy Japanese permutations like ebi or tusukune rice. I'd prefer that you try some of the eclectic street food found at izakayas and bars. My favorites? Yakitori (skewers), fish cakes, okonomiyaki (egg pancakes), ramen, and chopped octopus balls called takoyaki. Some of the best fast-casual options are at department store food halls and in theme-specific lanes like Ramen Street at Tokyo Station.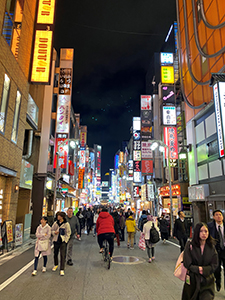 Tokyo, Shinjuku ©Meryl Pearlstein
Japan offers sushi and sashimi options to meet all budgets. Conveyor-belt sushi, where you pay according to the number of plates chosen, offers quality at a fair price. Medium-priced sushi is popular for breakfast, lunch, and dinner. For a truly remarkable experience, omakase dining with selections chosen by the chef can be had for a price but are worth it for the precision and quality. Non-fish eaters have vegetable, pickle, and soup options, and carnivores will love Japan's exquisitely marbled wagyu beef.
Crowd Management
Major tourist hubs are crowded. Tokyo can feel like New York City or Hong Kong on steroids. Subway pushers crowd people onto trains. Late workers (the norm in Japan) fill stations well past 8 pm. And people queue up patiently for everything from apple pie and pancakes to drip coffee. If constant chaos is not your thing, consider traveling beyond Tokyo, Kyoto, and Osaka to areas easily accessed by Shinkansen high-speed bullet trains where you'll have experiences that are authentic and immersive without the masses.
If the throngs of gawkers at Tokyo's Tsukiji and Toyosu fish markets give you the shakes, you can have an enjoyable experience with top-quality fish sampling at the Furukawa Fish Market in Aomori in the Tohoku region. Instead of fighting crowds at the Shinto Meiji Shrine in Shibuya or the Senso-ji Buddhist Temple in Asakusa, visit the Yahiko Shrine in Niigata. There, you'll have the parkland area pretty much to yourself and a chance to pray in pure silence.
Etiquette
Bring a stack of business cards. It's customary to offer your card as an introduction but note the proper etiquette. Hold your card in both hands, face-up, as you bow in greeting. Hugs and shaking hands are the exception rather than the rule. But you won't be considered completely rude if you forget and say goodbye with a fond embrace.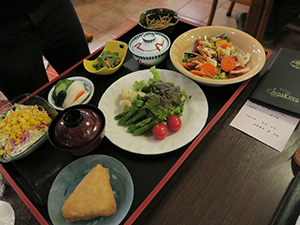 Vegetarian choices ©Meryl Pearlstein
Japan is a no-tipping country. While you might be tempted to round up your bill or leave spare change on the table, don't. You might be surprised when a server follows you to return your coins, or when the bills left for your chambermaid remain untouched. Leaving a tip is as foreign to the Japanese as not leaving one is to us.
WALKING
One custom that I still haven't gotten used to is waiting for red lights to turn green before crossing a street. In Japan, people wait in orderly fashion whether there's traffic on the road or not. And don't even think about jaywalking in Japan—it's just not done.
Walking and eating are frowned upon in Japan, too. If you're in a rush, buy your snack or sandwich and stand next to the counter to eat before you hit the streets. In this über-clean country, trash barrels are scarce, another good reason not to munch on the go.
For more information on Japan, visit Japan National Tourism Organization at japan.travel/en.