TIME OUT WITH…
Silvia Frieser
By Harry Brads
As president and executive director of the Viennese Opera Ball, Silvia Frieser oversees one of the most glamourous galas of the year. The coveted annual white-tie charity gala celebrates the cultural and economic relationships between Austria and America, connecting two continents, two cities, and two centuries in one glamorous night. It was founded by Austrians immigrating to the U.S. 65 years ago and is a tribute to both Vienna and their host city, New York.
The gala draws an international audience that includes diplomats and dignitaries, and professionals with performances by Metropolitan Opera singers, the Viennese Opera Ball Orchestra, The West Point Color Guard, and many more surprises that add to a delightful evening.
Additionally, the Viennese Opera Ball supports charitable projects connected to the communities in New York and Vienna. This year's 65th gala was held last month at Cipriani 42nd Street. New York Lifestyles sat down with Silva Frieser to discuss her career and the importance of the Viennese Opera Ball.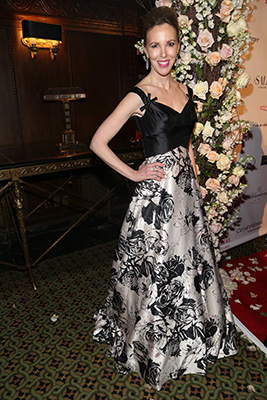 Tell us your connection with Austria.
I was born and raised in beautiful Vienna, Austria. I consider myself very fortunate to have grown up in a city full of history, old traditions, culture, and music. I was fortunate to be nurtured by parents who, by now, have been married for over 54 years. Along with my sister, who is my best friend, life in Austria was sweet and easy, spending many holidays by the Austrian lakes and mountains.
How did you become involved with the Viennese Opera Ball?
It all started at the Austrian finance company, Raiffeisen Bank International New York, in January 2000. During my 17 years with the firm, managing the company's events and marketing activities, I was also on the executive board of the Viennese Opera Ball since 2001. When I learned that the company would close in 2017, and I had the opportunity to take over the Viennese Opera Ball, there was no question. In my new role, I have been able to benefit from my extensive events and marketing experience, and from my non-profit experience during the years, I led the U.S. Austrian Chamber of Commerce as President on a pro bono basis from 2015 to 2018.
Tell us the charitable aspects of the Viennese Opera Ball.
The Ball raises funds for the music therapy program at Memorial Sloan Kettering Cancer Center with the support of Gabrielle's Angel Foundation for Cancer Research. It is so important to us to help bring some joy into the lives of cancer patients who stay in the hospital by providing the much-loved music program to them. Having fun and enjoying the Viennese Opera Ball is nice, but it wouldn't be so meaningful to our guests without the support of a good cause.
Tell us about this year's Opera Ball?
The 2020 gala was an extraordinary occasion celebrating such a long-standing tradition of Austrian-American relations in New York City. We heard individual performances by international opera stars Ewa Plonka, Michael Spyres, Corinne Winters, and Limmie Pulliam. The theme of the night was Nessun Dorma, None Shall Sleep, the famous aria of Puccini's last opera Turandot, and was performed by opera singer Limmie Pulliam. And for the very first time, the Viennese Opera Ball Orchestra led under our esteemed Maestro Matthias Fletzberger performed.
When you're not working, what are some of your favorite activities?
Of course, I love the Metropolitan Opera, and I try to go four times a year. But I enjoy all the attractions the city has to offer, the wide variety of international restaurants, galleries, museums, and concerts. Since I grew up in nature, I love spending time in Central Park, the green lung of the city—even when it snows or rains.
Where do you see yourself and the Viennese Opera Ball in the next five years?
In the past, we have brought the Viennese Opera Ball to another level with the help of significant support of the international opera singers and, of course, of our generous guests, donors, and sponsors. In the next five years, I would like to invite even more international guests, as well as Austrian but also American companies to join our gala. The Ball is a platform for cultural and economic exchange and an event for American philanthropists and New York's high-society where you are part of a truly unique and spectacular night while supporting a good cause.
For more information on the Viennese Opera Ball, visit vienneseoperaball.com.