ON THE SMALL SCREEN
By Jenny Peters
TALES OF FUTURE (AND) PAST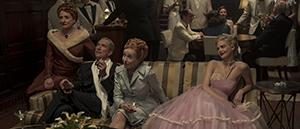 HOLLYWOOD
Netflix
Let Ryan Murphy (American Crime Story, Glee) take you back to a time when Hollywood was a different place, just after World War II ended, in this eight-part miniseries. You'll find familiar real-life film stars like Rock Hudson, Vivien Leigh and Hattie McDaniel, as well as a host of fictional characters as they all try to make it in Tinseltown. Watch for Jim Parsons, Patti LuPone, Darren Criss, Dylan McDermott and many others in this inside look at the underside of Hollywood's glamorous façade, circa 1950.
---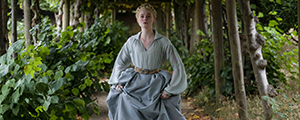 THE GREAT
Hulu
If you loved The Favourite, then The Great is going to make you very happy. For screenwriter Tony McNamara is the force behind The Great, too; this time he's bringing his twisted take to the tale of Catherine the Great (Elle Fanning). Beginning before her marriage to Russian emperor Peter III and dancing wickedly through her ascension to the throne and beyond, this 10-part series set in the 1700s also stars Nicolas Hoult.
---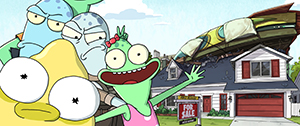 SOLAR OPPOSITES
Hulu
Head into the future with this animated comedy from the guys who brought you Rick and Morty. This decidedly adult-oriented cartoon series follows a family of aliens who choose earth as their new home, only to discover that it might not be quite as hospitable as they had hoped. Rated MA for Mature Audiences, they are not kidding; this irreverent comedy is not for the kiddies.
---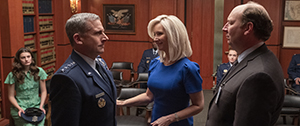 SPACE FORCE
Netflix
It had to happen, that the Space Force made it to TV satire long before it became the new branch of the U.S. military. With Steve Carell onboard the spaceship as the star and executive producer (along with Greg Daniels of The Office fame at the helm), this one's guaranteed to be a pretty irreverent look at what our future holds. Lisa Kudrow, John Malkovich, Fred Willard and Noah Emmerich add to the comic insanity here, too.
---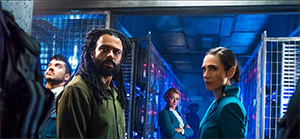 SNOWPIERCER
TNT
Bong Joon Ho gets onboard the post-apocalyptic train again in this extended look at the frozen future of mankind that the famed writer-director began with his 2013 movie of the same name. He's producing this version that stars Jennifer Connolly, Daveed Diggs and Sean Bean as key players on the ever-moving train that holds all the humans left on a now blighted, frozen earth. Set in 2031, this dark future vision isn't all that far away.
---

UPLOAD
Amazon Prime
Greg Daniels (The Office) has been busy looking forward, with two series coming out on two different platforms, both comedies set in earth's future. In Upload, his cast isn't quite as famous as his Space Force team, but the story is even more out there. Robbie Amell, Allegra Edwards and Andy Allo star in this how-to-beat-death comedy set in the not-so-distant future.
---
REAL PEOPLE, REAL STORIES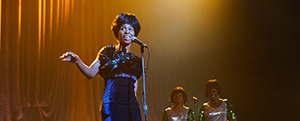 GENIUS: ARETHA
National Geographic
Cynthia Erivo, the recent Oscar nominee for Harriet, tackles the story of Aretha Franklin in this newest look at the Genius in out midst. With her gorgeous voice and awards including the Emmy, Tony and Grammy, Erivo is the perfect choice to bring the Queen of Soul's life to the small screen in this ambitious series that devotes 10 episodes to exploring the lives of the greatest human beings of all time.
---

QUIZ
AMC
As usual, truth is stranger than fiction in Quiz, the real-life tale of Major and Diana Ingram, the couple who cheated the British TV show Who Wants to Be a Millionaire out of the big prize in 2001. A fascinating tale told in three parts by Oscar nominee Stephen Frears (The Grifters, The Queen), this story of unadulterated greed stars Matthew Macfayden, Sian Clifford and Michael Sheen.