MIRROR LAKE INN RESORT AND SPA
AN AUTHENTIC ADIRONDACK EXPERIENCE
By Paul Seth
Summer, Fall, Winter, Spring. The Mirror Lake Inn Resort and Spa in Lake Placid, N.Y. offers an authentic Adirondack experience in all seasons. It's been said that selling real estate is about location, location, location. However, when one steps onto this luxe, seven-acre property where all lodging overlooks Mirror Lake and the Adirondack High Peaks, the location theory works well in this business, too. The only AAA Four Diamond resort in Upstate New York has this unique way of offering luxurious accommodations, upscale dining, a world class spa and salon and delivers it all in a friendly, unpretentious manner that says "welcome to our home".
HEALTH, SAFETY AND SPECIAL PACKAGES
In addition to providing guests with such service, the Mirror Lake Inn also showed visitors an enhanced level of concern when no one was around, the result of the coronavirus which closed the hotel on March 16. Ownership felt a moral and civic responsibility to temporarily cease operations and help flatten the curve of the pandemic. But now, as the northern counties of New York State have advanced through the state's four phases of reopening, the staff's friendliness has greeted guests once again with open arms. When visitors now walk through the doors, they notice an elevated level of cleanliness that is noteworthy.
In conjunction with the Inn's return to daily operation on June 26, the Mirror Lake Inn is offering several "welcome back" packages for stays through December 20, 2020:
Stay four nights in any room type and get the fifth night free.
Stay 14 consecutive nights or more and receive 50 percent off the nightly rate.
These offers must be booked directly with the hotel, so call the onsite reservations team at 518-523-2544. They will help you make the best decision for your group or family, and can inform you of the myriad of activities that you can enjoy while in Lake Placid no matter the season.
For a complete listing of Mirror Lake Inn packages, please log on to: mirrorlakeinn.com/our-packages/
The property's "single-loaded" construction and design concept of the magnificent resort naturally lends itself to better social distancing as there are less guests in the hallways than traditional lodging properties where rooms are placed on both sides of the corridor. No other Adirondack region hotel is designed in this manner.
With health and safety front and center, here's a snapshot of what guests can expect when they enter the Inn:
As per the Governor's executive order, all guests and employees are required to wear face coverings when in indoor common areas including hallways and elevators or wherever social distancing is not possible
Hospital-grade Ultraviolet-C disinfecting tools continue to be deployed throughout the property to ensure the highest levels of cleaning and disinfection.
Hospital-grade Electrostatic sprayers are in use to ensure the most thorough levels of disinfection on high touchpoint areas.
Remote check-in capabilities are being implemented via a smartphone app, allowing you to check in from your vehicle upon arrival, avoiding the traditional check in process.
All staff will wear PPE equipment while working in common areas or wherever social distancing is impractical.
Maximum hotel occupancy has been reduced to 75 percent.
Whenever possible, guest rooms will be left vacant for 72 hours for a potential virus to die without a host after each guest departure.
To review the entirety of the Inn's new policies and protocols, please log on to: mirrorlakeinn.com/covid-19-safety/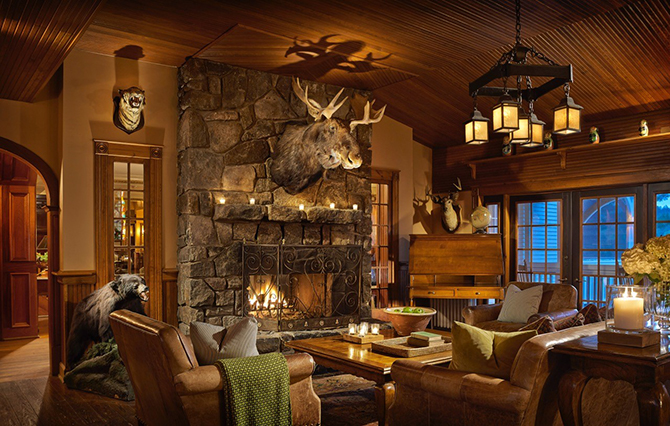 DISTINCT DINING OPTIONS
The pandemic has also resulted in a change to the dining scene inside the Mirror Lake Inn. The View Restaurant, AAA Four Diamond rated the past 13 straight years, has been reimagined and enlarged with greater spacing as part of the new safety measures. The redesign includes hardwood flooring to facilitate better cleaning and sanitation. Taste Bistro has now been integrated into The View with the bistro's most popular items to be found on The View's menu. The end result provides guests with the best of both worlds: a combination of upscale dining and elegant comfort food. Taste's footprint has become The View Lounge. The hip Cottage Café, on the shore of Mirror Lake, continues to welcome diners and revelers for its 43rd year. The Cottage presents both indoor and outdoor settings, and now features yet a third open air option to complement its deck and patio. For added service and efficiency, the Inn is implementing "to-go" apps for these restaurants, allowing guests to order and pre-pay electronically from their own device.
SPA, SALON AND FITNESS CENTER
The critically acclaimed spa and salon are well-known for their level of pampering, comforting and decompressing, and they also do it with consideration and care for everyone's health and safety. A physical barrier has been inserted at the check-in desk. Treatment schedules have been altered to ensure ample time for cleaning and disinfecting treatment surfaces between customers. The equipment in the fitness center is cleaned and disinfected between guest use. Manicures and pedicures are limited to one at a time, although booking as a safe group is permissible. In high traffic areas of the spa and salon, social distance markers have been put in place. The gift shop has similar policies.
"We are insisting on these protocols for the safety of our guests, employees and the local community," said Weibrecht. "Until such time as we, in conjunction with the State of New York, determine that it is prudent to relax these protocols, we will strictly adhere to them and look forward to a time when we might be able to lift those protocols."
A HOST OF DAILY ACTIVITIES
The hotel's approach to COVID-19 is geared to ensure that guests can comfortably and confidently enjoy the Mirror Lake Inn and Lake Placid in all seasons beginning right now.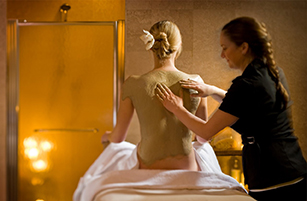 It has been said that summer is a perfect time for a visit to Lake Placid. You can start with ideal weather that appeals to city dwellers. This region of the Adirondack Mountains offers comfortable mornings and nights (bring a sweater) for easy sleeping. In between, the prime daytime hours deliver temperatures in the 70s and 80s with little humidity. If the truth be told, with such perfect weather, most area residents don't feel the need for air conditioning, opting instead for open windows and fans on the warmest of days.
It's in these months that the Mirror Lake Inn's landscaping bursts creating a selfie stage frequented by many guests and passersby. Hiking, fishing, swimming, boating, golf, tennis, walking, jogging, visiting Lake Placid's Olympic sites, driving to the summit of nearby Whiteface Mountain or riding its gondola are all on the menu of activities and can easily fill vacation days. Or just relax by the Inn's indoor and outdoor pools or at its private beach.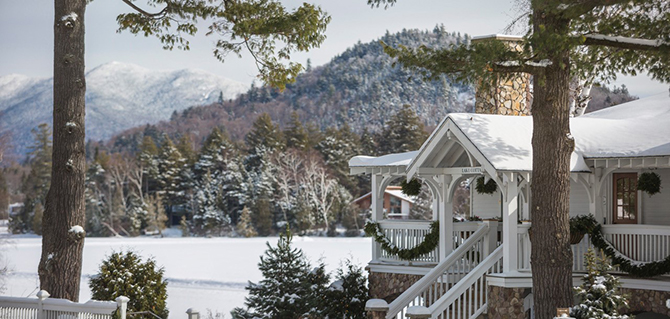 THE FALL SEASON
Those who pay close attention will notice the start of foliage change as Labor Day approaches. Mother Nature's palette of red, orange and yellow can stun a first-timer to these woods, but foliage insiders will tell you clearly that the colors in the north appear earlier than elsewhere, and with that, those same colors come to the ground sooner than most places. In September and much of October, the activities remain the same, but at cooler temperatures. The fall foliage creates a splendor that is ideal for hiking any of the 46 Adirondack peaks. Many visitors seek the help of local guides - the Mirror Lake Inn can make that connection for its guests.
THE WINTER SEASON
As autumn morphs into winter, the things-to-do list changes, and of course, so does the mercury. When snow sports season arrives upon us in November, winter enthusiasts beseech the weather gods to lower the temps to facilitate the making of snow at Whiteface Mountain for skiing and boarding, at Mt. Van Hoevenberg for cross country skiers, as well as icemaking for those who enjoy skating laps on the same Olympic oval where Eric Heiden won five gold medals during the 1980 Winter Olympics. Later, as we cross into the new year, Mirror Lake becomes safely frozen and offers a winter recreation park just steps from your hotel room. Skating, hockey, snow shoeing, tobogganing and cross-country skiing are all within immediate access of the Inn.

Lake Placid has sent native sons and daughters to every Winter Olympics since the start of the Games in 1924. The most successful of the local contingent is Andrew Weibrecht, son of the Mirror Lake Inn's owners. Weibrecht captured Olympic silver and bronze medals in 2018 and 2014, respectively, in alpine skiing. His medals greet guests at hotel check-in. Now retired, he and wife Denja are involved with the operation of the resort, adding to the family-owned legacy. Andrew can be seen meeting and greeting visitors at breakfast in The View Restaurant and skiing with them at Whiteface Mountain. The hotel offers Ski With Andrew, exclusive to hotel guests. Andrew, with younger brother Ethan who is a competitive skier and coach, can also be found in the resort's ski shop taking care of guest rentals and tuning their equipment for a day on Whiteface Mountain. The Inn has a Nordic skiing complement, Ski With Andrea. The cross-country ski version partners guests with German native Andrea Henkel Burke, a four-time Olympic medalist and eight-time world champion in biathlon.
Insider travel tip: stay at the Inn from Sunday to Friday in non-holiday periods. Wherever you turn, it will feel like a private country club.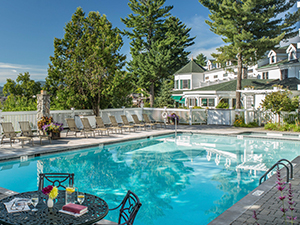 SPRING IS ARRIVING
When the calendar turns to March, many people think winter is winding down. That may be true in some destinations, but not in this one. The skiing and riding in March and April gets even better with longer days, higher sun and warming temperatures. It's time to shed the layers and goggles and reach for the designer sunglasses and vests so you may enjoy lunch on the deck at Whiteface Mountain. In reality, this is how it is in until mid-April when the chapter closes on the winter season and makes way for the dawning of spring.
Officially, fly fishing season begins April 1 bringing a unique pairing of activities into play: ski or snowboard in the morning and then cast your rod in the famed Ausable River in the afternoon. Need a guide? No problem as Andrew, also an accomplished fisherman, can escort you around both sports if you'd like.
Snow and ice disappearing in April prepare the Adirondacks for the advent of warm weather activities in May. It may be your perfect time for some needed solitude. As your friends opted for crowded spring destinations, you found this quiet oasis of civility just a five-hour drive from home, almost entirely via interstate.
At the Mirror Lake Inn's sister property, the Whiteface Club and Resort, the golf season tees off on its championship, par 71 layout; fish continue to bite; hiking trails dry out for easier ascents and descents; bicycle gears begin to mesh, the rhythmic pops of a tennis volley become more frequent; the distant hum of small craft can be heard on the nearby body of water known as Lake Placid, while paddlers quietly move about the perimeter of Mirror Lake.
Yes. This is the kind of serene experience that beckons those who seek respites from the density of urban life, and they should know that it's theirs in all seasons of the year.