The Boarding House - Cape May, NJ's "Surf-Chic"
Lodging Experience with Local Flair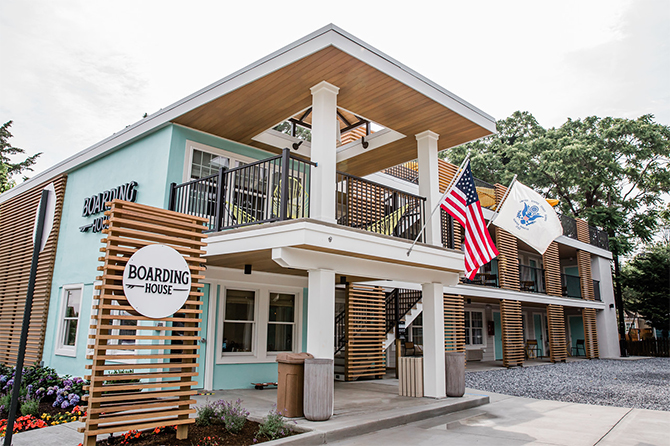 The Boarding House, Cape May, NJ's surf-chic lodging experience, presents a modern take on a mid-century surf motel with 11 distinctively designed rooms. 
Owned by the Hirsch Family – who have also owned Cape May's Montreal Beach Resort for more than 50 years – the Boarding House's 11 guest rooms are enhanced with décor that represents and originates in or near the shore town. Original paintings by local artist David Macomber are found on walls throughout the property – including a fun and colorful oversized wall mural painted on the back of the building that serves as a great spot to take selfies and family photos. There are also framed photography by local talent Kathy Fallon, and mounted, custom-made surfboards by Kona Surf Co., Wildwood, NJ.
"The Boarding House has become Cape May's oasis for vacationers looking for a laidback atmosphere combined with modern amenities and a coastal vibe," said co-owner Jonathan Hirsch.
Designed by Philadelphia-based firm DAS Architects, each room is equipped with whitewashed and reclaimed wood, wicker, rope, concrete tile, navy blue iKat and other bohemian-inspired fabrics.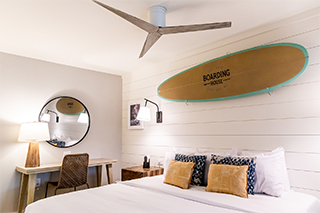 Pristine Accommodations
Boarding House's latest safety and sanitation practices above and beyond their already-extensive room cleaning process place special emphasis on frequently touched surfaces. High-touch areas such as door knobs and handles, light switches, clocks, kitchen equipment, bath and shower fixtures, remote controls, thermostats, furniture handles, arm rests, chair backs and more are thoroughly sanitized before and during each guest's stay. Additionally, carpets are shampooed in dog-friendly rooms after each stay.
Housekeeping staff wear face coverings and gloves; for the safety of all parties, guests are asked to vacate the room while it is being cleaned.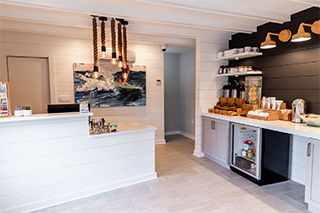 A Warm Welcome
The Boarding House exterior welcomes guests with soft landscape architecture that echoes the surrounding beauty of Cape May. The interior décor emulates the outdoors with calming blues, greens and neutral sand tones.
A custom blend coffee by Cape May Roasters is served at the lobby coffee bar and handmade lavender lemongrass soap by Shore Soaps of Cape May can be found in every room as well as for sale in the lobby shop. Other fun items for sale in the lobby include gift sets/items for the beach and bath, coffee mugs, bags of coffee, T-shirts, umbrellas, and hats.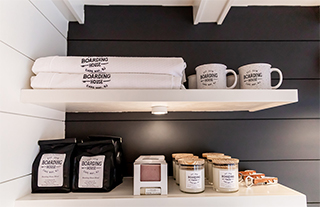 Local Partnerships
Upon check-in, guests are not only greeted with a smiling face, but also an impressive original painting by local artist David Macomber. The painting – a detailed view of a surfer's feet on their board, surrounded by ocean waves – was designed specifically for the Boarding House lobby. Macomber's work can also be seen throughout the property, adding color, interest and character to every room. For the last 18 years, Macomber has made a name in this area as a professional artist and designer, and has had his work featured in international surfing publications. He has also raised over $5,000 for Waves for Water through various art projects.
Hanging on guest room walls alongside Macomber's art are photographs by Kathy Fallon, whose work captures a vintage beach vibe through the camera's lens. Her photos pair beautifully with each room's clean, simple aesthetic.
The centerpieces for most guest rooms at the Boarding House are custom, mounted surfboards, each imprinted with the Boarding House logo. Hotel co-owner Jonathan Hirsch partnered with Kona Surf Co., a 50-year-old surf shop in Wildwood, NJ, to create these one-of-a-kind, authentic boards, in colors that complement the Boarding House brand.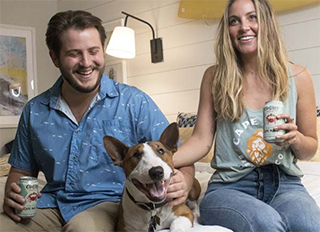 Dog-Friendly
The Boarding House is a dog-friendly property, and staff pulls out all the stops for their four-legged guests by offering dishes of cold water; complimentary custom-made peanut butter and bacon treats from local vendor Black Sheep Dog Treats; and doggie waste bags. Guests also receive a discount at the nearby Muddy Paws self-service dog wash and boutique as well as at Harry's Ocean Bar and Grille, a dog-friendly restaurant located on the Cape May beachfront. Dog walking services (fee) are also available upon request.
Located in the heart of downtown Cape May, the unique, surf-inspired hotel is right across from the Lafayette Street Dog Park and just a short walk from the Washington Street Outdoor Mall. Hotel guests are granted free access to the dog park from dawn to dusk. (There is typically a license fee to bring dogs.) Select beaches in Cape May are dog-friendly during the shoulder season, and year-round dog beaches are located just a short drive away.
Also featured on property is a rooftop deck with ample seating and expansive umbrellas. The Boarding House site is just steps away from shopping, dining, and the beach.
For more information or to make reservations, call 609-884-4884 or visit https://www.BoardingHouseCapeMay.com