ARK ANGELS
Preserving Priceless Pieces
By Ruth J. Katz
We don't like to turn anybody down. We're not snobs," allows Anatoly Kristhul, the owner, along with wife, Rena, of ARK Restoration & Design, Ltd. The Manhattan firm specializes in repairing, conserving, and restoring objects of all types. From valuable museum treasures and objets de vertu to dearly cherished personal possessions—the lares and penates of our own homes—which may not have much intrinsic value or provenance, but have a lock on your emotions.
At any given moment, ARK's pleasingly packed atelier might easily contain a diverse plethora of works, waiting for attention. A Renaissance reliquary, an alabaster statuette, white-metal (spelter) sculptures, Chinese artifacts, oil paintings, and countless porcelain, terra cotta, jade, and metal trinkets of all stripes are just a few examples of the personally prized possessions clients have entrusted to them. "We can repair almost anything," Anatoly proudly declares. "And, when it comes to sentimental items—where the repair would cost more than the item itself—we try to find a way to make it feasible. We know what it is to be attached to something beautiful."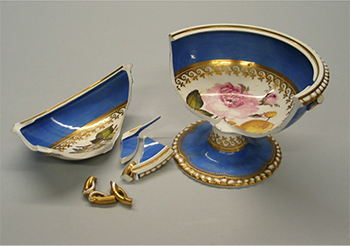 FROM STRAW TO GOLD
They do, indeed, understand. The Kristhuls were forced to leave most of their beloved possessions in the former Soviet Union when they immigrated to New York City in the late 1970s. They found themselves buying "pretty, but damaged things"—a chip here or a crack there—from an uptown gallery. They put their combined, highly skilled knowledge to use, to repair these sad, imperfect knickknacks. As they ministered to these new acquisitions, they concomitantly added to their already comprehensive knowledge, learning more about the technical properties of diverse materials. "We were always experimenting and researching new techniques to repair each challenging object successfully," notes Anatoly.
After they performed their first-aid magic on their new collection of cherished tchotchkes, they returned to their favorite haunt with the repaired items, looking to trade up and acquire new treasures. The gallery owner, astounded by the skillful expertise their repairs represented, spread the word to other gallerists. Not surprisingly, many dealers were intrigued by the Kristhuls' ability to turn straw into gold, and the pair landed a steady stream of commissions from places like Hyde Park Antiques, Ltd., Kentshire Galleries, Newell Galleries, and countless other antique dealers.
Today, they still work for galleries, as well as for auction houses (like Sotheby's), and museums. But, the bulk of their work comes from private citizens—many collectors with pedigrees like David Rockefeller, and other, less "storied" clients.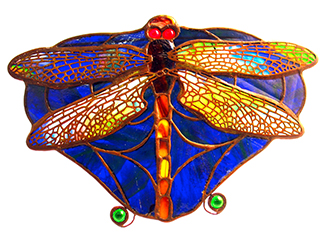 A LABOR OF LOVE
One day, when we were visiting, Rena was custom-crafting enameled, international signaling flags (each, 3/8-inch square) to spell out "I Love You," to go on a miniature, precious-metal sailboat. (They also design and craft uniquely exquisite jewelry). At any given moment, the shelves in their 2,000-square-foot loft are chockablock with "patients" awaiting medical attention—ranging from the routine to the rare: An $800,000, mid-19th-century vase from the Russian Imperial Factory; a shattered piece of not-terribly-valuable lusterware; a dozen Tiffany vases; a Tung Dynasty terra cotta horse; an Austrian clock; a Delft tobacco jar. Repair time can vary from as little as a month to a year, if a piece requires tedious, time-consuming labor.
Rena adds that all repairs are reversible, because, as she puts it, "We are not the last stop in the evolution of restoration and conversation technology. Twenty years from now, there might be better methods, and someone may want to reverse a repair, to take advantage of a better, more modern way." Above all, the Kristhuls do as little as possible to alter the original. Rena also points out that the worst thing a client can do is repair something himself. "Then we lose the 'fresh lock' that a clean break affords us," she cautions.
For more information on ARK Restoration & Design, Ltd., visit arkrestoration.net