BORDEAUX WINES
Quintessential Sips From Southern France
By Jenny Peters
As summer arrives, it's hard not to dream of a visit to Bordeaux, that ancient city and beautiful wine region of Southern France, where famed vintages have been created since Roman times. A visit to the vineyards would be pleasant, but we'll settle for sips here at home for now.
The wines of Bordeaux are graded in the French system that began in the 1400s, the "Appellation d'Origine Contrôlée" or AOC designation, which protects and brands foods and wines to a specific place in the country.
Bordeaux has a dizzying 60 AOC designation (the most of any wine region in France), with Graves, Médoc (and its famed sub-appellations of Pauillac, Margaux, Saint-Estéphe, and Saint-Julien), Saint-Emilion, Pomerol, and Sauternes the most famous. Since we're all staying in town these days, the wines we're suggesting are all available either in New York metro area shops or via shipping.
Quaffing during this time can mean opening your first bottle at lunchtime and rolling straight into dinner; for those days, perhaps a less-expensive bottle of Bordeaux wine fits the bill. But let's start with one of the very best to celebrate any special occasion.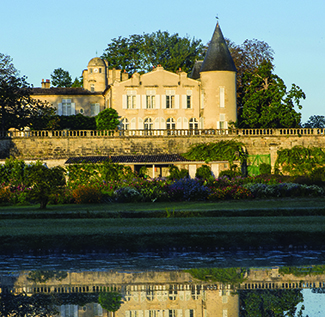 Chateau Lafite Rothschild Castle

CLASSICS
Sample the top of the Bordeaux heap with a bottle of Chateau Lafite Rothschild, that famed first-growth winery (one of five so designated as premier cru classé). That one is a true classic, a legendary Bordeaux blend red wine and includes Cabernet Sauvignon, Merlot, Cabernet Franc, and Petit Verdot. Cellared in barrels for 20 months, their silky-smooth wine sleeps, then emerges as one of the world's best red wines. Get your hands on a bottle of the 1996 vintage, and you're in for the treat of a lifetime. Other great Lafite vintages are 2018 and 2017, so those are more likely to be found near home; expect to pay at least $500 a bottle, however.
The other first-growth Bordeaux chateaus are Latour, Haut-Brion, Petrus, and Mouton Rothschild (neighbor to Lafite Rothschild and connected via family). In a pinch for a quarantined special celebration, these will also make you feel like it truly is a unique day in amongst those that may seem repetitively the same. They are equally expensive, too—and world-class as well.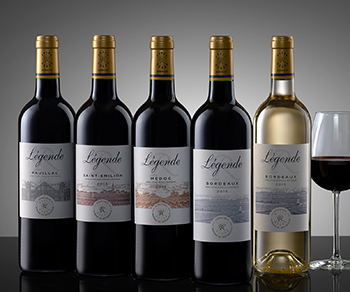 Legende family
REASONABLE
For more every day (and still unique) pairings with a delicious home-cooked or ordered-out meal, there are many Bordeaux wines with a more reasonable price tag, making drinking French wine approachable for most belt-tightened budgets.
Legende wines are a perfect example of eminently drinkable Bordeaux wines at an approachable price. Winemaker Diane Flamand oversees the vineyards located in Pauillac, Medoc, and Entre-Deux-Mers regions of Bordeaux, managing the grapes that go into the five balanced Legende wines she creates.
Each one—the Bordeaux R Rouge, Bordeaux R Blanc, R Medoc, R Saint-Emilion, and R Pauillac—are all fresh and elegant choices that range from $15 to $30 per bottle. Pick your favorite, white or red, each one a blend of Sauvignon Blanc and Semillon or Cabernet Sauvignon, Merlot, and Cabernet Franc. Then close your eyes and imagine looking out over the Garonne River's gorgeous vineyards as you sip.
If your wine budget is still robust, consider the Blason de L'Evangile from Pomerol, a heady blend of Merlot and Cabernet Franc that pairs perfectly (after spending 15 months in oak barrels) with that seared steak you've cooked up on your own. It's a pricier choice at $75 per bottle, but when this fruit-forward, soft tannin big red is paired with dinner at home, it sure helps make a Saturday night celebration of living seem to be just this side of nirvana.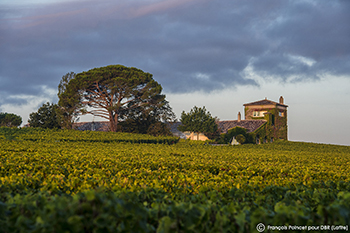 Chateau Rieussec view from the vineyard ©Francois Poincet for DBR
SWEET 
When it's time for dessert wine (hey, no one is driving anywhere, right?), then it is time to taste a Sauternes, Bordeaux's most exceptional sweet wine, from Chateau Rieussec. That Premier Grand Cru estate was first planted in the 1700s; these days, it's a gorgeous, ivy-laden chateau making some of the world's best wine. As you sip this golden quaff blended with Semillon, Muscadelle and Sauvignon Blanc that spends nearly 26 months in oak barrels, you will understand why it has been a classic dessert wine choice for more than 150 years.
And when our stay-at-home drinking and eating has ended, consider a trip to Bordeaux to see and taste the wine where it was created. Remember, Bordeaux has existed for over 2000 years. Some 2,718 acres of the city itself was designated a UNESCO World Heritage Site in 2007. This urban space celebrates 18th- and 19th-century architecture with its ancient churches, buildings, and Roman ruins found here.
And the wine-filled farmlands outside the city? Well, those need an in-person visit to drink in the beauty, so we'll meet you there soon to share a glass.