ENTREPRENEUR'S CORNER
Xavier Cruz, Barba Men's Grooming Boutique
By Ann Grenier
For years boutiques and barbershops have coexisted, separate entities serving different clients. Until now. Barba Men's Grooming Boutique has united these two unique services in a single place, offering high-end salon services and more modestly priced traditional barbering under a single roof—all led by Xavier Cruz.
With over 30 years in the industry, it is no secret Cruz has established himself as one of the best in the business.
New York Lifestyles magazine sat down with Cruz to discuss his career, his upscale Barba Men's Grooming Boutique and the all new Quarancuts Virtual Hair School.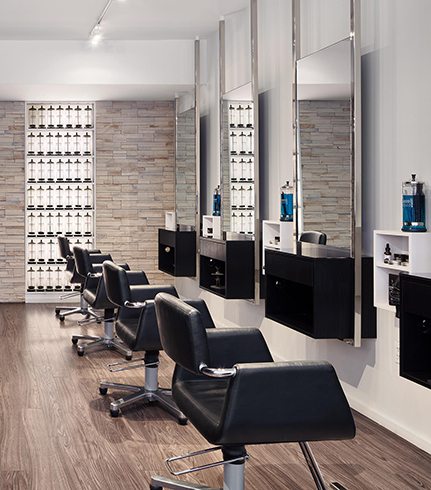 What inspired you to become a hairstylist/barber?
Oh, I loved doing hair ever since I can remember. I started cutting my own hair when I was 10 years old. When my parents would send me down the street to get a cut, I always hated it as the barber would give me the same cut as everyone else. There was never a moment when I felt I stood out so, I started doing it myself. I began getting compliments. That is when I thought maybe I can start doing others! I cut my sisters hair and cousin. One day, my mother asked if I would apply her hair color. It all came so naturally to me. It wasn't until I was 17 when I decided to make it a career.
Who has influenced your personal style?
It was my mentor who played a huge part in the way I style hair. He was so effortless in the way he worked. It never seemed forced and his clientele were always happy. I wanted to be like him, so I watched him and mimicked his techniques to eventually come up with my own style. Then, of course, there is George Michael. As a teenager, people often mistook me for the iconic singer. Once I was invited to a big party in Harlem in 1988. George was at the top of his career. As we were leaving the party, there were a few limo's outside this gorgeous brownstone. Of course, the limo's drew attention to the locals, so much so that someone yelled out, There's George Michael pointing to me.
I went along with it and waved to the crowed and my friend. The chauffeur opened the car door and greeted me as Mr. Michael and prompted me to get into the vehicle. Yes, George Michael had a big part in my look and style back in the day. Today, I am on my own. I don't think the long, highlighted hair suits me now.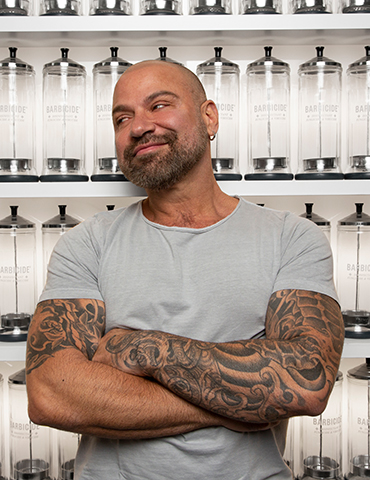 Tell us what is offered at Barba.
We offer traditional haircuts along with hot towel shaves. Hair and beard coloring. Highlights, straighteners, Keratin, and scalp micro-pigmentation. We also feature spa services including facials, micro-dermabrasion, peels, waxing, body scrubs, and microblading.
What do you enjoy most about owning a salon?
I love catering to my clients. Making them feel welcomed. Offering products, services. and an environment they could not get just anywhere. I really enjoy setting the stage for an unforgettable day by motivating my staff to serve specialty cocktails to a client.
What was your most amazing career moment?
I have had a few over the past decades but I think the one that stands out the most is working with Eminem during the MTV Video Music Awards. For his opening of the show, I was asked to create 50 lookalikes for his "Real Slim Shady" song. I was invited to use the dressing room for the Rockettes at Radio City Music Hall. Both Janet Jackson and Sting stopped by to say hello as they were there rehearsing for the show. That was exciting.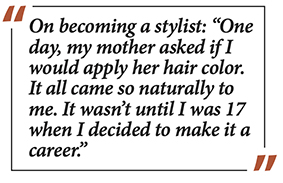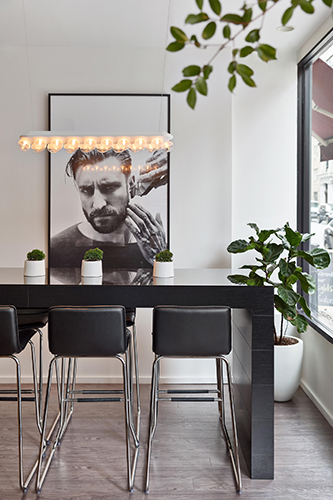 What inspired you to create the "Quarantine Haircuts?
Terri and Sandy—advertising execs who helped launch Quarancuts— and I came up with the idea of a way of keeping people connected during quarantine. Everyone needs some sort of grooming tips, and when your stylist is on lockdown, what other ways are there but through a Zoom lesson? To see those smiling faces before and after is priceless. Giving back to those who have supported me all these years is my inspiration. DIY haircuts were up more than 400 percent by the end of March. By doing this, we wanted to bring a sense of calmness and sense of control to life.
Who is the one person you would love to see walk into Barba and sit in your chair?
Madonna for sure. For a million reasons. First, I love her. Second, her cut and color for the last few years needs improvement. I would give her the best makeover ever. As for a guy, it would be George Clooney. It is time he did a little gray blending.
Now to downtime: With New York opening, and restaurants once again serving up favorite specialties, tell us where you will be making reservations?
OMG, there are so many favorites. But here's what is on the top of my list:
Italian—Rafele Ristorante in the West Village.
Mexican—Cascalote in Spanish Harlem.
French—Mountain Bird in Spanish Harlem.
All-American—Elmo in Chelsea.
Eastern European—Verōnika in Flatiron.
For more information on Barba Men's Grooming Boutique, visit barbamgb.com.