SUMMER HAPPENINGS
Back To The Future
By Bailey Beckett
Jo Hofmeyer is an ardent moviegoer. Every Saturday, she and a small gaggle of seniors go to the new luxury CMX Theater on the eastside to see the latest release. With its plush leather recliners, pillows, and tableside service—pan-seared Scottish salmon, anyone—it's a weekly tradition the group enjoys immensely. But then came social distancing, shelter-at-home, and Netflix.
What's a girl to do?
"I don't usually drive, but I heard of a drive-in-theater in Astoria and thought that would be different," Hofmeyer, 64, said. "I took my Audi out of the garage, picked everyone up." That would be Carol, 64; JoAnn, 68; and Barbara, 66 who crossed the bridge to Astoria and the Bel-Aire Diner. The long-time establishment had used their parking lot as the make-shift movie theater, erecting a 25-foot screen that could be seen by as many as 40 cars. The diner even uses an FM frequency to broadcast the sound and offered its full menu with favorites like burgers, sandwiches, and even Condon Bleu (chicken breast rolled with ham and Swiss cheese, topped with a mushroom cream sauce and served over rice).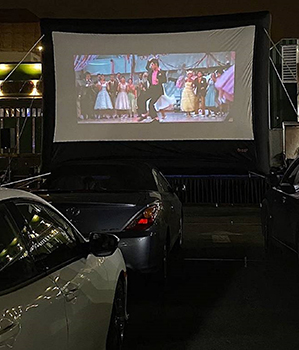 Bel-Aire Diner
RAVE REVIEWS
The four women watched a screening of Grease. Thankfully, they did not emulate the dance moves. "Are you kidding me?" joked Hofmeyer. "With my arthritis?" It didn't damper the mood, however. "It was fabulous," the senior said. She wasn't the only one with raves.
"It's been amazing," said Kal Dellaportas, whose family owns the diner. "People are reaching out, asking how they can get involved." The diner, only doing take-out orders and delivery until NYC's Phase 2 opening begins, was so happy they staged another screening of classic Dirty Dancing the following Wednesday (nobody puts Baby in a corner, but maybe a parking lot). The diner, inspired to "bring the community together safely," said event coordinator, Victoria Philios, contracted with Long Island Movie Nights to pull the event off, using their screen, projector, and sound system.
"I think it's great," said media gadfly Rob Shuter, an omnipresent pop culture commentator who appears on Fox 5, CNN, and iHeart Radio "Plus, if the movie isn't great you drive off. I'm just grateful they aren't showing Fast and the Furious!" he joked.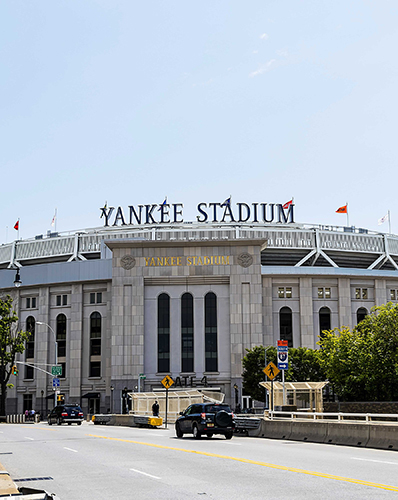 Yankee Stadium
EVEN MORE DRIVE-INS
The Bel-Aire Diner isn't the only establishment joining the trend. With no Major League Baseball scheduled as yet, Yankee Stadium is working with the MASC Hospitality Group to begin hosting drive-in movies for up to 200 cars this month, starting with Friday, Saturday and Sunday nights and evolving to family-style brunches during the weekend.
"Anticipating the reopening process in NYC, we've been working on the idea of an Uptown Drive-In Experience since late March," the company said. "We have created a social distancing playground to serve as the first step to normalization and made it right here in our beloved Bronx. New Yorkers need more. They deserve more." In addition to films, MASC and the stadium will also begin trivia nights, karaoke singing contests, coming shows, dance showcases, and food from local vendors. 
A little further from the five boroughs near the New Jersey border, the Warwick Drive-In, established in 1977, used its three screens to host 300 cars to show movies like Trolls World Tour, Bad Boys for Life and Jumanji: The Next Level, despite 45 minutes of rain that hampered screening for a few minutes. Before the pandemic, the theater was used to 530 cars, but even wheels aren't immune to social distancing. The drive-in gave each car 18-foot space and filled capacity to a bit more than half. It's a trend that will likely continue until New York life reaches some semblance of normal, but somethings won't change.
"Do they have reserved parking on the fancy upper east side?" asked Shuter, with a laugh. "And you know certain New Yorkers are going to show up with their drivers!"