Valley Rock Inn & Mountain Club
Great Adventures In Sloatsburg, New York
By Jeff & Stephanie Sylva
Outdoor enthusiasts and foodies alike will discover a modern, welcoming oasis in Sloatsburg, NY, just a one-hour drive from Manhattan by car. Nestled between Sterling Forest and Harriman State parks with over 70,000 acres of protected habitat, Valley Rock Inn & Mountain Club is a perfect escape for anyone wanting to get away and enjoy the great outdoors and some gastronomic delights.
Once you arrive, guests are instantly immersed in an environment that promises serenity and relaxation. The property, which opened its doors to guests in 2019, comprises four fully renovated guest houses totaling 17 guest rooms and 16 full baths. Additionally, there's a commercial art gallery featuring curated exhibits and works of local artists, a 7,000 square foot gym complete with circuit training, cardio equipment, and spin and yoga studios, an inviting 75-foot swimming pool, plus two restaurants and an organic market.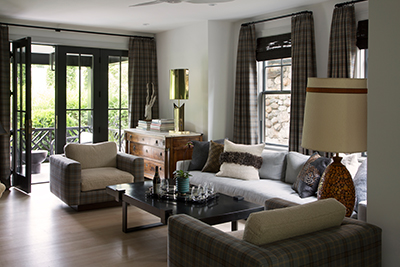 A NEW GATEWAY
Owner Michael Bruno, an Internet/real estate entrepreneur, was drawn to the town of Sloatsburg because he saw its raw potential. He envisioned an opportunity to realize his passion as a collector of historic homes and a steward of land preservation. Bruno's company, The Tuxedo Hudson Company, was awarded $1.75 million in grants from New York to create the new "Gateway to the Hudson Valley." Says Bruno, "The region has a vibrant athletic and health-conscious community, and as it continues to grow, we felt something was missing." He continues, "What we have created is a haven for outdoor recreation, ideal for visitors with a modern, active, and healthy lifestyle."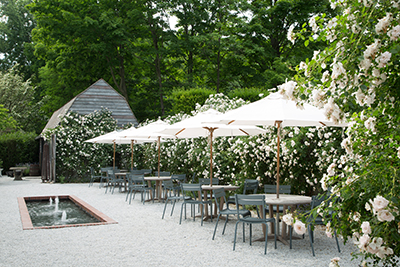 DISTINCT LODGING
Accommodations are unique in that guests choose from the four exquisitely renovated historic Waldron Houses that date back to the mid-1800s. Each of the 3- to 5-bedroom guest houses incorporates works by local artists, antiques, and sleek modern design of the bathrooms. Much of the furniture comes from owner Michael Bruno's collection amassed while traveling throughout the U.S. and Europe. Guests get exclusive use of their own private guest house with great room, porch, wet bar, and the bedroom of choice. They have their own private area by the pool with lounges, seating, and a dining table.
The serenity of Valley Rock Inn is epitomized by the walled Rose Garden, where fragrant Dawn Roses climb the stone walls, white gravel covers the ground, and a tranquil fountain creates a perfect Zen-like atmosphere. Another wonderful gathering spot is the Shade Garden, a pleasant place offering respite from the heat and is often used for private events or dinners. The Great Lawn provides a lush open area perfect for a variety of special events and weddings and a romantic alfresco dining venue.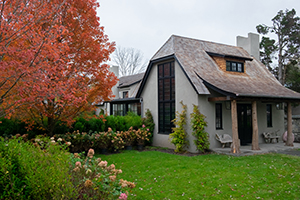 EXCEPTIONAL DINING
Valley Rock Inn & Mountain Club's two restaurants offer modern American farm-to-table fare. Menus reflect the seasons. The restaurants, The Cantina and The Lodge, and the Mountain Market, are proud to source much of their produce from the Inn's organic farm fields in Chester, NY, and offerings from Blooming Hill Farm in Monroe, NY. The Cantina is an outdoor patio style restaurant with a full-service kitchen, wood-fired pizza oven, and bar. Outdoor heaters and throw blankets allow The Cantina to entertain guests even in the winter months. In addition to the wood-fired pizzas, The Cantina's menu features a nice selection of steaks and fish. Two excellent choices are the Pan Roasted Halibut over White Bean and Corn Salad with Salsa Verde and the Grilled Rib Eye over Roasted Summer Squash with Chimichurri. Complete either of these entrees with the VRI Green Bean Salad made with heirloom tomatoes, shrimp, red onion, and bacon tossed in a country mustard vinaigrette topped with crispy shallot.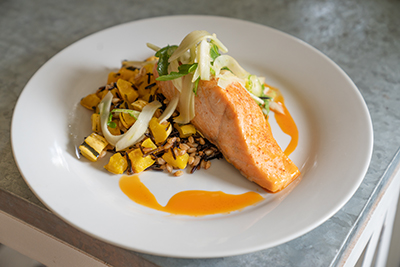 The Lodge, which just opened earlier this year, is the more formal dining option, with its full-service bar sporting an impressive white marble countertop and barn wood walls and ceilings, two large-scale fireplaces, a comfortable lounge with soaring ceilings (once the town's original firehouse), and a glass-enclosed porch with wonderful views of the swimming pool. 
Daily breakfast is included in your stay and is provided by the Mountain Market. An organic salad bar and a hot bar full of healthy, prepared food-to-go give guests a choice to pick a healthy snack or meal and enjoy it back in their guest house or at one of the many tranquil spots in the Inn's gardens.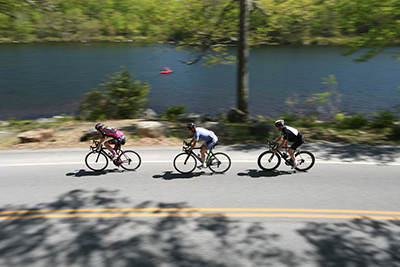 THE GREAT OUTDOORS
Because of its proximity to two state parks, guests have every opportunity to engage with the outdoors. With a fitness-focused vision, Valley Rock Inn & Mountain Club has guided biking, hiking, kayak tours, indoor and outdoor yoga, and Fitness Boot Camps and Retreats. Fitness Retreats include all meals and a customized, guided exercise plan. Top-of-the-line bikes, including Gazelle E-bikes, are available for rent.
The management and staff are committed to providing a safe and healthy environment by following all of New York State's guidelines and protocols related to the current pandemic.
For more information on Valley Rock Inn & Mountain Club, visit valleyrockinn.com.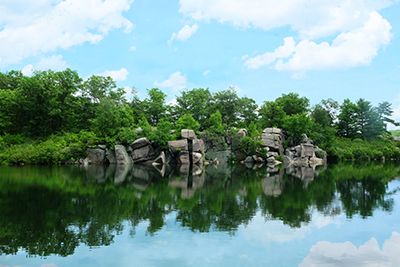 The scenic 
Seven Lakes Drive
 runs through
Harriman State Park
to
Bear Mountain State Park
, offering beautiful views of forested land, shimmering lakes, and upcoming fall foliage. There are several spots to park and enjoy hiking, fishing, swimming, picnicking, and kayaking.
Explore Storm King Art Center's 500-acre outdoor museum of large scaled sculptures exhibited under the open sky.
Spend an afternoon at Torne Valley Vineyards enjoying wine tastings, craft beer, food, and live music.
Nearby Heritage Trail offers biking, walking, or rollerblading on its 14-mile paved path.