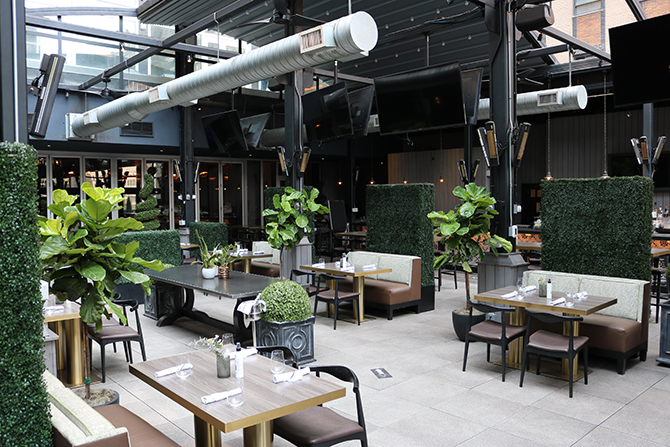 Versa Rooftop & Restaurant
A Breath Of Fresh Air!
By Anne Raso
My first restaurant visit once social restrictions from the pandemic were lifted was to VERSA at the Renaissance New York Midtown in the Fashion District. The 8000 square-foot open terrace features a retractable roof affording guests gorgeous downtown views, which gives guests the feeling that they can touch those buildings.
At the time of this writing, VERSA is only open from 4 to 9 pm daily with a staff that is super-welcoming for drinks, dinner, or small plates—whatever guests are in the mood for. The VERSA staff keeps things loose and casual with Modern American Cuisine/gourmet "bar food" as their calling card, but that does not mean that the service is not attentive and impeccable. Upon entering the high-ceilinged main dining room, you will see modernistic art adorning the walls, and black-and-white medallion patterned tiles on both the floor and the front of the long wooden bar—and you will be whisked to the seating area of your choice post haste. As NYL goes to print, guests are only seated on the terrace in comfortable booths or at standard tables with chairs. It gives guests great peace of mind to know that tables are well-spaced at 10 feet apart.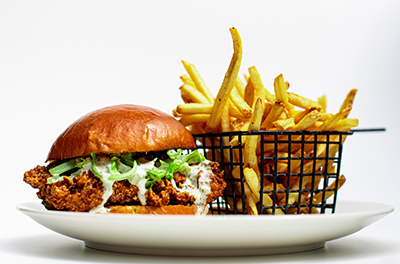 ROLLIN' OUT THE LOBSTER ROLLS
Diners enjoy shared plates of unique dishes like pastrami sliders with a touch of onion marmalade and fresh-baked tortillas with homemade guacamole; the tortillas are thick and chewy with an almost bagel texture to the taste. All the classics are done the right way here. Their burgers are legendary, not only because the ground "brisket blend" beef is grass-fed and topped with green chili aioli, artisanal bacon, and cheddar, but because they are a whopping eight ounces in size! VERSA's buffalo wings are boneless juicy nuggets with just the right kick, thanks to a secret semi-spicy orange sauce that is salt-and-vinegar based. The Connecticut Style Lobster Roll is well-worth the price with its abundance of buttered Maine Lobster, served on a Brioche Bun with a side of Old Bay Kettle Chips.
Affable Executive Chef Kevin Chun says that he views VERSA's eclectic cuisine as a celebration of the melting pot that is New York City. He shared his journey and how cooking became his first love. His career has taken him to work in Asia, New Zealand, California, Hawaii, and Panama. "My focus has mainly been on Asian cuisine (particularly Japanese and Chinese), as well as French and Italian. I'm proud of what I do and love this industry, and to me, that's not something most people can say about their professional career."
At Silver Trident Winery in Yountville, the go-to wine for late-summer is their 2017 Benevolent Dictator Pinot Noir. This smooth, silky Pinot is amazingly structured, with tastes of cherries and other dark fruits winding through hints of vanilla and toast. It's perfect for a special night paired with a charcuterie platter, a pile of soft-shell crabs, or a big pan of paella.
Bouchaine's vineyards in Carneros have been producing grapes since the 19th century; now run by the Copeland family, it's a place producing world-class Chardonnays and Pinot Noirs. For an easy-drinking white, choose their 2016 Estate Chardonnay with rounded tastes of nectarine and an undercurrent of citrus. Splurge on the 2015 Bouchaine Swan Clone Estate Pinot Noir and drown in its juicy strawberry and cherry melding of flavor with a super smooth tannic finish.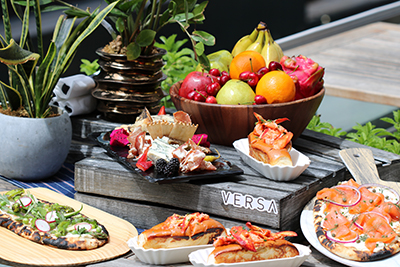 FRESH & FABULOUS
Is it a challenge for Chef Chun to keep the VERSA menu full of fresh choices? He reveals, "Honestly, creating and cooking are the easiest aspects of being a chef. The most important aspects of any establishment are quality and consistency. Currently, on our limited menu, the most popular dish seems to be a classic—our version of Guacamole and Chips. We make fresh guacamole daily to ensure that there is always a perfect hint of acid from the lime. We also make thick-cut corn tortillas from scratch, which we sear on a plancha (griddle), then lightly fry to give a consistency to a light piece of fried bread."
He discusses the highlights and challenges of being the executive chef of VERSA: "With such a large venue that can accommodate a diverse range of clientele, it always makes coming into work remarkably interesting. During any pre-COVID night, we may have had a large parties after a Billy Joel concert or a sporting event since we're located steps away from Madison Square Garden. Each day and night can change. However, this makes it a fun challenge, and it never gets redundant."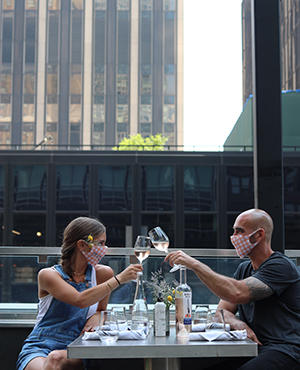 THE NEW NORMAL
Naturally, the COVID pandemic has been Chef Chun's greatest challenge. He remarks, "We started several initiatives at the start of the pandemic to help generate revenue and support our local community by including meal kits and cooking for essential workers. Currently, our partnership with Hampton Water delivers picnic baskets to several parks within Manhattan throughout summer weekends. And with our outdoor dining, we've noticed a growth daily. We are lucky to offer New Yorkers an open-air, outdoor space to dine up in the sky without trucks or traffic on the road that is great for many seasons. We also put stringent social distancing and health safety protocol in place, as well as featuring new amenities to our guest's experience, including new contactless technology such as the NFC chip and QR code that pops up on our digital menus on guest's smartphones. We're incorporating several of these important measures to make our staff and guests feel safe while providing them the best in hospitality as possible during this new normal."
Clearly, this chef loves his job and has adapted to the challenges of a changing landscape of clientele. It's not just about the people who work in the area, grabbing a quick bite or after-dinner drink. He tells NYL, "We get a great corporate crowd from the surrounding office buildings, Madison Square Garden and Penn Station. However, that has changed since the pandemic, with many office workers now working remotely from home. Now, we are attracting a diverse, local Midtown crowd from Hell's Kitchen, Hudson Yards, and Chelsea. We are taking it one day at a time. But every day, we meet new people while always social distancing, introducing them to our space, or welcoming our customers back.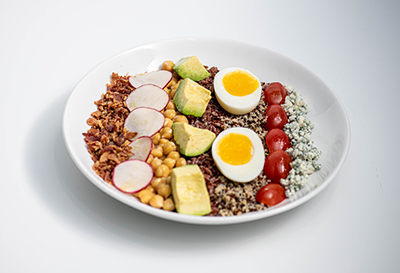 WHAT'S NEXT
We could not resist asking Chef Chun what we will be seeing on the menu for Fall. Any special foods or drinks? (Note: He is a very hands-on chef who personally sources all meats, fish, produce and specialty goods from his purveyors.) "This will certainly be a different Fall. With 30 HD-TVs in the restaurant, we usually attracted a great crowd to watch sports and host events. Unfortunately, it's unknown whether that will be possible this year and if it is possible to what extent. Our menus always change seasonally, but we will see what the season will bring in abundance for us to feature on our menu. We may bring back some of our classic staples like Cacio e Pepe or Fried Burrata," he reveals.
Just located just a short walk from the Seventh Avenue entrance of Macy's makes Versa a favorite of shoppers who want to get away from the hustle and bustle for a while. The Renaissance Hotel offered free lodging to first responders, and that is yet another reason to love and support its unique open air dining area. It's Chef Chun who can sum up the resto/lounge's allure in a nutshell: "We truly pride ourselves on the level of service we can deliver and want that to shine through all else. We also want to provide a casual atmosphere, so that all are comfortable spending time with us.
For more info on VERSA Rooftop & Restaurant, visit versanyc.com. 
Reservations are recommended but not necessary.