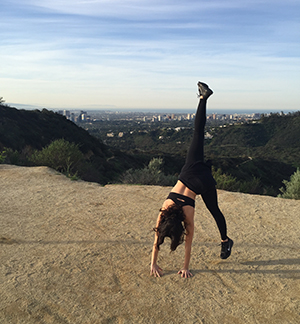 LIVING A HAPPY & HEALTHY LIFE
This was when I decided to take on my passion for healthy living full time and pivot into the wellness sector. I went back to study at the School for Integrative Nutrition (and continue additional courses for ongoing personal growth), got my yoga certification to understand the more profound benefits of movement and breathwork, and started my own company. With my knowledge and passion, I now want to help others to make sustainable changes toward a happier and healthier life. My focus is to keep my clients accountable to achieve their version of what makes them happy, productive, and well rounded.
Enter Living with Bianca, a members-only service that provides one-on-one weekly health coaching sessions, along with 15-minute touch-base sessions for immediate extra support. I am a supportive mentor to my clients, helping them feel their best with lifestyle changes and personalized, one-on-one encouragement. I am based in New York with clients also in Los Angeles, Miami, and London.
As the founder of Living with Bianca, I realized there was a gap in the market for people like myself, who needed someone relatable to speak to about everyday life and health goals. A non-bias and non-judgmental person to hold one accountable for any purpose, no matter how big or small. In our first session together, we talk about personal health and lifestyle goals, and then find baby-step solutions to get to achieve them. Sometimes new ideas or concerns come up along the way, and we deal with everything head-on. Many of my clients are busy and have little time to make significant changes all at once. Therefore, we always start small. These small life edits end up having a more considerable positive impact than what they originally anticipated. 
My approach to health is 100 percent holistic. Especially now more than ever. Of course, healthy eating and exercise are conducive to a healthy lifestyle, but that is only half the picture. Focusing on holistic health, I put equal-weighted importance on other aspects of life such as career goals, personal goals, love and relationships, who you surround yourself with, how you react to certain situations, what you believe. It all adds up. It's very well to say that you have had a healthy dinner, but what does that mean if you are on the phone the entire time while eating it and are feeling stressed and anxious? In today's climate, you can't be half healthy. Life is too precious.
For more information on Bianca Kamhi and Living with Bianca, visit livingwithbianca.com.