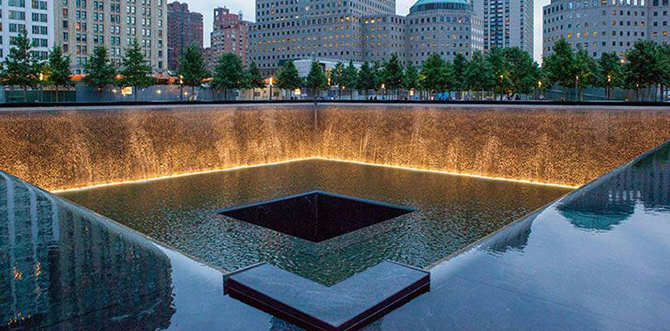 A NEW YORK RANT...
Special September 11 Edition
By Sean-Patrick M. Hillman
A lot of folks have been asking me for years to tell my September 11 story. I have always declined. Why? Because, like many New Yorkers who were here that fateful day, it is often too painful. So why am I willing to tell it now? Simply put, because there has been a politicization of September 11 this year by the September 11 Memorial & Museum. They had cancelled both the reading of the names of The Fallen by the families as well as the Tribute in Light, citing Covid-19 as their concern, when in fact it was a budgetary issue. The organization has basically been bankrupt, and corrupt, since its founding. And who is at fault for this? The September 11 Memorial & Museum CEO, their Board, the Governor as well as the former and current Mayor. But I digress…
I remember vividly, like so many of my fellow New Yorkers, where I was and what happened that day. I was actually supposed to be at a breakfast that morning at the Towers, but had a new business meeting for my family's PR firm at our offices that took priority. Fate, as it were, had a different idea for me apparently.
Do you remember that ridiculous trend called Horney Goat Weed (HGW)? Yeah…this meeting was with these guys who had a water infused with the snake oil and wanted my family to promote it. During this meeting in our conference room, I had to run back to my office to grab some papers…and then tragedy struck. There was always a radio playing in my office and immediately after the first plane hit, the radio jock screamed an expletive, then told the audience what happened. I rushed back into the conference room where the potential client was proselytizing about the benefits of HGW and explained that a plane struck the World Trade Center. He kept talking. I ran back to my office again, and that was when the second plane struck. Alerts began ringing out all over the city to evacuate lower Manhattan. It was clear…we were under attack. When I told the potential client this, he just kept talking. I ended the meeting right away, asking them to politely leave and return to Long Island, and then closed the office. My father was at home that morning and drove down to 56th street to pick up my mother, Nana and I to return back to their apartment. As we were driving up Madison Avenue en route to the Upper West Side, I was sitting in the passenger seat staring into the passenger side mirror…watching as the smoke overtook lower Manhattan. I remember getting back to their apartment on Central Park West and going into the den to watch as the world learned just how horrific the fallout was.
What hadn't hit me yet was about that breakfast I mentioned earlier…and the nearly 200 friends I had working at Windows on The World (where the breakfast was supposed to take place and a venue that I had worked with on numerous occasions, making friends with many of the staff), Cantor Fitzgerald and many other companies whose offices were in the World Trade Center. I would never get to hear them laugh, cry or commiserate over a drink again.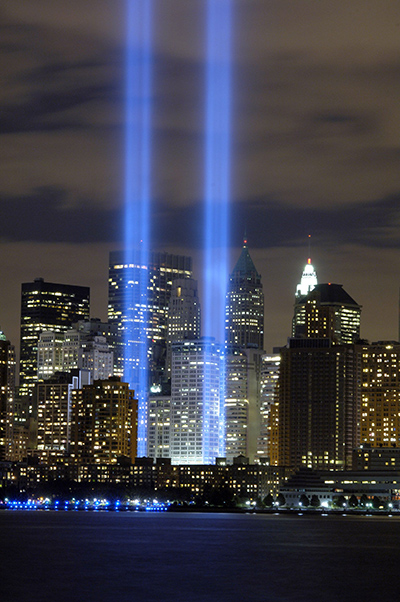 Watching along with the rest of the world, I realized that a lot of my friends in the NYPD and FDNY were all running toward the Towers during the initial attack…and likely would never be seen again. Speaking as a former EMT for the FDNY, I understood why these men and women were doing this. It was their duty to protect and serve. It was also their solemn responsibility as human beings to help those in need. Then I saw the news about Father Mike, the Chaplain for the Fire Department of the City of New York. I knew Mychal Judge. To learn that he was the first certified fatality literally broke my heart. I broke down in tears even more than I already had earlier in the day.
As more and more fatalities were confirmed, panic struck my heart and soul. Was this the beginning of the end of the greatest Republic in history? Were the fictional stories of my childhood TV watching about a post-apocalyptic world coming true? Thankfully the answer to both of those questions were no, but none of us knew that at the time. We needed a hero…someone to calm our fears and remind us why we are the UNITED States of America. Two emerged; the Mayor of the City of New York, Rudy Giuliani and our President, George Walker Bush. I always remember my Father saying to me that evening, "Sometimes we elect great politicians. Sometimes we elect people who have the fortune or misfortune of having greatness thrusted upon them. President Bush, it seems, is the latter. Let's hope he does the right thing." And he did. We all know the story of President Bush visiting the pit at Ground Zero as they were hoisting the flag out of the rubble. We all watched the speech he made that day. NEVER FORGET became the catchphrase of the moment, and forever a part of our lexicon.
What most people don't remember, especially in the more recent politically divisive world we live in, is that Mayor Giuliani attended every single funeral, ceremony, meeting and dedication in the aftermath of 9/11. He only had four months left in office. It didn't matter. He knew that the future of our belief in New York City was at stake. Both the media and the public began to respond with a new moniker for the former prosecutor, "America's Mayor." Endless requests ensued for Giuliani to walk daughters of The Fallen down the aisle because their own Fathers had perished during and after the attacks.
My point and rant here is fairly simple…On September 11, 2001, we were reminded why we are called The United States of America. On September 12th, a unification under one flag, one country and one belief of Freedom spread across our nation like wildfire. Just as it did on July 4, 1776.
Despite all of this, less than two years later, our politicians were playing political hot potato with not only the cause of the September 11 attacks, but also the response. Lest we forget the WMDs, the war contracts to Halliburton, and more that were vilified on a virtual daily basis. And 19 years later, the lessons of September 11 still have not been learned, nor have we codified our solemn promise to NEVER FORGET. In an election year wrought with insensitivities, disgrace and discord, sadly the memory of September 11 and those that perished, The Fallen, has been tarnished by the likes of September 11 Memorial & Museum CEO Alice Greenwald, former Mayor Michael Bloomberg who is the chairman of the memorial and museum, Governor Andrew Cuomo and Mayor Bill DeBlasio. Why? Greenwald pulled the plug on the readings this year as well as the Tribute in Light for, as I stated earlier, concerns related to COVID-19. We now know it was a budgetary issue and that COVID-19 was nothing more than an excuse disguised as compassion and concern. Bloomberg is a notorious control freak. He has known since day one where the budgets were for the facility. My sources have told me he was aware of the decision, yet did nothing about it at the time.
In utter dismay, neither Governor Cuomo nor Bloomberg nor Mayor DeBlasio uttered a word about the cancellations despite massive outcry by the public and both Cuomo and deBlasio's daily ego stroking sessions. Enter the Tunnel To Towers Foundation who saved the day by offering to host an actual reading ceremony as well as to build the Tribute in Light. Even President Donald Trump announced that if it remains cancelled he will help find a way to make it happen. All of a sudden, COVID-19 was no longer a concern when days later, Governor Cuomo announced that Michael Bloomberg and the state would foot the bill and provide health workers to help keep people safe. In other words, spin zone!
Here is the strange issue I am having…the Federal government issued a $2,000,000 grant to the September 11 Memorial & Museum earlier this year specifically for "commemoration events." This was preceded by a nearly $5,000,000 PPP loan issued in April to help keep their 343 employees on payroll. Less than three months later, Greenwald decided to lay off 148 staffers. Yet not a single media outlet or journalist is calling for an investigation into the gross financial mismanagement of this sacred ground and bloated payroll for people like Greenwald who is making $530,000 per annum to cancel events and provide excuses. This is not a newsflash as anyone in the 9/11 Community knows that this institution has been wrought with corruption and mismanagement since day one.
However, this year September 11 has an entirely new meaning for many in the 9/11 Community. While we still honor The Fallen; while we still remember and love those whom we lost that fateful day, we are now galvanized to ensure this never happens again. NEVER FORGET has a new meaning this year…one I, frankly, am honored to write about. Shame on every politician and corporate drone who was responsible for the attempted politicization of the single worst attack on American soil in our history. Shame on all of you for causing undo emotional and mental anguish to the 9/11 Community, specifically the families of The Fallen. We all know you've done this for political gain. Your time is up. And we will make sure of it.
Now is the time for change. In the face of adversity comes opportunity. We need to take this moment to do what is right for the families of The Fallen, the overall 9/11 Community and to honor those who perished in the attacks. It is time to remove the CEO of the September 11 Memorial & Museum, disband their board and petition the US Parks Department to take over management of the facility and site. This is not a partisan issue. This is not a political issue. It is an American issue. Therefore the responsibility should remain with a department that has the experience, the know-how and the ability to ensure that we and future generations NEVER FORGET.
God rest, God bless, The Fallen.
---
Disclaimer: The opinions expressed in this article are those of the author. They do not purport to reflect the opinions or views of New York Lifestyles Magazine.