UN PLAZA GARDEN POP-UP
DOG-FRIENDLY DINING IN THE CITY
By Pamela Smythe Woods
When it comes to combining business with pleasure where to go? And when your business is dog couture where does a lady (CEO) lunch? We asked Bingo, the now pampered pooch rescued by Royal Animals CEO Susan Traub, where he'd like to head for a power lunch al fresco. After all, he has crashed enough Zoom meetings to feel like, well you could say the Chairman of the Board. With the needs of such movers and shakers top of mind, we thought we'd share news of a favorite NYC venue that knows what a dog wants - and caters to their owners too. The UN Plaza Garden Pop Up is an outdoor dining destination where you can go to chill with Fido and enjoy delicious modern American food (BTW - It is Kosher and as such open Sunday to Thursday) in an atmosphere that feels like you're poolside at a luxury resort - yet the prices don't break the bank. No airfare required just be prepared to be swept away.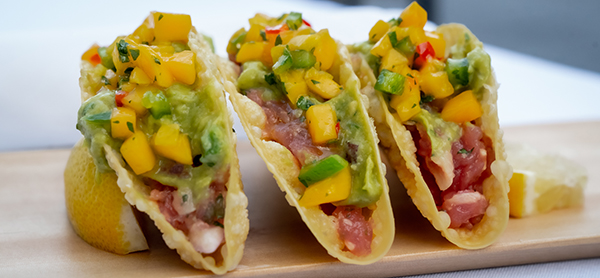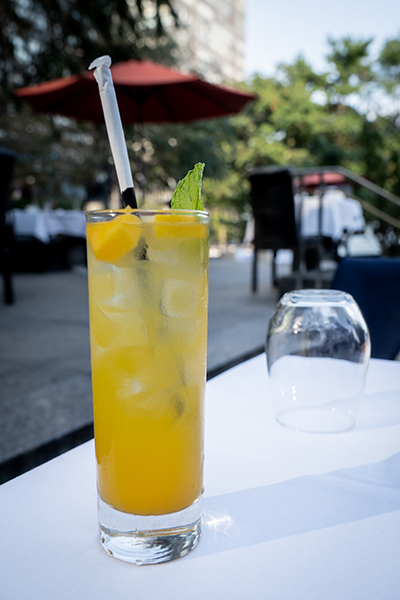 UN PLAZA GARDEN: URBAN OASIS
The breeze on a warm almost autumn day, cooled us all as we sipped Pinot Grigio under burnt orange umbrellas at this gorgeous garden pop-up. As you might imagine the UN Plaza Garden is not far from the UN (it overlooks the flags so colorfully flying). The view is inspiring and the food, sublime and shockingly affordable. This gorgeous oasis so beautifully landscaped is a watering hole that's a go-to getaway, inviting us (and our dogs) to escape the drama of NYC day to day, a welcome respite in these uncertain times. No crowds. No traffic. Just serenity in the city.
If you're have a friendly dog and are ready to venture to 47th Street and First Avenue, aka 845 UN Plaza, this is one relaxing and enjoyable spot where you and your pup will be equally catered to - in high style without high prices. The UN Plaza makes drink and apps as affordable as happy hour at your local bar, yet the experience here is far more elevating.Prices start at $7 for a Happy Hour glass of wine or one lite bite, the Tuna Tacos were outstanding, the corn/tomato salsa had just the right amount of zing.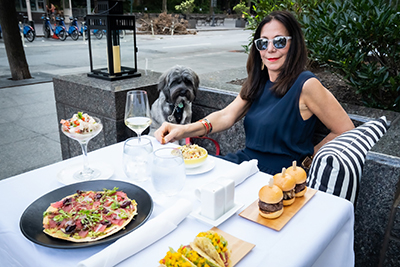 DOG-FRIENDLY AND CATERS TO HUMANS TOO
The menu is chock full of tasty delights, each fresh and delish, great for sharing between friends. The sliders were juicy and perfectly bite-size. Yes, our boy Bingo gave a paws-up to these mini-burgers. Us humans devoured the Tuna pizza with avocado crème; willingly we would have had an extra "pie," the light, crisp crust was perfection! For those of us who are die-hard fans of chopped salads, anytime, anywhere, the couscous addition sent this one over the top. The Tequila-spiked "tipsy" ceviche was something to write home about, perfectly balanced and short of beachside in Acapulco, never had better. Overall, there was not a dish that was not delish.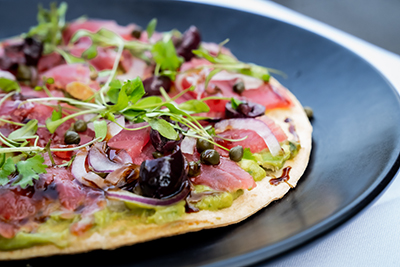 This al fresco experience took us out of ourselves and without leaving midtown, transported us to somewhere unique and magical. Go to U.N. Plaza Garden and go soon, all outdoor dining is presently closing by Halloween. Located at the corner of 47th Street at First Avenue, lite bites and dinner are served 5 pm to 10 pm, Sunday to Thursday. Happy Hour is 5-7 pm. Reservations are not required but you can make them, call 212 223 1801. In the event you need your personal faves delivered, there is a direct link to Ubereats on their website, http://unplazagrill.com And with Jewish Holidays coming up, do remember the UN Plaza Garden Pop-Up is kosher.