TECH TALK
Virtually Fit
By Will Reed
As the pandemic starts to recede, we've become accustomed to working out at home. With so many classes provided online, we wonder just how our favorite pre-COVID gym will adapt to enable people to continue their regimens.
With the at-home fitness boom in full swing, finding the equipment and motivation is the next step. If you already have a fitness station in place, great. However, you may want to drop the gym membership entirely and add to what you already have or start anew. 
Here, five ways to improve your at-home routine.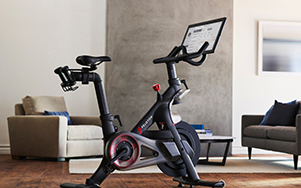 PELOTON BIKE
With the rise of the Soul Cycle came a craze for indoor cycling like we've never seen before. When the classes emerged in 2006, it struck a chord with fitness-enthusiasts. Spin studios became a coveted business. You can still get the full benefits of a cycling class in the comfort of your own home. The Peloton Bike brings you the most convenient and immersive indoor cycling experience, streaming daily live classes directly into your home. You'll have 24-hour access to studio cycling classes available to your entire household, through their extensive online library of fitness classes accessible via the Peloton app and a whole team of inspirational instructors, each with their dedicated following. Info: ononepeloton.com. 
---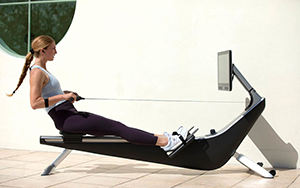 HYDROW ROWER
This at-home rower offers workout content similarly to Peloton in that there are live and on-demand workouts catering to whatever level of intensity you want. You can even compare your performance to other users. The Hydrow Rower features an easily accessible 22-inch HD touchscreen mounted on the front. The monitor is sweatproof and features Hi-Fi speakers, a two-megapixel camera, a built-in microphone, USB 2.0 connection, with Bluetooth and Wi-Fi capabilities. Some of the live classes are virtual outdoor rows with instructors and athletes, including a selection from the U.S. National Rowing Team.
Info: hydrow.com
---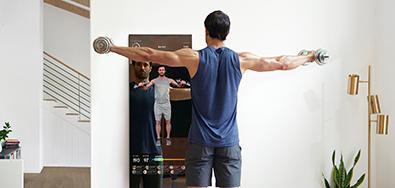 THE MIRROR
The Mirror is fitness equipment that's a part full-length mirror and part LCD screen. You might say it is a new, futuristic version of customized fitness: in-home personal training, but without a personal trainer in your home. Mirror's previous offerings included live and on-demand fitness classes from various disciplines, including cardio, kickboxing, Pilates, barre, strength training, and more. Now, this sleek device offers real-time, one-on-one personal training. Enjoy 70+ live classes weekly or take a class anytime with their extensive library of on-demand workouts on any smart device with The Mirror app. Info: mirror.co.
---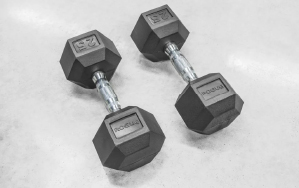 ROGUE FITNESS DUMBBELLS
Want to do some light weightlifting at home but do not want to damage your wooden or tile floors? The rubber wrapped Rogue Fitness Dumbbells are sold in pairs and available in weights ranging from 2.5- to 125 lbs. This standard rubber hex design is a great, budget-priced option that still delivers on quality, performance, and longevity. The heavy-duty, rubber-encased heads minimize noise and limit wear and tear (to both the bells and your flooring). At the same time, the chrome-plated handle is ergonomically designed for a firm but comfortable feel in any grip style. Info: rouguefitness.com.
---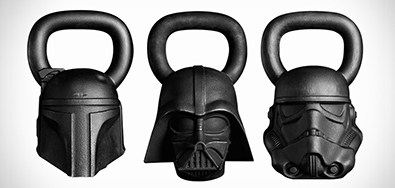 STAR WARS KETTLEBELLS
Are you a fitness enthusiast, and a Star Wars fan that leans towards the Dark Side? The Star Wars Kettlebells was made for you. Onnit has created a collection in somewhat realistic sculpted cast-iron icons of the Star Wars universe. They are modeled using the heads of Darth Vader, The Imperial Stormtrooper, and Boba Fett. The perfect combination of both functionality and style. Info: onnit.com.
---