★
ON-Line Exlusive
★
Zarin Fabrics
Your Secret Source For Fabulous Fabrics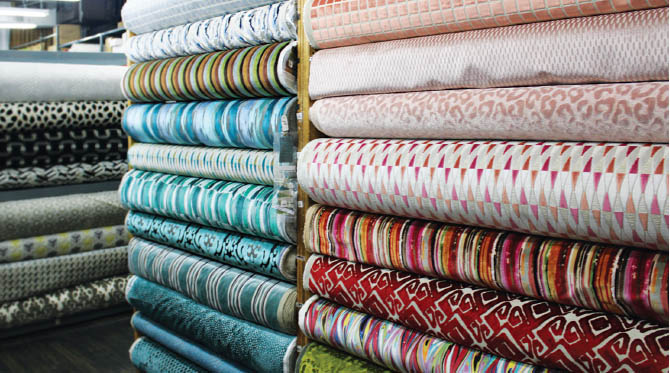 By Ruth J. Katz
David B. knows where to find any fabric," declared David Zarin, the president of Zarin Fabrics, the Gotham go-to source for designer upholstery and drapery fabric-by-the-yard. "If a customer comes in with a picture of fabric in a home-design magazine, David B. can track it down. If he cannot find it in his usual 20 minutes, then it's simply not available."
Zarin is referring to longtime—33 years and counting—wizard-of-an-employee David Barach, who likely was born with textile filaments in his DNA. The third generation of Zarins helms the Zarin Fabrics warehouse (practically an entire block on the Lower East Side—so massive, it has two addresses, on both Orchard and Allen streets). The company's longevity is matched by the tenure of many of its employees who have been with Zarin for decades—and do they know fabric!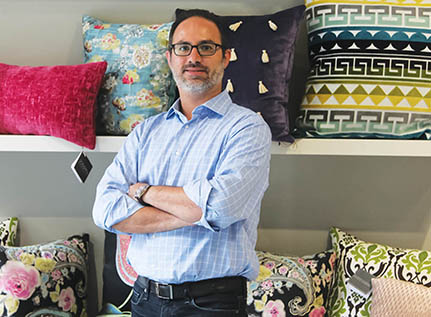 A FABRIC FAIRYLAND
Design consultant Judy Eichenstein, also a 30-year veteran, with an eye for textiles and design, lends her creative talents to help solve customers' dilemmas. There's also knowledgeable veteran Al Harary, who last year rejoined Zarin, after having begun his career there; in between, he ran his own design business. Grandfather Harry, who started the company in 1936 in a pushcart on the Lower East Side, would be delighted to see how his late son, Bobby, and now grandson, David, have reshaped this fabric fairyland.
Not only can you come to this field of fabric to locate precisely the designer fabric you want, but you'll find it at half its "uptown" price. Moreover, you'll get the benefit of a talented, trustworthy design professional as your creative shaman. This is not lost on the pros who shop here: 35 percent of Zarin's business is to interior designers, architects, and project managers for commercial jobs.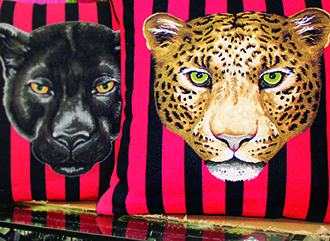 AN INSTANT MAKEOVER
Textiles are arranged on the 6,300-square-foot second floor by type, and within each group, by color. While you generally won't find silks in stock (they are available on order), Zarin provides an enormous selection of mohair velvets, damasks, linens, cotton, prints, and lisérés. Also, on the menu are "performance" fabrics, the kind that can withstand heavy traffic (such as those at airports), yet are comfortable for a home, and all-weather materials, from industry leader, Sunbrella. (Note: Zarin can also make custom, outdoor patio umbrellas.)
Fifty percent of the company's business, however, is to individuals, looking for fabulous fabrics for a home makeover, a refresh, or even something as necessary as summer slipcovers. The warehouse maintains a wall of fabric sample books; they are from all the big-name, uptown sources you might know (like Clarence House and Kravitz), to many smaller, individual houses with specialties. There are textiles from Belgium, India, France, Italy, and Turkey, among the many sources where Zarin secures its stock.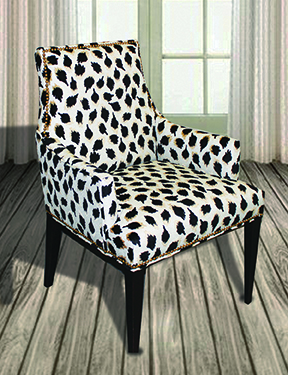 AN INSTANT MAKEOVER
Over the years, Zarin Fabrics has also worked with entertainers like Taylor Swift and Emma Watson, who have trundled downtown to get well-priced goods for feathering their nests. Not to be overlooked is celebrity chef David Bouley, who Zarin notes, is very hands-on and involved in all aspects of his award-winning restaurants. Professional set decorators for TV shows, dating back to Sex and the City and spanning years in between (including countless jobs for Saturday Night Live sketches), to the present-day The Marvelous Mrs. Maisel shop here. Additionally, Zarin works with many hotels for their upholstery and draperies, including the Jane, Dream, Moxie, and Public hotels, among the many. 
Most importantly, these goods are not seconds, a term the industry uses to denote flawed products; Zarin deals almost exclusively with first-quality, current goods from its partners. The "sweet spot" in pricing for most fabrics is between $35 to $60 per yard, but, of course, there are fabrics that sell for as much as $200, which would be tagged at $400 or so, uptown. Likewise, in the basement area, there are close-outs/clearance fabrics that may be priced as low as $15 a yard. Also, in the lower-level workshop (the entire Zarin facility is 11,000 square feet), the company makes decorative pillows and reupholsters furniture; they also sell trimmings, decorative hardware, accessories, drapery rods, decorations, and so on. In a word, Zarin is a one-stop shop for sprucing up your home and adding fresh spring flourishes.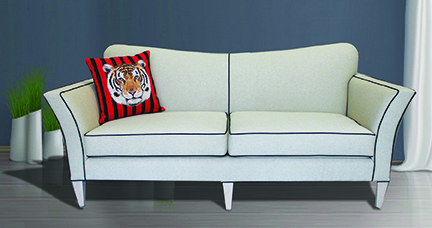 New to the Zarin menu of services is the "Five Easy Steps to Custom," a unique program that allows customers to order a custom-made virtual chair, loveseat, or sofa. A classic, maple hardwood frame can be styled to individual taste, with the selection of arm and leg styles, cushion type, backing, and pillow stuffing. Customers can select any in-stock fabric (up to $60 per yard) et voilà! Your customized furniture is delivered in less than six weeks. And that is virtually a miracle in the custom-furniture business.