Mario's
A Second Home For Southern Italian Fare!
By Anne Raso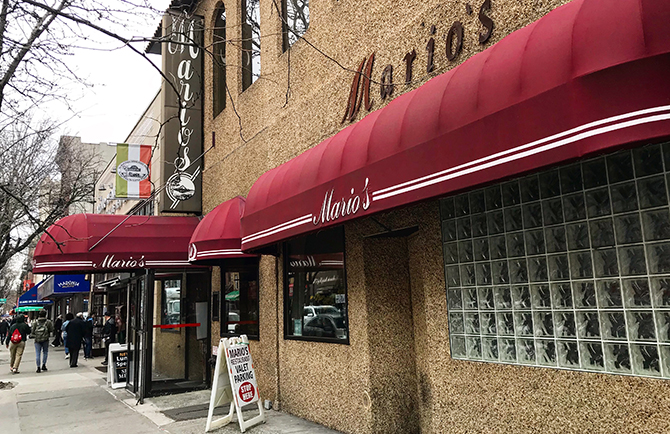 Step into Mario's and you feel like you've been there before. The staff and the atmosphere are as welcoming as it gets. You will love the mixed stone and brick walls and the wine—colored brocade carpeting. Mario's is a shining jewel on Arthur Avenue's famous stable of Southern Italian restaurants in the Bronx—so much so that customers have been coming for over 100 years.The wait staff instinctively knows what regulars want to order whether it be old classics or the restaurant's take on modern fare.
Fifth-generation owner Regina Migliucci-Delfino greets all who enter Mario's, and she has the vibe of being a favorite cousin who is always there for you. She makes great recommendations on both food and drink and personally oversees the lovely outdoor dining area with red umbrellas. Mario's has about 20 outdoor tables, and they always seem to be full. That says a lot right there. 
A FAMILY AFFAIR
Migliucci-Delfino is a wealth of knowledge about Mario's history. It's fascinating to hear her recall it: "Scolastica Migliucci and her son Giuseppe originally opened the business as a pizzeria in 1915 located in Harlem on 114th Street, then moved to Arthur Avenue in 1919. My grandfather Mario and his younger brother Clemente also joined the business, and it was Clemente who became the chef. Scolastica was their grandmother and Giuseppe their father. Some of the original dishes included pasta with their homemade tomato sauce, meatballs, braciola, and sausage. In the late 30s and 40s, they added veal, chicken, steak, and calamari."
It's been a happy journey for the hardworking and close Migliucci family, but COVID-19 hit them right to the core. Regina's father (and fourth-generation patriarch) Joseph Migliucci passed away from the virus at 81. He was so beloved in the New York restaurant business scene that the New York Times published a beautiful in-depth obituary that would normally be reserved for dignitaries or celebrities. Migliucci-Delfino reveals, "He was the heart and soul of the restaurant. Coming back to work and reopening the restaurant after the NY Pause has been very tough with mental, physical, and financial challenges. However, in my father's honor and my family's long-standing tradition, we felt that we must continue onwards. We began offering outdoor dining and quickly trained our staff to accommodate our customers providing new social distancing and health protocols. I also work very closely with my Chef Massimo to prepare the revised menu featuring lighter choices for the lunch crowd, such as Panini and salads."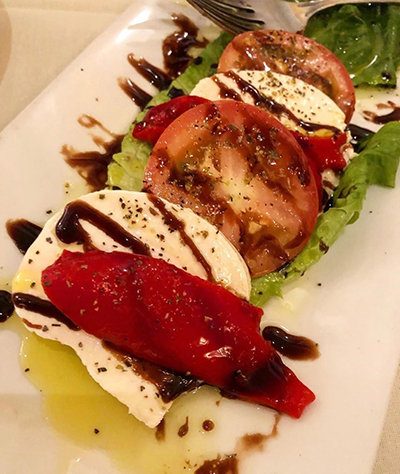 THE PRIDE OF ARTHUR AVENUE
Mario's is located in the center of Arthur Avenue's restaurant hub at #2342 (directly across the street from Dominick's and Enzo's), where Migliucci-Delfino takes pride in the fact that their location is easy to find (it's only a 15-minute walk from the Fordham stop on Metro-North).
Migliucci-Delfino loves the neighborhood's colorful history and notices that it only gets better culturally as time goes on. She remarks, "Arthur Avenue has gone through as many changes as the rest of the city over the years. The neighborhood originally started as an immigrant community, since many Italian workers and stonemasons helped build the Bronx Zoo and New York Botanical Garden in the late 1800's and beginning of the 20th century. Today, many local businesses and restaurants that have been owned and operated for multiple generations are indeed owned by Italian-American families. The neighborhood has evolved as more people moved to the city and is now filled with many diverse nationalities and cultures.It's very New York."
A PASSION FOR PIZZA
Being the head of a legendary Italian eatery that celebrated its 100th anniversary in 2019 is something that Migliucci-Delfino is proud of—and she should be! The vivacious brunette tells New York Lifestyles, "It was a blessing working and learning from my father and my grandparents. I learned everything they did best—from customer service to making our world-famous pizza. I am blessed to share this passion. While working with family can sometimes have its difficulties, we are such a close-knit unit that we make it work. It's been such a learning experience working with my grandparents, uncle, and dad. If I had the choice, I would do it all again. They have made me the person and business owner I am today. I hope that I make them proud and can pass the tradition along to the next generation."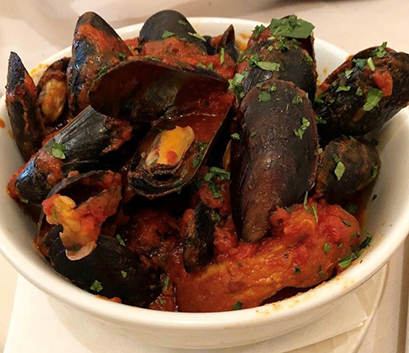 LOOKING AHEAD
Looking forward to the cooler weather, Mario's will be offering not only imaginative dishes but one of the tri-state area's most creative cocktail lists. Migliucci-Delfino states, "For the holidays, we will offer a White Chocolate Peppermint Martini and a Christmas Pear Martini that has been a hit with our customers. I am always working on new ones and we will debut some exciting and delicious inventions this season. Some of our winter menu specials will include Pumpkin Risotto and a 7-Fish Special on Christmas Eve."
Migliucci-Delfino sums up Mario's magic: It goes beyond quality food in large portions at reasonable prices (be sure to check out their $23.95 lunch special, which includes an entrée and a side). The most popular dishes include Linguini With White Clam Sauce, Homemade Gnocchi, Fried Calamari, Spiedini Alla Romana, Braciole Napoletana, Veal Parmigiana, and their legendary old-school Pizza and Saltimbocca.
The out-going owner concludes with a smile, "Our guests are like family! Most of our regular customers have been dining with us for many years, often from generation to generation. Fordham students and their families, for example, come back long after they graduate."

For more info on Mario's, visit mariosarthuravenue.com. Reservations are recommended but not necessary.