NERAI
It's Greek For Me!
By Patricia Canole
Nestled on East 54th Street, Nerai has earned the reputation as a top-rated Greek restaurant in the city. Formerly occupied by Oceana, the menu will quickly transport you to the world of fine Mediterranean cuisine.
New York Lifestyles recently visited Nerai, where we were seated for a garden-style dinner (indoor dining had not yet been implemented at the time of this writing). It was wonderful. Trees adorned with twinkling lights set the scene for an enjoyable evening. White tablecloths, good glassware, and the warm air made me feel I was somewhere on a Greek isle. The experience was made even more special with the service staff who exuded the generous spirit of what Greeks call filoxenia.
Under the ownership of Spiro Menegatos and with a young chef, Moshe Grundman, the restaurant shines with the finest Greek food I've ever enjoyed. Before my guest arrived, I had an opportunity to peek inside to see the glowing beautiful dining room with its soft lighting playing off folds of white drapery-like fabric.
General manager and sommelier, Michael Coll walked us through the menu and made his recommendations. Grundman's food is wholly in its groove. He has brought Greek cuisine into 2020 with panache, from the mezes straight through to desserts. The wine list also includes select choices of Greek varietals, with the newest vintages from modern wineries all overseen by Coll.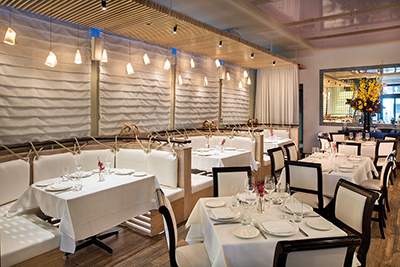 THE START OF SOMETHING GOOD
Mario's is located in the center of Arthur Avenue's restaurant hub at #2342 (directly across the street from Dominick's and Enzo's), where Migliucci-Delfino takes pride in the fact that their location is easy to find (it's only a 15-minute walk from the Fordham stop on Metro-North).
The amazements arrived: starters that included Grilled Octopus with Santorini Fava (served with caramelized onions and roasted red peppers) and Shrimp Mikrolimano (tiger shrimp in a tomato ragu with feta cheese). A surprising addition to the menu was pasta Hellenic-style. A standout is the Sweet Squid Ink Linguine in Metaxa Bisque with Lobster Meat. For risotto lovers, there is a Mushroom Risotto (with porcini, cremini, beech, and Shiitakes) with Smoked Metsovone Cheese and Paccheri Pasta.
Our main courses were somewhat simpler and heartier, as they should be. We began with pan-seared Dover Sole (served with brown butter caper sauce, asparagus, and cauliflower puree). Then the piece de resistance Lamp Chops (served with glazed honey carrots, onion soubise dolma, and oregano jus). True Greek perfection! Other fine choices include Scallops (served with ouzo honey glazed pork belly, sunchoke, and rainbow cauliflower) and Lavraki (loup de mer deboned, and served with sauteed spinach).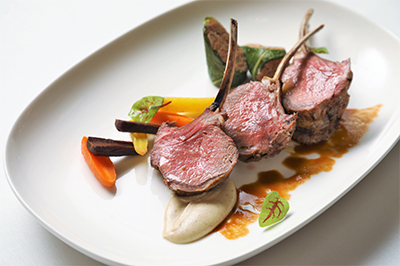 Plan to have more than one dessert. The beautifully composed sweets included Sokolatina (milk chocolate mousse, flourless cake with raspberries and vanilla gelato) and Karidoita (walnut cake with milk and honey glaze served with Greek yogurt gelato). Other choices include Saragli (hand-rolled baklava with tahini parfait and vanilla gelato).
The menu at Nerai is just the right size to allow Grundman and his team to execute everything with finesse. To their credit, everything works here on the principle of good flavors and impeccable ingredients combined in a precise way to make something that is wonderfully good. Nerai is our new favorite. We'll be back for more!
Of special note is Nerai's Santorini Sundays which includes a three-course meal for $48.
For more information on Nerai, visit nerainyc.com.