Day Tripping On Long Island
Castles, Chateaux & Charm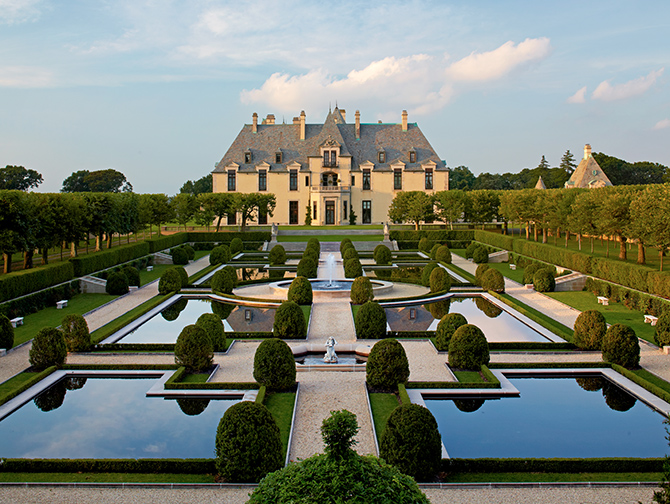 By Irvina Lew
We each seek our own ways to thrive during these stay-at-home months; what's kept my spirit soaring has been walking paths, usually with waterfront views and often on the grand estates that stud Long Island's northern and southern shorelines. Like chateaux along the Loire, their sheer beauty, permanency, and history delight me as much as the actual landscape. These few destinations showcase varied architectural styles and are super-easy-to-access, by car or train and taxi.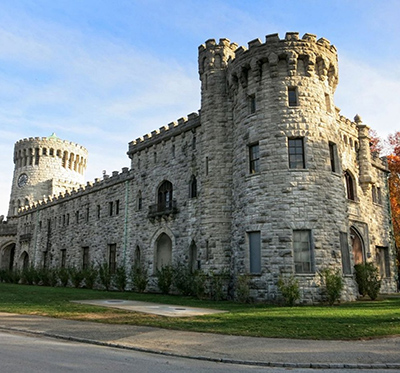 SANDS POINT PRESERVE
The one-lane bridge leads to 216 acres with six marked trails (leashed dogs welcome), woods and fields, rose gardens and a pond, a Great Lawn, and a pedestrian-only road leading down to Hempstead House Beach (closed), but with incredible expansive views of the Long Island Sound. There are picnic and checker tables, benches, and a playground, and four—currently closed—spectacular structures. Financier Howard Gould constructed the massive, limestone 100,000 square foot Gould Castle around 1900, and modeled it after Ireland's Kilkenny Castle. (Restrooms are open, here.) His wife didn't like it, so he built the 40-room Hempstead House, at half the size, though the first and second floors measure 1.5 acres! (It's an event space, now.) In 1917, mining tycoon Daniel Guggenheim bought the property; subsequently, he gave 90 acres of it to his son, Harry, who built Falaise, a French Norman waterfront mansion, where he and his third wife, Newsday founder Alicia Patterson, lived. Daniel's widow, Florence, downsized to Mille Fleurs; she offered British refugee children the use of Hempstead House and donated 162 acres to the Institute of Aeronautical Sciences. In 1971, Nassau County acquired 127 acres of the original estate, plus the 90-acre parcel that Harry bequeathed, and established the non-profit Sands Point Preserve.
Getting there: Although I prefer driving the prettier parkways—Grand Central Parkway to Northern State, Southern State, Sagtikos, and/or Hecksher State Parkways, the most direct route to the Sands Point Preserve is Long Island Expressway, Exit 36 North. Another option is LIRR to Port Washington, plus taxi or bus N23. Searingtown Road leads north—with name changes—until you reach Sands Point Preserve.
Info: sandspointpreserveconservancy.org.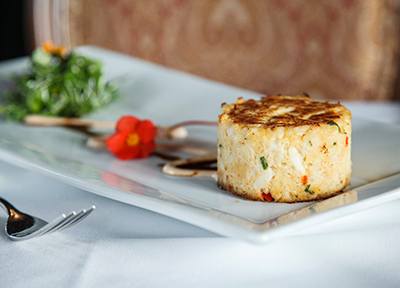 OHEKA CASTLE
A century ago, Otto Hermann Kahn built the country's second-largest home on 443-acres on the island's highest plot overlooking Cold Spring Harbor. He hired the Olmsted Brothers of Central Park fame to design his formal garden, eight reflecting pools, and three fountains. After 1934, when Kahn passed, the property had various uses and was ultimately abandoned. In 1984, developer Gary Melius purchased the castle and 23 surrounding acres; he's devoted years and $40 million to restore the Gold Coast manse's original opulence. Listed on the National Registry of Historic Places, it's also affiliated with Historic Hotels of America. Its OHK bar and restaurant are open—indoors and out—though mansion tours are currently suspended.
Getting There: If a drink, meal or overnight tempts you, drive east to Oheka Castle by taking the Northern State Parkway to Exit 39, Round Swamp Road. Or ride in comfort via LIRR to Cold Spring Harbor.
Info: oheka.com.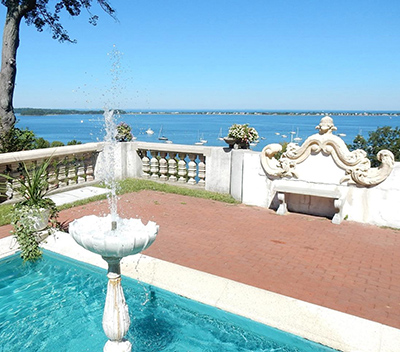 SUFFOLK COUNTY VANDERBILT MUSEUM
At The Suffolk County Vanderbilt Museum, the 43-acre grounds house a museum, a planetarium, a seaplane hangar, and Eagle's Nest, William K. Vanderbilt II's Spanish Revival-style, 24-room mansion, which is listed on the National Register of Historic Places but not currently open. (Its exterior iron grillwork is worth admiring.) The museum galleries showcase the collection of fish and marine life that Willie K., as he was called, amassed. He opened The Hall of Fishes to the public, in 1922, and arranged for artisans from the American Museum of Natural History to create the nine wild-animal and marine-life dioramas. (Open noon to 5 pm on Tuesdays, Fridays, Saturdays, and Sundays; the planetarium is not.) Willie K. was also a pioneer race car driver who built Vanderbilt Motor Parkway, a prototype for a toll road, for his races.
Getting there: Centerport, where William K. Vanderbilt II created Eagle's Nest, is just a few miles east of Oheka Castle on the Northern State Parkway, Exit 42 North. Or take the LIRR to Huntington. Info: vanderiltmuseum.org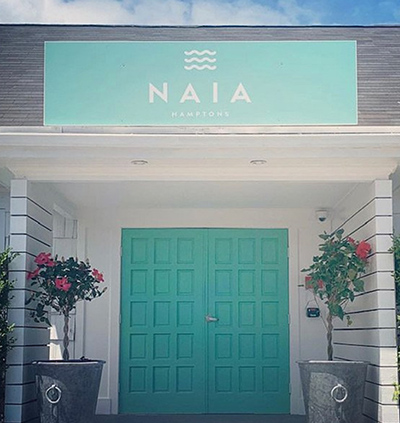 NEW DINING EXPERIENCES
By Jill Parrish
Make Long Island's South Fork your final destination for some adventurous dining options. Usually, the high season runs through Labor Day; however, it's proving to be much different in 2020. Here are several recently opened restaurants providing choice menus year-round.
NAIA Meaning Sea Nymph in Greek, this new favorite offers a one-of-a-kind farm-to-table dining experience in a European beach-chic setting at the Capri Hotel in Southampton. Enjoy international dishes and craft cocktails as well as their bottomless brunch daily and get mesmerized by special sounds brought to you by their resident DJ and classical violinist Bud Cahill, who plays on Saturdays and Sundays. Info: naiahamptons.com.
CALISSA Water Mill is becoming the hot spot for delicious offerings like Calissa. Now in its third year, diners enjoy authentic seafood and Greek dishes. The restaurant, which boasts an award-winning wine selection, currently offers outdoor seating for 100 weather permitting and indoor dining for up to 65. Enjoy the new on-site Bazaar complete with Caravana Pop Up Shop direct from Tulum, the Farmers Market with Cascun Farms, and Jimmy's Food Truck serving up gyros, salads, and even more entertaining fun for the family. The outdoor Bazaar ends on Halloween. Info: calissahamptons.com